Chris Samuels is undecided about his future in the NFL and with the Washington Redskins.
He only knows that his first priority is his health.
Samuels suffered a neck injury in the Oct. 11 game against the Carolina Panthers. He has spinal stenosis, a narrowing of the spine, since high school but has been able to play with the condition.
On Friday evening, several media reports suggested that Samuels was planning to retire.
It prompted Samuels to issue the following statement:
"I will continue to seek medical advice," Samuels said. "I hope to see where I am physically over the next couple months. At this time, I have not made a decision, but I love playing for the Redskins and hope to be back."
Samuels did not play last week against the Kansas City Chiefs. He is out for Monday night's game against the Philadelphia Eagles.
As Samuels decides on his future, the Redskins may opt to place him on injured reserve, a move that would end his 2009 season.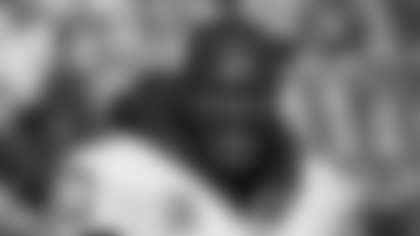 Retirement is certainly an option for Samuels if neck specialists advise him not to play again.
Samuels, 32, is in his 10th season with the Redskins. A first-round draft pick, and the third player chosen overall in 2000, he became an immediate starter and has started every game he has played in (141). He has missed only eight games. His 2008 season ended early with a triceps tear that kept him out for the final month and he also has been nursing a sore knee since training camp.
Samuels is one of the most decorated Redskins players in franchise history.
He earned six Pro Bowl berths with the Redskins, fourth-most in franchise history behind Chris Hanburger, Ken Houston and Darrell Green. His six Pro Bowls are more than any other offensive lineman in franchise history, a group that includes Russ Grimm and Joe Jacoby.
Samuels is widely regarded as one of the top left tackles of this era, alongside Orlando Pace, Walter Jones and Jonathan Ogden.