With the snap of the ball, Jason Campbell saw the defense mis-read the play.
Campbell broke left and saw open space. He scrambled two yards and crossed into the end zone for a touchdown.
Redskins football--no, Redskins mania--was in full force on Saturday as the team hosted an intra-squad scrimmage during Fan Appreciation Day at training camp. The club reported more than 28,000 fans in attendance.
On the fields at Redskins Park, it was the first significant contact--tackling, hitting, the works--of training camp.
Campbell's touchdown scramble highlighted a crisp offensive drive to open the scrimmage.
Campbell and the first-team offense competed mostly against second-team defenders. Coaches opted to rest all but three defensive starters.
"I thought the first drive was excellent," head coach Jim Zorn said. "We didn't give [the first-team offense] that many drives, so I thought they looked very good."
After the first drive, the defense stepped up and the offense started to struggle to stay in rhythm.
Said Campbell: "We started out fast, and then I think a few guys got dehydrated. It was good preparation for the hot weather games early in the season.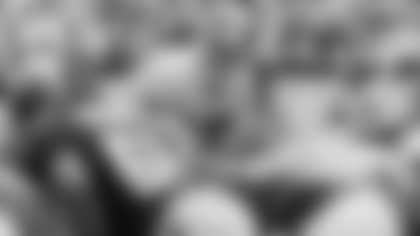 Jason Campbell looks over the defense at the scrimmage. (Ned Dishman Photo)
"We need to learn how to focus when we're tired and dehydrated. But we have some things to build on."

Campbell took most of the reps at quarterback and completed 15-of-22 passes for 122 yards and one touchdown, a 10-yard throw to Todd Yoder during red zone work.

Antwaan Randle El led the receivers with four catches for 52 yards. Rookie tight end Fred Davis also had four receptions, for 19 yards.

This was a day for the defense, though. They had steady pressure on the quarterbacks. Rules stipulated that QBs could not be touched, so plays were whistled dead when defenders got close to the passer.

In all, the defense posted five sacks during the scrimmage. Kedric Golston had two sacks, while Lorenzo Alexander, Matthias Askew and Kevin Huntley had one apiece.

Rookie Chris Horton led with five tackles. Matt Sinclair, Leigh Torrence and Byron Westbrook logged four tackles apiece and Cedrick Holt had the scrimmage's only interception.

"The defense should always be ahead," Campbell said. "The defense isn't really learning a new defense--they're just adding on to what they already know. We're starting from scratch."

Two injuries were reported: Anthony Montgomery and Rian Wallace suffered fractured hands.

Here's a look at some of the action from the scrimmage:
As Rock Cartwright tried to find running room to the right side, cornerback Leigh Torrence was buried by 6-8, 303-pound Todd Wade. Cartwright picked up a minimal gain on the play.
Todd Collins over-threw a deep pass to Anthony Mix, but J.T. Tryon had excellent coverage and his presence kept Mix from accelerating to get to the ball.
Jason Campbell tossed a pass across the middle to Nehemiah Broughton, but Danny Verdun-Wheeler was there to level a hard tackle.
Colt Brennan's first pass of the scrimmage was dropped by Fred Davis.
Marcus Mason took a draw up the middle, but he was quickly tackled by Reed Doughty and Byron Westbrook, who put a hard hit on the second-year running back.
Demetric Evans was stood up by tall Todd Wade, so he leaped up to bat down a Colt Brennan pass, resulting in an incompletion.
Tested with red zone work, Jason Campbell's first pass was over the head of Rock Cartwright in the end zone.
Jason Campbell went to Rock Cartwright on the next play: a short pass over the middle, but Cartwright was quickly tackled by Byron Westbrook.
Jason Campbell's next pass was batted down by defensive lineman Matthias Askew for an incompletion.
Rookie linebacker Curtis Gatewood came around left end on a linebacker blitz and had a clear shot at Jason Campbell. Campbell tried to escape the pocket, but instead opted to throw the ball away.
Shaun Suisham came on for a 32-yard field goal attempt, and he nailed it--right between the goal posts.
On a pass to the back of the end zone, Billy McMullen pulled in the pass but was unable to keep his feet in bounds. The referee signaled incomplete, to the chagrin of fans watching close by. Byron Westbrook had coverage.
Still working in the red zone, Jason Campbell tossed a 10-yard pass to Todd Yoder, who ran a crossing pattern into the end zone.
Demetric Evans turned out to be the last line of defense on a red zone run by Eric Shelton. Evans came through, tacking Shelton one yard short of the goal line.
Moving on to the 2-minute offense, Jason Campbell tossed a quick pass to Fred Davis in the flat. Davis could not escape Byron Westbrook for the tackle.
Mike Sellers grabbed a 6-yard pass from Jason Campbell and was gang-tackled by a group of defenders led by Rian Wallace.
Marcus Mason pulled in a short pass in the flat from Todd Collins. Then he escaped cornerback Matteral Richardson before being pushed out of bounds.
Billy McMullen impressed with a nice grab, broke a tackle, and then crossed field to the end zone for a score. Flag on the play, and the touchdown was called back.
On the last play of the scrimmage, cornerback Cedrick Holt pulled in an interception of a Todd Collins pass, ending the drive.
Watching the action up-field, Zorn showed some impatience with the tempo of the scrimmage
At one point, he yelled out: "Let's make up our mind who is in the huddle and go!"
Todd Collins, who was 8-of-13 for 52 yards, said that the latter part of the scrimmage was "lackadaisical" because players were somewhat tired after a week of training camp.
Said Zorn after the scrimmage: "I want to go in there every play and just drive, but we've been working now for the last six days. Our guys are a little tired. We had a great practice [Friday morning] and I thought that scrimmage was very good.
He'll get more on Sunday morning with another scheduled practice.
Zorn acknowledged that players may be weary from the 2-a-days. He has cancelled the Sunday afternoon practice, giving players a needed break after a tough week of training camp.