Washington Redskins offensive coordinator Sean McVay this weekend returns to San Francisco — home city to a 49ers franchise that was led to multiple Super Bowl championships by his grandfather, John.
Hired in 1978 to reconstruct a 49ers franchise that was coming off a 2-14 season, John McVay -- who would serve in several roles different roles including general manager -- would turnaround the franchise quickly.
"After he was the head coach of the Giants, he got a chance to get on board with Coach Bill Walsh and those guys when they first got there," Sean McVay told Redskins.com on Thursday. "He was kind of in an executive role and his role grew over the years and he was able to be a part of five championship teams.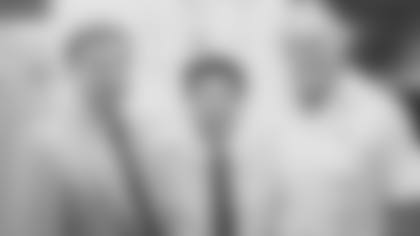 "It was a real special thing for him."
Sean, who grew up in Atlanta, would see his granddad in action once a year when the 49ers would play the Falcons at the Georgia Dome.
"The thing that was really unique about it is when I was old enough to process what was going on, they were in the same division [NFC West] as the Falcons at the time," Sean recalled. "I grew up in Atlanta, so I got to see them once a year. And then you'd go out there every now and then between training camps and stuff, but it didn't really hit me the magnitude of what he was doing and how special of a thing they had going there in San Francisco until they won that fifth Super Bowl in '94 when they beat the Chargers.
Before getting into the coaching ranks, Sean McVay played at Miami University as a wide receiver.
One of the reasons he played at Miami was because John played center there.
"I was actually a third-generation McVay to go play there," he said. "My grandpa played there. My uncle also played safety there, he was an All-MAC player. Then I got a chance to go there and play for four years and it was an awesome experience."
He's also the inspiration for his coaching journey.
"Then transition into coaching when I got done playing was very highly influenced by my grandpa," he said. "I know he had a great experience with it both as a coach and in the personnel side of it. He was able to give me a lot of great insight and I think through a lot of the family connections, it was a natural transition."