Former Redskins defensive end Bruce Smith earned induction into the Pro Football Hall of Fame on Saturday.
Smith, of course, is more closely associated with the Buffalo Bills. He played for the Bills from 1985-99 and the Redskins from 2000-03.
Overall, Smith played 19 seasons in the NFL and finished his career as the league's all-time sack leader with 200.
"We were fortunate to have Bruce as a Redskin for his final four playing years, and as a Redskin when he set the all-time sack record," Redskins owner Daniel M. Snyder said. "He's a consummate professional in life, as he was in the locker room and on the field. He's a personal friend, and the epitome of a Hall of Famer. He still joins us at games, and Redskins fans will always feel part of his stellar career."
He made two all-decade teams (1980s and 1990s) after being drafted No. 1 overall in 1985. He had the most seasons with double-digit sacks (13) and the most postseason sacks (14.5).
Smith recorded 29 sacks in four seasons with the Redskins, including 10 in 2000 and nine in 2002.
He set the league's sack record on Dec. 7, 2003 as a member of the Redskins, breaking the previous mark of 198 held by Reggie White.
The Redskins honored Smith on Dec. 28, 2003, the day of his last professional game.
Former U.S. Rep. Jack Kemp, a congressman from Western New York who shared connections with Smith to both Buffalo and Washington, D.C., presented Smith with a plague that listed his many accomplishments.
Later, Smith addressed the fans in attendance at the game.
"It has certainly been a blessed career," Smith said. "They say time flies when you're having fun. I can attest to that. It has been a magnificent ride.
"People that I have known over the years have, for the most part, turned into my extended family. I've had a lot of ups and downs--but it's something I wouldn't trade for anything."
Smith joined the Redskins in 2000 after 15 seasons as a premiere pass rusher with the Bills. He remains proud of the 1990-94 Bills teams that made it to four consecutive Super Bowls, although they lost all four of them (including one to Washington).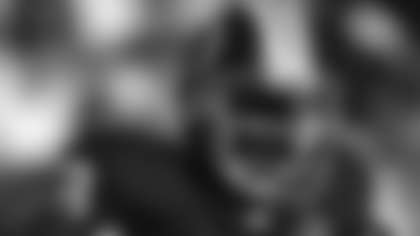 "There are so many more bright spots," he said. "We as individuals tend to focus on the negatives so much that we forget about the blessings we've all had. All of my teammates through the years have enriched my life in one aspect or another.
"With adversity, if you're smart and wise, you'll profit from it. It'll build character."
Smith grew up in Norfolk, Va., and attended Virginia Tech. He was the first overall pick by the Bills in the 1985 NFL Draft.
Smith goes into the Hall of Fame with wide receiver Bob Hayes, offensive lineman Randall McDaniel, linebacker Derrick Thomas, defensive back Rod Woodson and owner Ralph Wilson, Jr.