Hunter Smith has been named NFC Special Teams Player of the Week for his 35-yard touchdown pass to Mike Sellers on a fake field goal in last Sunday's 27-17 win over the Denver Broncos.
The play occurred midway through the second quarter with Washington trailing Denver 14-7. The Redskins faced a 4th-and-20 at the Broncos' 35-yard line.
The Redskins sent out Shaun Suisham for a field goal attempt, with Smith as the holder.
Suisham and Smith suddenly broke out of formation, with Suisham lining up in the slot and Smith in shotgun formation.
The ball was snapped to Smith and he quickly rolled right.
To Smith's left, Sellers ran into open space almost immediately. He was completely uncovered by the Broncos.
Smith pump-faked and then lofted a high-arching pass across the field to Sellers.
The ball seemed to hang in the air for an eternity before finally settling into Sellers arms at the goal line. He broke a last-gasp tackle at the goal line and galloped into the end zone for the touchdown.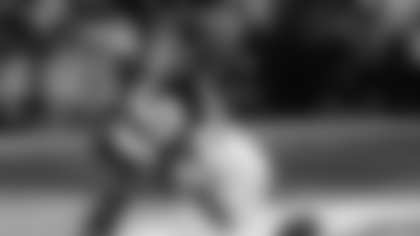 FedExField erupted in celebration. The trick play had worked.
Coupled with his 8-yard TD run on a fake field goal in Week 1 vs. the New York Giants, Smith is the first specialist to rush and pass for a touchdown in the same season.
Smith also punted four times, allowing zero return yards, for a 38.0 net average, while placing one inside the 20-yard line.
The award is the second of Smith's career. He was honored as AFC Special Teams Player of the Week as a member of the Indianapolis Colts following Week 2 of 2005.
Ryan Plackemeier was the last Redskin to win NFC Special Teams Player of the Week following Week 16 of last year.