The Redskins have not been shy about using special teams trickery this season.
They may have stunned even themselves with a trick play in Sunday's game against the Denver Broncos.
Hunter Smith tossed a 35-yard touchdown pass to Mike Sellers on a fake field goal attempt in the second quarter.
"We executed it very well," head coach Jim Zorn said. "I'm very excited for our field goal team."
Midway through the second quarter, the Redskins had moved into field goal range after running back Quinton Ganther turned a short pass across the middle into an 18-yard pickup to Denver's 25-yard line.
The offense stalled after Jason Campbell was called for an intentional grounding penalty.
On 4th-and-20, the Redskins sent out Shaun Suisham for a field goal attempt.
Curiously, Suisham and holder Hunter Smith broke out of field goal formation, indicating the fake was on, but then the Redskins called a time out.
"I had it called and we had 10 guys on the field, if you can believe that," Zorn said. "I was pretty frustrated about that. I kept it on instead of trying to do something different."
"In my mind I thought we had already showed them, but they don't know what we are going to do so they really can't prepare for anything because they still didn't know what was going to happen," Smith said.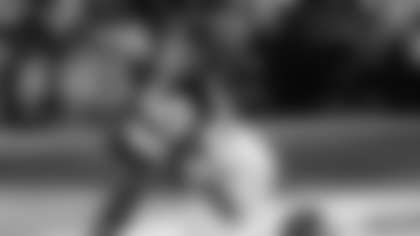 Again, Suisham and Smith broke out of formation, with Smith lining up in shotgun. The ball was snapped to Smith and he quickly rolled right.
To Smith's left, Sellers broke into open space as the Broncos defense started to follow Smith.
Smith pump-faked, then stopped and lofted a high-arching pass across the field to Sellers.
The ball seemed to hang in there before finally settling into Sellers arms at the goal line. He turned into the end zone for a stunning 35-yard touchdown catch.
FedExField erupted in celebration.
"That wasn't something we just put in this week," Zorn said. "When you have a play like that, it is well practice. So he had practiced that play before last week. We thought he could run it at the right time and I certainly thought that was the right time in our situation."
Said Broncos head coach Josh McDaniels: "They came up with something they obviously feel really good about, something we had never seen...We were trying to play safe, we thought it might be a pooch [punt], something other than a kick.
"We defended some of it well, but obviously it was Mike Sellers who got out the back door and we didn't have anyone on him."
It was Smith's first career pass in the NFL. He was a high school quarterback in Sherman, Tex.
"It's kind of an interesting thing because when you run a fake you have the element of surprise on your side," Smith said. "There was a moment there when you stand up and you are in shotgun and you kind of look at the defense and you go, 'Wow, I haven't seen this in 12-14 years.'
"Players actually looking at you and ready to defend you--so that was maybe a little intimidating for a second. But I kind of felt the upper hand with the trickery of the play."
In Week 1 this season, Smith scored on an 8-yard touchdown run on a fake field goal.