Fred Smoot expects to hear some boos from Minnesota Vikings fans on Sunday night.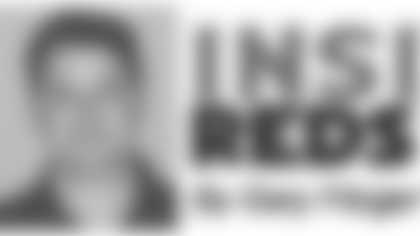 Won't bother him, though.
"The good part is that I won't be able to tell the difference," he said this week, laughing. "Out of the three or four fans I might still have there, maybe they'll put a little 'S' in front of it and get Smoot out of it."
Smoot, of course, left the Minnesota Vikings last offseason to return "home."
Home is the Redskins, the team that he started his career with as a second-round draft choice in 2001.
He signed with Minnesota as a free agent in 2005, but his time with the Vikings did not go well, from the well-publicized incident on the so-called "Love Boat" to losing his starting job late last season.
The death of his half-brother in a car accident last December prompted him to ask the Vikings for his release. He wanted to return home.
Smoot says he doesn't harbor any extra motivation to play his former team this Sunday night at the Metrodome.
"I don't have anything to prove to the Vikings," he said this week. "I'm happy where I'm at, and I'm sure they're happy, so I don't have anything to prove."
Vikings head coach Brad Childress, in a conference call with Washington, D.C., reporters, said he enjoyed coaching Smoot but that a change was needed.
"I think Fred was as excited to leave Minneapolis as anybody," Childress said. "I am not sure he overall had a great experience here. Sometimes a change of scenery is good."
With both the Redskins and Vikings both fighting for a Wild Card playoff spot, the game means too much to Smoot to make it personal. The Redskins have won two straight to get to 7-7, while the Vikings have won five in a row to get 8-6.
"Making the playoffs was all Fred talked about when he was here," said Minnesota safety Darren Sharper, who like Smoot joined the Vikings in 2005. "He definitely wants to get that taste of playing in the playoffs because he has not experienced that in his career.
"I know he would be extremely ecstatic if he gets to the playoffs. We have something to say about that. I don't think we want him to get into that spot because we are trying to fight for that spot."
Said Smoot: "Watching [the Vikings] go on their winning streak, I knew we were going to end up bumping heads. I always knew this game would mean a little bit more than me going back to Minnesota. The winner of this game hopefully can get to the playoffs."
Despite being slowed by a hamstring injury early this season, Smoot has been solid in his return to the Redskins.
Smoot has posted 48 tackles (43 solo) and 12 passes defended this season. He may have had his best game in last Sunday's 22-10 win over the New York Giants.
Smoot matched up with Plaxico Burress, the Giants' top receiver who burned the Redskins for a game-winning touchdown in Week 3. Smoot kept Burress in check, limiting him to three catches for 35 yards. He received deep help from Landry.
"Smoot did a good job on him," fellow cornerback Shawn Springs said. "[Burress] got some catches, but he didn't have any big plays."
Said Smoot: "I feel real good and I feel like I'm hitting my stride. My hamstring is better now. Earlier in the year, I would start to get in a groove and the hamstring would come back on me. That was frustrating, but now I feel better.
"It has been a good year, because I love where I'm at. It has been rough emotionally, with losing Sean [Taylor], but physically I'm happy and mentally I'm happy. I'm always happy to be a Redskin."