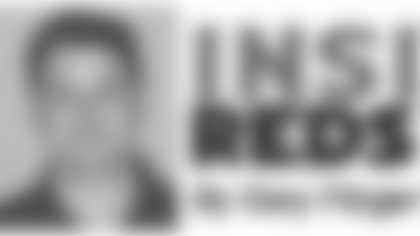 It seems every year Shawn Springs is asked if his NFL future is at safety.
The difference this offseason is that Springs actually played some safety in 2008.
He even started a game at safety when regular starter Chris Horton was sidelined with a shoulder injury late in the season.
Springs has long believed that transitioning to safety could help prolong his NFL career.
He looks at a former NFL star like Rod Woodson, who continued to play at a high level late in his career after moving to safety.
Springs knows that his future with the Redskins is not guaranteed, even for next season, but he still wants the organization to do what's best.
"I grew up in this area and I know how important this team is to this city," Springs said. "I want them to be a winner, because I'm a fan of this team. I'm not just a player. If they ask me to [move to safety], then I'm willing to look at all my options and say, 'You know what, that's a natural progression for me to move to safety.'"
Horton showed signs of developing into a solid NFL safety last season, so Springs may still fit in best at cornerback with the Redskins.
Last season, Springs posted 36 tackles, one sack, one interception and eight passes defended.
He missed seven games due to a calf injury that lingered most of the season. He suffered the injury in practice before the regular season opener and then re-aggravated it during a midseason practice.
When Springs was healthy, he was at the top of his game.
"You know what, it was one of those years where I struggled a little bit with my calf," he said. "But the one thing I do know is that when I did play, I felt good enough that I could cover anybody in this league."
Added defensive coordinator Greg Blache: "When Shawn Springs is healthy, he is a productive corner. His knowledge and professionalism, his ability to recognize formations and call things out, help the other guys--it really helps us."
Blache said the team would re-evaluate Springs' role in the defense once the offseason gets underway.
Springs, who joined the Redskins as a free agent from Seattle in 2004, is among several aging veterans on the defensive side of the ball.
He turns 34 years old on March 11.
Springs would not speculate whether he would be released by the Redskins this offseason, although he admitted the possibility exists. The team could generate some salary cap savings by releasing him.
"I don't even think about it," he said.
Springs remains deeply affected by the medical situation with his father, who is in a coma at a Dallas hospital, and the passing of Sean Taylor in 2007.
"After last year, I just take every day one day at a time," he said. "I just go out and have fun. I go out and enjoy each day. The next day is never promised to you. So I really don't think about the future."
One player who does not want to see Springs leave is Fred Smoot.
"He's more than just a teammate, he's like a brother to me," Smoot said. " We have been through a lot, especially all the stuff we went through last year...I hope he doesn't have to go anywhere. He means a lot. He can play a lot of different positions back there in the defensive backfield and he is always a good guy to have around."
Springs does believe the Redskins are headed in the right direction, whether he is a part of it or not.
"I think we have a great coach in Jim Zorn and I know he really hurts when we lose," Springs said. "I've had an opportunity to know Coach Zorn almost 10 years because he was the quarterbacks coach in Seattle when I was there. I think this organization is lucky to have a coach like that because he's passionate and hard-working. He's going to get it together."