It's becoming commonplace in the final moments of NFL games this season: coaches attempt to "ice" kickers by calling a time out as they line up for a game-winning field goal attempt.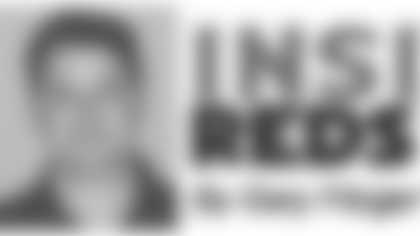 It happened on Sunday as Shaun Suisham lined up for a 46-yarder in overtime. The Redskins and New York Jets were tied 20-20 at the Meadowlands.
Suisham has proven to be cool under pressure, though. He already kicked a game-winning 39-yard field goal to beat the Miami Dolphins 16-13 in Week 1.
Yes, the Dolphins tried to "ice" Suisham that game, too.
"When coaches call time outs, it doesn't change anything for me," Suisham said. "It is still the same process to go up, set up, pick your spot and kick the ball. It really doesn't have much of an impact."
On Sunday, Suisham's 46-yarder sailed through the uprights--by a few feet--to give the Redskins a hard-fought 23-20 win over the Jets.
It was Suisham's fifth field goal of the game. At the windy Meadowlands, that's a noteworthy accomplishment.
Suisham's so cool about it that his game-winning celebrations are mild.
Suisham isn't mobbed by teammates. Instead, he raises his hands in the air and exchanges a quick handshake with Derrick Frost, who holds for Suisham's field goals.
"I don't think he's a real emotional guy--and that's probably good for a field goal kicker," said Fred Smoot, who can't pronounce Suisham's name so he just calls him "Sha-zam."
So far this season, Suisham has connected on 12-of-15 field goals, with a long of 48.
"Kicking is a pretty simple skill if you are doing it well," he said. "I try not to over-think when I'm doing it. It is as simple as kicking a ball and kicking it straight."
Just prior to his game-winning kick, the Redskins faced a 4th-and-1 at the Jets' 29-yard line.
Did head coach Joe Gibbs consider going for the first down to try to get Suisham closer?
"No, not really," Gibbs replied. "I would hate to have a penalty or something that would take us out of field goal range. We had an opportunity to win the game with one play. I felt like I didn't want to pass up a chance to win it."
Suisham also had a hand--or leg, really--in another key play.
Midway through the second quarter, Suisham had just connected on a field goal to cut the Jets' lead to 17-6.
The Redskins tried some trickery. On the ensuing kickoff, Suisham tapped the ball and it dribbled to his left. A Jets player touched the ball first, knocking it back 10 yards. Rock Cartwright was there to recover the onsides kick attempt.
Gibbs credited special teams coordinator Danny Smith with the play.
"We worked extremely hard on it all week, but you work on a lot of things like that and rarely use them," Gibbs said. "It had to be the right situation, but I did have confidence in running it. Danny deserves the credit. He showed me the film and why it would work. We decided that if the opportunity came, we would use it."