When Redskins long snapper Nick Sundberg takes the field on Sunday, he will be one of the first players in NFL history to return from injured reserve in the same season he was placed on the list.
Prior to this season, placement on injured reserve ended a player's season. Under the new rules, a team can tab one player to return after an eight-game stint on the list.
After breaking his left arm in Week 2, this was the ideal situation for Sundberg to get back on the field this season.
"I don't think that's going to be an issue," he said, flexing his forearm. "Looking forward, we've got seven games left, and I'm just excited to get back with the team and get back in the swing of things."
Sundberg returns to a 3-6 team searching for a spark after the bye week.  Given the consistency of the kicking and punting unit during his time on injured reserve, Sundberg will be expected to hit the ground running.
"This is the longest I've gone without snapping since I was—ever," he said.  "I've never gone a full month, five weeks, without snapping.  That's been the most difficult part – being inactive and having not done anything."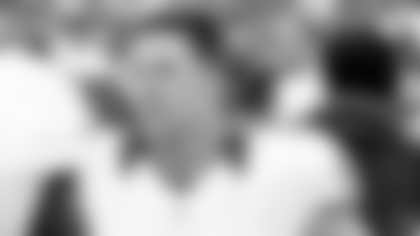 After being cleared to practice with the team three weeks ago, Sundberg used the valuable time to build up arm strength and adjust to new kicker Kai Forbath, a transition aided by his reliable holder, Sav Rocca.
"He's really easy to work with, to be honest," Sundberg said of Rocca.  "He just says 'put it between here and here.'  I do that and he's happy. He makes it pretty easy for me to do my job."
This is his second season working with Rocca, and the first time that Sundberg has spent two seasons with one holder.
After the Redskins struggled with field goal timing last season, Sundberg spent the offseason improving his velocity and accuracy on snaps.
"I think as a long snapper, you're always working on your accuracy, you always want to get better and for me, my job is to make Sav's job easier," he explained.  "If I can make Sav's job easier in the kicking game, I can make [Forbath]'s job easier too.  I really, really focused on honing my accuracy, making sure laces are at 12 (pointed out) every snap on field goals and really hitting it every time on punts.
"When I go home I really work on velocity. I throw the ball faster than anybody, and that's my mindset going in. I want to be the fastest snapper in the NFL, but I also want to be the most accurate. I want them to be, but sometimes those two don't go hand in hand."
In order to accomplish that, Sundberg spends the offseason working out with Ben Bernard, his long snapping coach from high school.
Including Sundberg, Bernard is responsible for overseeing the development of 40 Division 1 long snappers and a number of NFL products
"He's the man.  But he's adamant about repetition and practice and if you miss a day he tells you not to come back, so I don't miss," Sundberg said.  "I go back and I help him train all the other guys. We help each other get better."
Sundberg snaps with 25 players in Pheonix, Ariz.—everyone from freshmen in high school to seasoned NFL veterans.
"I'm learning just as much from the freshmen in high school as they are from me," he said.  "It's always a competition you're always trying to get better and that's something that Bernard stresses on a daily basis. We snap anywhere from, depending on the day, 75 to 150, 200 balls so it depends on how we're feeling, what we lifted, things like that."
During his time with Bernard, Sundberg has improved in all facets of his game, developing workouts that make him one of the most consistent long snappers in recent Redskins memory.
"When I was younger I used to work with heavy footballs and medicine balls," he recalled.  "But as you get older, you learn how to throw it harder and you work on certain things: getting your hands through quicker, snapping your legs through harder, really getting your thumbs through and getting a lot of spin on the ball. If the ball spins faster it goes faster.
"Velocity and accuracy were the two things I tried to work on. The plan is to always get better, and I want to get better every year. I don't want to stay the same. I want to be on this team for a long time."
Looking ahead, Sundberg is confident that his healed broken arm can sustain the pressure of long snapping over the next seven games, as well as a stretch of two games in five days next week.
For now, he is just happy to get back out there on the field.
"To be honest that's fine with me," he said.  "My body doesn't get put through the same that a linebacker does, so for me it's not as bad. I'm excited to do that too."