A year ago, Jason Taylor was on a Miami Dolphins team that was 0-7 and going nowhere fast. So you can imagine how good it must feel for the 12-year veteran to be part of a Redskins team that is off to a 5-2 start.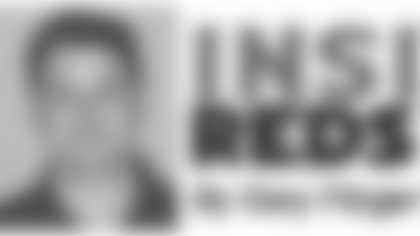 The frustrating thing for Taylor is that he has not been able to contribute much.
He remains slowed by a calf injury that required medical attention on Sept. 22. He missed two weeks, but was able to play the last two games on a limited basis.
"Personally, it bothers me [to miss playing time], but I feel bad more for my teammates than I do for myself. Everybody in this locker room has dealt with injuries at some point in their careers. The great thing about it is the team is winning. That's a great thing because this is a good football team with or without me."
Taylor sat out practice on Wednesday to continue to rest his calf. The injury swells up after every game.
"It's getting better," he said. "It's one of those injuries where if I wasn't playing football, it would probably heal up in a month. As you pound it, you're not letting it heal the way God intended it to heal. So you just have to deal with it and stay calm about it."
Last Sunday against the Cleveland Browns, Taylor started the game and was able to swat away two pass attempts by quarterback Derek Anderson.
He struggled rushing the passer, though.
"I felt good running straight ahead, but turning the corner was hard," he said. "There were a couple plays where I beat the tackle, I turned the corner a little bit to get a hit on the quarterback--and I couldn't do it.
"We all know you can't play this game in a straight line. But injuries happen in football, so you just have to work through it."
Said Jim Zorn: "I see him continuing to get back to a point where he can fit in with our defensive line rotation. The main thing is to make sure [the injury] does not get infected and he has a setback."
Taylor is looking forward to the bye week on Nov. 9 to get back to full health for the Redskins' stretch run.
The Redskins hope that once Taylor is healthy he can help improve the team's pass rush. They have just nine sacks in seven games this season.
Meantime, Taylor is enjoying the Redskins' early season success.
The last time he was part of a team that started 5-2 or better was in 2003 with the Dolphins.
"It's a great feeling," he said. "At times I wish I was more a part of it because of the injury. As a team, this is what the game is all about. It's about 53 guys coming together and finding ways to win, enjoying the journey and not being so focused on the destination sometimes."