Jason Taylor said on Tuesday night that his calf injury, which required a medical procedure after last Sunday's game vs. Arizona, was improving.
He added that it was "disappointing" to have to sit out his first Redskins-Cowboys game this Sunday.
Taylor spoke to the media for the first time on Tuesday since the medical procedure was announced by the team.
Taylor hosted a "Big Screens, Big Dreams" charity event in Silver Spring, Md., in which 400 high school student-athletes attended a private viewing of the new movie "The Express."
Taylor suffered his calf injury in the second quarter of the Arizona game. He stayed in the lineup even though he felt some discomfort.
"It was obviously more serious than I thought it was," Taylor said. "I kind of blew it off as just a bruise and it ended up getting worse. I did finish the game with it, but I didn't play very effectively. It was hurting.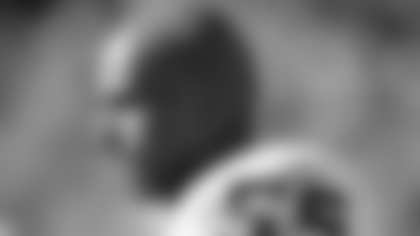 "The [team's rehab specialist] told me before I left for home that if it got worse overnight and there was numbness, then I needed to call him. So I did that."
He was taken to the hospital early on Monday morning. The medical procedure took about 20 minutes.
Taylor was seen walking on crutches at the charity event on Tuesday. He has been told to stay off his feet as much as possible.
"It's getting better," he told reporters. "[The medical procedure] was Monday, so I still have a little ways to go."
Jim Zorn has ruled out Taylor for Sunday's game at Dallas.
Taylor's availability for the Week 5 game at Philadelphia will be determined next week.
"I'm taking it a day at a time," he said. "This is all kind of new territory for me--missing a game. It has been a long time and I'm not real comfortable with it."
Taylor's streak of 133 consecutive games played comes to an end this Sunday.
"The streak doesn't matter to me," he said. "It's the fact that I can't help out my teammates, my team and the city and get a chance to play against Dallas. That's the disappointing thing.
"They have won before I was here, and they can win without me for sure. They can do it this week."