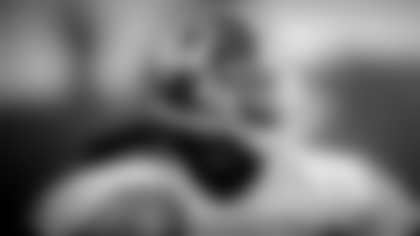 Washington Redskins quarterback Robert Griffin III was no one-man-band in his rookie season, but he flashed the ability to take over games in clutch situations and will his team to victory.
After offseason ACL reconstructive surgery, Griffin III is confident his body is ready for the burden of a regular season, and knows that his teammates have his back.
"I've just got to lean on my teammates," he said. "We've got a lot of playmakers on this team, one that is directly behind me in Alfred Morris, so those guys will be ready to play."
Particularly in the first game back, there is concern from those outside of the organization that he will not be able to protect himself as he did before injury.
According to Griffin III, this has been accounted for in the huddle.
"They know it will be my first game back. I think everyone is anticipating that I'll be rusty, but that's not the way I think. That's just not how I'm built to think," he said. "Those guys know I'll lean on them and I think they are ready to make plays.
"I think everybody is ready to go out and be explosive and be dynamic."
Teammates were surveyed in the locker room throughout the week, asked if they thought Griffin III would have to overcome rust after not playing since January.
As Morris noted, no one has played much since January.
"If you look at it, a lot of us haven't been on the field," Morris said with a shrug. "I hold Robert to a high standard. We're counting on each other.
"I know what type of player he is, his drive, and it's just going to take him a couple quarters at most before he's back in rare form."
Receiver Santana Moss was likewise unconcerned with the offense's ability to execute, noting that Griffin III is healthier now than at the end of last season.
"I'm pretty sure, as a team, we want to see him out there with live contact and all the bodies flying around, but I can't say I am concerned right now," Moss said. "He's healthier than he was those last couple of games he played late in the season [last year].
Pierre Garcon, the offense's top receiver, agreed with the sentiment, saying he didn't expect any adjustment period at all for his quarterback.
"After spending a lot of time together [in practice] throwing the same routes, it doesn't take much time to get back on the same page," Garcon said. "We know what we're trying to accomplish.
"It's going to take some time [to synchronize], but not as much as it would if we were brand new."
Considering that Griffin III threw his first preseason touchdown to Garcon and his first regular season touchdown--an 88-yard thriller--to No. 88, the two should be in sync right away.
Garcon says the keys to keeping Griffin III upright in 2013 is getting protection from the offensive line and getting open quickly in the secondary.
"We'll leave that to the offensive line and the receivers to break off their routes hot," he explained. "Hopefully he doesn't get hit and Trent [Williams] and those guys can keep him clean."
Griffin III shrugged off concerns from the media, saying "football is football" and having his teammates around him is all he needs. "Having the same guys out there...everybody's just on the same page so that's been a great thing all offseason," Griffin III said. "It still feels good to have the same guys around me, same offensive line, [running back] Alfred [Morris] in the backfield and the same OC [Offensive Coordinator Kyle Shanahan]."