As NFL defenses evolve, so must the statistics and measurements in which we judge them by.
As such, the league has been putting more emphasis on technological advances, namely Next Gen stats, by putting microchips onto footballs and player uniforms, hoping to gain better insight into players' abilities. It's not sufficient anymore to believe that a team with the most sacks is the best at applying the most pressure.
The two are understandably linked, but thanks to the Next Gen tracking data, the NFL now has the ability to see how much pressure is being created by defensive fronts. As it so happens, the Redskins, after a thorough combing of the information, applied the second most pressures (269) in the NFL in 2017, 22 behind the Eagles.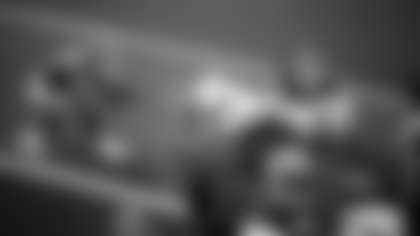 For clarity, Next Gen stats defines a pressure as "a pass-rushing play in which a defender gets within two yards of the opposing quarterback at the time of the throw or sack." And while it concedes that there are other perspectives on what constitutes a pressure, this is the only method that isn't strictly an eye-ball test.
The article goes into more detail about Washington's defensive front, which underwent an overhaul last offseason – losing Chris Baker and Ricky Jean Francois while acquiring Stacy McGee, Terrell McClain and drafting Jonathan Allen– and saw second year players in Matt Ioannidis and Anthony Lanier II take major strides.
Kerrigan led the team with 51 total pressures and 13 sacks, helping the Redskins to become one of 12 teams to have 40 or more sacks on the season. Linebacker Preston Smith also had a challenging second year but bounced back in 2017 with eight sacks to establish himself as one of the more productive young pass rushers in the game.
According to NFL.com, "he led all players with 200 or more pass-rush attempts in pressure rate, recording a pressure on 15.9 percent of his rushes." Next Gen also recorded that linebacker Junior Galette joined Kerrigan and Smith finishing inside the Top 12 in pressure rate.
he led all players with 200 or more pass-rush attempts in pressure rate, recording a pressure on 15.9 percent of his rushes NFL.com
Had Allen stayed healthy he might have been in the same conversation, generating 16 pressures in just five games and offering a glimpse at what a full healthy season could be like.
At a time when defensive lines are becoming an increasing priority for teams, the Redskins seem to have a lot of momentum and potential to take another step (especially if they use a first-round draft pick on a touted defensive lineman) with their unit. That improvement will likely hinge on defending the run, too, an area the Redskins will seek to improve as they begin preparing for 2018.
Redskins safety DeAngelo Hall is in new territory.
The veteran defensive back is considering all of his options this offseason, which means that for the first time in his 14-year career, Hall is pondering retiring from football. Weeks away from being a free agent, he is still determining what his future will look like.
Hall, 34, appeared in just five games with two starts in 2017, recording 14 tackles with two passes defensed. The Virginia Tech product started the year on the Physically Unable to Perform list in order to keep rehabbing his torn ACL suffered in Sept. 2016.
A first-round selection for the Atlanta Falcons in the 2004 NFL Draft, Hall's recorded 811 tackles with 132 passes defensed, 43 interceptions, 11 forced fumbles and five defensive touchdowns. The 5-foot-10, 200-pounder has been selected to three Pro Bowls and tied an NFL single-game record with four interceptions against the Chicago Bears in 2010.
"I haven't won a championship. That's ultimately what I want to do," Hall said at the end of the season. "And so, I don't know if my next step has something to do with putting me in the best position to win that, whether that's as a coach, whether that's as a player, whether that's doing something else. I don't know what that looks like, but that's ultimately why I wanted to play this game. And that's what's clicked in my head over the last seven, eight years since I've been here. That's kind of helped me mature to learn and understand that it's not just about Pro Bowls and getting picks, it's about ultimately winning games and winning a championship, and that's how guys' legacies are measured, it's 'have you won a championship?'"