Redskins' quarterback legend Joe Theismann may have moved on to a career in broadcasting, but he still remains a fixture around Redskins Park and an avid follower of his former team.
Theismann is likely the Redskins' last franchise quarterback. Since his playing days ended in 1985, the Redskins have won two Super Bowls, one each with Doug Williams and Mark Rypien.
Both quarterbacks were off the team two years after winning the NFL title.
It may be premature to say that rookie quarterback Robert Griffin III will bring that sort of success to the franchise. But if his first season in Washington is any indication, Theismann thinks the Redskins have a bright future.
"I think Robert Griffin III is one of the most phenomenal young men I've ever had the pleasure of being around," Theismann told CSN Washington. "He was ready in every regard and this city had to have him."
Theismann understands the pressures of being a quarterback in Washington, and discussed the distraction that can come from opportunity in the Nation's Capital earlier this year.
"Robert is involved in a lot of opportunities that have been presented his way and I think he feels the same way I do, that is that you understand that football is your bread and butter," he told ESPN 980. "Without football, everything takes a secondary place and it has to have a priority in his life."
Theismann accurately predicted that 2012 would be 'RG3 Year' in the NFL, and attributed much of that success to the team assembled around him.
"I think Griffin III comes into a situation where there is a pretty darn good team around him," Theismann said. "Mike Shanahan now has the team he wants on the field and the additions that have been made could make us a very competitive football team."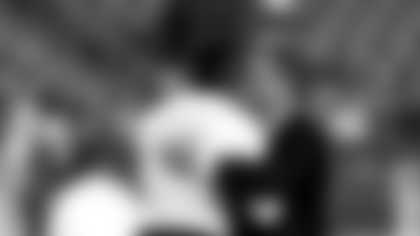 Theismann credits Griffin III's fearless play and leadership for creating an expectation for winning and cult of personality in the Redskins' locker room.
"I don't coach him, that's for the guys out there with Mike [Shanahan] and his guys. I've gotten to know him very well and I just enjoy his conversation," Theismann said. "He's articulate, he's bright, he's thoughtful, and he takes his profession very seriously.
"I really believe that the whole Heisman trophy run really got him ready for the questions and the press conferences and the media and everything that has to do with success in the National Football League."
Just as RG3-mania overwhelmed the celebration at Radio City Music Hall for the No. 2 overall pick in April's NFL Draft, Theismann thinks Griffin III has stolen the show with his tremendous rookie season.
"No offense to Andrew Luck, but because there was so much talk of Andrew going to Indianapolis, everybody here got themselves ready for Robert," Theismann said. "This was going to be Robert's city, this was going to be the guy that was going to lead us.
"He was going to be the difference maker and you know what, he hasn't disappointed."