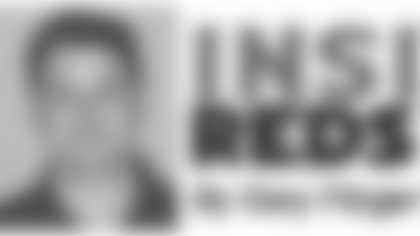 Devin Thomas heard what the critics were saying.
He heard the comparisons to other rookie wide receivers, from Philadelphia's DeSean Jackson and Denver's Eddie Royal, who produced strong seasons last year.
Why wasn't Thomas, the Redskins' top pick in the NFL Draft last April, as involved in the Redskins' offense?
Posed the question, Thomas said he believes that every situation is different for rookies
Jackson and Royal were put in situations where they had to start early in their careers, he said.
Thomas had time to learn and work his way into the lineup behind veteran starters Santana Moss and Antwaan Randle El.
"People are going to make their judgments about me, but it's a tough learning curve and you have to figure things out," he said. "My situation was totally different from the other rookies. But I have the offseason to get things right and get ready for next year.
"I'm anxious to take what I learned last year and just hit the ground running."
Thomas played in all 16 games as a rookie last season, mostly serving as a third receiver, and finished with 15 catches for 120 yards.
He also had a 29-yard touchdown run on a wide receiver reverse in Week 13 against the New York Giants. The play was memorable because Thomas followed blocking by Jason Campbell to the end zone.
Thomas was slowed by a hamstring injury in training camp and missed most of preseason, slowing his progress in Jim Zorn's offense.
As a result of his absence, Thomas did not get the practice time to fully learn the precision of running the West Coast system.
Zorn encouraged Thomas to focus in on route depths and break points.
By season's end, Zorn said he developed more trust in Thomas.
"Devin has been playing faster," Zorn said. "[I'm] feeling good about where he is going and the speed that he is playing with. He's more confident."
Thomas had plenty to learn in his first season in the NFL. He really had just one standout season at Michigan State before the Redskins drafted him in the second round last year.
In 2007, Thomas had 79 catches for 1,260 yards and eight touchdowns for the Spartans.
That performance drew the Redskins' interest. Coaches wanted a taller receiver to complement Santana Moss and Antwaan Randle El, and Thomas's 6-2, 218-pound frame fit the bill.
The team added more size at wide receiver by drafting 6-4, 219-pound Malcolm Kelly later in the second round, but he was slowed by a knee injury most of last season.
Thomas's adjustment came not only in learning new pass routes but also competing against elite level cornerbacks.
"The biggest thing I learned is patience and continuing to work hard," he said. "It's a long season and you have to realize that each week is a new week with new challenges and new things to learn. You have to keep on going.
"There were some ups and downs--that's how things happen sometimes. But I feel like I can come in here [next season] and do everything right and play with a lot of confidence."
Many wide receivers often show great strides in their second NFL season.
Cincinnati's Chad Johnson, for example, jumped from 28 catches as a rookie to 69 catches, 1,169 yards and five touchdowns in Year 2.
Campbell knows the development of Thomas and Kelly could go a long way toward helping the Redskins' 19th-ranked offense take the next step.
"I am sure those two guys will really mature, because we have to count on them," Campbell said. "When the latter part of last season came, some of the tougher defenses forced us to rely on younger guys.
"So we have to make sure that we mature there and make sure that we are on the same page together. It is not about how fast you are or what kind of talent you have. You have to understand the different concepts of route running and gain confidence.
"A lot of that just has to do with experience."