Devin Thomas is an emotional player—even if sometimes his emotions get the best of him.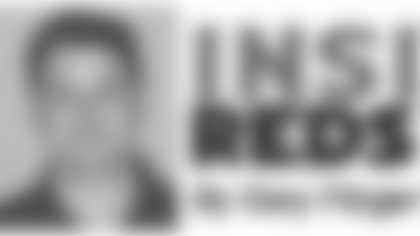 This Sunday, Thomas will play with plenty of emotion as the Redskins travel to Detroit--where he grew up--to take on the Lions at Ford Field.
He's already dreaming about scoring his first NFL touchdown in front of family and friends.
"Hopefully I can score," he said. "That would be a great thing, to be able to say, 'Hey, I finally got my first NFL touchdown, and I did it in front of family and friends."
Thomas grew up in Ann Arbor, Mich., and attended Canton High School, a suburb of Detroit. He would go on to play college football at Michigan State.
The Redskins drafted Thomas in the second round, 34th overall, in the 2008 NFL Draft.
Midway through his rookie season, Thomas has settled in as a reserve wide receiver. He has four catches for 40 yards so far.
He also plays on special teams coverage units.
Last Sunday against the Cleveland Browns, Thomas made a key fourth quarter tackle on Gerard Lawson after a 43-yard kickoff return.
Thomas was awarded the team's Big Hit Stick for the game's best tackle, an award he took pride in.
"I try to play with a lot of emotion," he said. "Sometimes I get a little carried away and coaches are telling me to calm down, but that's just how I play. I feel like I play like a defensive player on offense. I have a lot of tenacity out there."
Zorn said he was impressed with Thomas's hit on Lawson, as well as his attitude toward playing special teams.
"He just decided that [special teams] was his niche, and he was going to do a great job on what he was asked to do and not worry about what he wasn't doing," Zorn said.
It was expected that Thomas would be more of a contributor on the Redskins' offense, but it hasn't worked out that way so far.
He fell behind in training camp due to a hamstring injury and it has been difficult for him to catch up. He continues to fine-tune his route-running skills and is working on beating man-to-man coverage at the NFL level.
In the meantime, Thomas has settled in as the team's fourth wide receiver behind Santana Moss, Antwaan Randle El and James Thrash.
Malcolm Kelly, another Redskins rookie wide receiver, is struggling to overcome a lingering knee injury.
Jason Campbell has encouraged Thomas to continue to progress, because he knows there is a time when the offense will have to depend on him.
"He has an opportunity to learn as we go," Campbell said.