As roommates during Redskins OTAs, rookie wide receivers Devin Thomas and Malcolm Kelly talked about the future from time to time.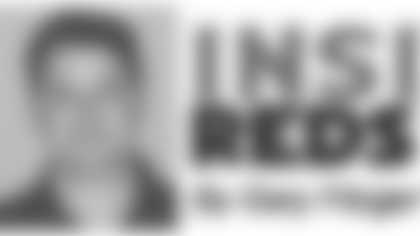 They both have great expectations as their NFL careers get underway.
They even see themselves--once established--developing into a "dynamic duo" of the Redskins' offense.
"We talk about it all the time," Kelly said. "Once we get [the offense] down, we feel that's all people are going to be talking about: Devin and me--and what we're going to be able to do. I think we're going to be able to do a lot."
Added Thomas: "We definitely see ourselves doing something like that. We came here for a reason. We both look forward to putting our best foot forward and doing what we have to do on the field."
Of course, Thomas and Kelly are not short on confidence, even as they go through a significant learning curve in their first NFL season. They are both on hand at Redskins Park this week as rookies continue to work out in the team's strength and conditioning program.
Their development could be one of the keys to the Redskins' 2008 season.
Santana Moss and Antwaan Randle El are expected to be starters at wide receiver.
Both Thomas and Kelly could see significant playing time as third and fourth wide receivers, especially in the red zone. If they can make an impact, the Redskins' offense instantly becomes more dynamic.
Their biggest challenge? Learning the playbook and running precise routes in Jim Zorn's version of the West Coast offense.
"I had some rookie mistakes [during OTAs] because I'm trying to learn everything," Thomas said. "But I think I'm coming along pretty well."
Said Kelly: "You have to get in and out of your breaks so quick and so exact. The margin for error is very small. You can get adjusted to the speed pretty quick, but you have to be exact on all of your routes."
Moss sees promise in both Thomas and Kelly.
"Some guys come in to the NFL and they panic a lot," Moss said. "They try to go too hard. One of the things I got a chance to talk to Malcolm and Devin about is just doing what they are good at. They will realize that they can catch on easier that way.
"They are both great athletes, so as long as they do what got them here, then it shouldn't be hard for them to go make plays."
Entering the NFL Draft, the Redskins were looking for wide receivers that had a combination of height and speed.
Thomas, 6-1 and 218 pounds, was the Redskins' first pick of the draft, coming in the second round at No. 34 overall. At Michigan State, Thomas set a school record with 79 receptions for 1,260 yards and eight touchdowns.
Kelly, 6-3 and 219 pounds, was the Redskins' third pick in the second round, at No. 51 overall. He grabbed 49 catches for 821 yards and nine touchdowns at Oklahoma last year.
The Redskins had first-round grades on both Thomas and Kelly. They were thought to be among the top wide receivers available in the draft.
As OTAs wrapped up last week, Zorn said he was impressed with them both.
"They are making great strides in getting to know the offense," Zorn said. "One of the biggest things that I am looking for is how fast they get comfortable with the offense. I can see them thinking about doing the right thing, instead of feeling comfortable as they explode off the line of scrimmage and gain leverage on a defender.
"They are coming out of the break, but it is a little bit mechanical right now. They shine when we go into a one-on-one situation. When there is not a pattern involved, and it's just a one-on-one situation, you can see their speed, their explosion, and their desire to catch the ball."
After one practice, Zorn praised Thomas for his concentration in catching balls in traffic. Later, he praised Kelly for getting a step on cornerbacks and successfully executing a "go route."
Still, Zorn knows that it's difficult for rookie wide receivers to make an impact in their first year in the NFL.
"It is hard for a wide receiver to come into any program, learn a new language basically and try to understand the techniques that particular offensive philosophy encourages and demands," he said. "When a receiver comes in he is getting used to be being a part of a pro team, he is getting a whole new vocabulary, and the only way to play receiver in the league is to play fast.
"The thing that young receivers do well in their first year--if they are great receivers--they will go deep well. Everybody can go deep, but when you are trying to run patterns and when you are trying to use the philosophy of the offense and think on the football field, it gets more difficult."
Thomas said he learned the most working with different quarterbacks and adjusting to how they throw on routes.
He felt comfortable working with Jason Campbell, the expected starter.
"He is cool, calm and collected," Thomas said. "He is a good leader, and I think that goes a long way. He helps me out a lot when I make a mistake by telling me we will get it next time."
Even though Zorn praised Kelly after one practice for beating
Kelly admitted he felt "far off," in terms of playing consistently in the offense.
"The play-calling has been the hardest thing to learn," he said. "You could have a play that sounds exactly the same as another play, but it could be one word in the whole play that's different, and it tells you to do something totally different. You have to go through the playbook every night and really learn it."
The positive is that they're both learning together.
And it has strengthened their bond.
"Always, it's going to be like that, until we're no longer here," Kelly said. "He's like a brother to me."