Depth at linebacker is one aspect of the Redskins' defense that team officials targeted for improvement in 2009.
One new asset to the linebackers is Robert Thomas, a versatile 7-year veteran who the Redskins signed on April 8.
Since arriving in Washington, Thomas has been somewhat under the radar on defense, but he could prove to be a sleeper free agent signing.
At this stage of the offseason, it's unclear how Thomas will be utilized in the Redskins' defensive scheme.
What is clear is that Thomas wants to earn a starting job.
"Right now, I'm rotating in the wheel," Thomas said. "Basically I'm here to compete for a starting job, wherever it may be."
His best option may be strong-side linebacker, where the Redskins are working in top draft pick Brian Orakpo, converted defensive end Chris Wilson and third-year player H.B. Blades, among others.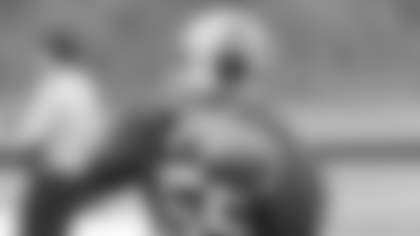 At the very least, Thomas should add considerable depth to the linebacker corps. He has had stints in Oakland, Green Bay and St. Louis, where he was drafted as the team's first round pick (31st overall) in 2002.
Thomas has experience at all three linebacker positions in the pros, but he has mostly played on the weak-side in his career. He feels that he can be successful at any position and knows that his experience gives him an advantage in earning playing time.
"Mentally, I know I can play all three positions," Thomas said. "That's just the confidence I have."
Added linebackers coach Kirk Olivadotti, in an interview with Redskins blogger Matt Terl: "Robert is a professional guy. He is in the meeting room a lot, by himself, making sure that he knows everything.
"He's doing a nice job, and he has really engulfed himself into our defense to try to learn it, because he understands the urgency. He knows that he can't make mistakes and be a competitor."
Even though Thomas faces a learning curve in adjusting to the Redskins' defensive scheme, he is able to impart insight about the league to some of the younger players on the roster.
"I'm learning just like they are, but what I'm able to tell them is how important it is to get inside that playbook," Thomas said. "If they think they know enough, then it's not enough."
The Redskins' linebackers have been a strong point this decade, with such players as Antonio Pierce, Marcus Washington, Lemar Marshall, London Fletcher and Rocky McIntosh excelling in recent years.
The Redskins' defensive line has improved this offseason with the addition of Albert Haynesworth and the secondary returns all of its key players with the exception of Shawn Springs.
Meantime, the linebacker corps returns just two regular starters in McIntosh and Fletcher. Orakpo should help beef up the position, but he is expected to see playing time at defensive end as well.
That's where Thomas enters the mix.
In the six seasons prior to 2008, Thomas recorded more than 50 tackles three times. In 2007, he tallied 62 total tackles in just 14 games with 10 starts.
During his career, Thomas has 292 tackles, seven pass deflections, two sacks, an interception and four forced fumbles.
Arguably his best season came in 2003, his second with the Rams. He collected 71 tackles in just 12 games that year.
Thomas suffered knee and hamstring injuries last season in Oakland, but he appears to have fully recovered after sitting out almost the entire 2008 season.
When asked how he well he was recovering from those injuries, he gave an emphatic answer.
"Awesome, this is the best I've ever felt in my career," Thomas said.
The UCLA product knows he must really emerge in training camp and preseason if he is going to earn a starting job.
"I plan on taking care of one thing at a time," Thomas said. "Right now, the goal is to earn a starting job. Once I get that, we'll see what happens."