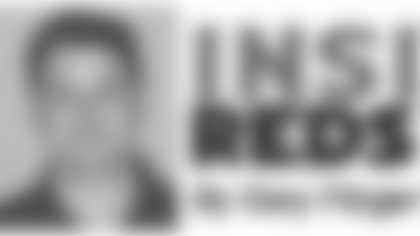 Randy Thomas has had so many bumps, bruises and injuries in his career, he has accepted that he won't be 100 percent healthy for the rest of his life.
Last offseason, Thomas had neck surgery and arthroscopic knee surgery. In the early weeks of training camp, the knee has still bothered him at times.
And yet, there he is on the practice fields, getting ready for this Thursday's preseason opener against the Baltimore Ravens.
"As bad as our injured guys want to go, we have to hold some of them back," Zorn said. "Randy would definitely be one of those guys. He wants to be with his teammates. We are trying to pull the reigns in on him."
Thomas is beginning his 11th season in the NFL. He has been a mainstay at right guard most of the last six years in Washington.
Offensive line coach Joe Bugel admitted last week he was "concerned" about Thomas's injuries.
That was before Thomas returned to action. He participated in practice this week.
"We want to be sure that he feels very, very good before we put him in the line and bang him around," Bugel said.
In recent years, the Redskins have sought out potential replacements, including 7-year veteran Jeremy Bridges and second-year linemen Chad Rinehart.
Thomas keeps battling, though.
"The thing is, with this injury stuff, it's more mental," Thomas said. "Some guys continue to struggle with it. In my life, I've always been trying to overcome obstacles, whatever it is.
"Coaches have confidence in me. I wouldn't be here if they didn't. And the guys look up to me. So I have to be there when it's time. I'm a pro."