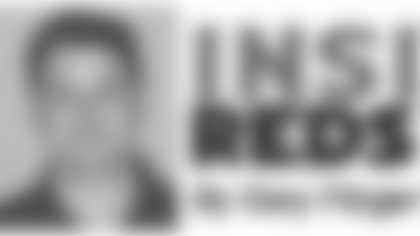 It's time for the stretch run, and the Redskins find themselves looking up at the NFC East-leading New York Giants but still in the thick of the hunt for a Wild Card playoff berth.
It seems assured that the last seven games will ultimately define the Redskins' season.
Here are three issues to keep an eye on in the Redskins' stretch run:
Jim Zorn has managed to stay one step ahead of defensive coordinators this season, in part because they had no history to evaluate Zorn as a play-caller.
Now they have five preseason games and nine regular season games to analyze, and there is certainly an ever-growing book on Zorn's tendencies.
Are defensive coordinators going to catch up?
"I think that remains to be seen," Zorn said.
This Sunday, for the first time, Zorn competes against a defense that has faced him before. The Redskins host the Dallas Cowboys, a team they defeated in Week 4 by a 26-24 score.
The Cowboys are sure to study that game film, as well as film from the Redskins' 23-6 loss to the Pittsburgh Steelers on Nov. 3. Both the Cowboys and Steelers run a 3-4 defensive scheme.
Zorn maintains that success in his offense is a matter of execution.
"It's not so much the game plan we have, it's when a play is called and it's the execution of the play at that time," he explained. "Against a very good football team, execution is a premium. It's being together and playing together for a long period of time. We haven't done that in the schemes we're in."
Zorn spent the bye week re-evaluating the play-calling, with an eye toward re-emphasizing or deemphasizing certain plays.
"We can see what to push towards the front," he said. "The plays that we're not making consistently, we can look at the percentages of how we're executing them. I think you can get a great evaluation by studying the results of a play you have run five times in a season.
"There have been a couple of play-action passes that we have been at outstanding at, and there have been a couple we haven't hit yet. Those are the ones I want to hone in on--and find out why.
"If it's route-running or pass protection, we have to find out. It may not be the scheme. It may be we're just not getting it done."
Forcing turnovers is an issue that has plagued the Redskins' defense for several seasons. In 2006, the Redskins set a modern NFL record with a scant 12 turnovers, lowest ever in a 16-game season.
This year, the Redskins have forced just three fumbles and six interceptions, ranking them tied for last with four other teams, including the winless Lions.
Simply put, the Redskins are losing out on game-changing plays.
"We need to create more turnovers," London Fletcher said. "If we can create more turnovers and give our offense more opportunities, then we won't have the close ballgames like we've been having."
For Fletcher, forcing turnovers consistently is a matter of staying true to the defensive scheme.
"When we create fumbles on the ground, we need to come up with them," he said. "We need to follow what the discipline of the defense calls first and foremost, and then from there make the play. The [fumbles] will come to you, if you do what the defense calls for you to do."
What about interceptions?
The Redskins have had an alarming number of dropped interceptions this season. It has plagued several Redskins, Fletcher himself, but Carlos Rogers has really struggled through the years.
Jim Zorn said it's a matter of focusing on catching the ball, instead of what could happen afterwards.
"Getting it is everything," Zorn said. "It's not the run afterwards—that takes care of itself. If we could just get the interception and fall down, we'd go, 'Oh no, he had a chance for a score.' But we would still have the ball and we would have changed the field position and we would have changed the momentum.
"That's what I have to get across to our guys. Anybody who has a chance to intercept a ball has to know that the catch is everything."
In the Redskins' last two games, the offense has struggled in scoring range.
In Week 8 at Detroit, the Redskins were 0-for-3 in the red zone despite winning 25-17 at Ford Field.
A week later, in a 23-6 loss to Pittsburgh at FedExField, the Redskins were 0-for-3 in the red zone again. They also twice had to settle for field goals after moving inside the Steelers' 30-yard line.
Red zone inefficiency is something that can catch up to a team in the long run.
Said Jim Zorn: "We have to execute there. In the red zone, everything speeds up and everything flattens out. The field is so much shorter. You cant' stretch the defense. You have to be more exact. Decisions have to be made quicker.
"Unfortunately we're not as exact as we need to be on certain things. I just think it's a matter of us continuing along. I'm not alarmed, but I know where we have to push."
Would it help to have a bigger receiver in the mix? Devin Thomas and Malcolm Kelly have been slow to get involved in the offense. Depending on the health of his knee, Kelly could see an increased role in the second half of the season.
Overall, the Redskins are 14-30 in the red zone, a solid 46.6 percent clip. So red zone struggles appears to be a fairly new problem for the Redskins.