For today's Throwback Thursday moment presented by Subway, Redskins.com looks back at the Redskins sending eight players to the 1992 Pro Bowl in Hawaii. After coming off one of the more dominating seasons in league history, perhaps it was no surprise.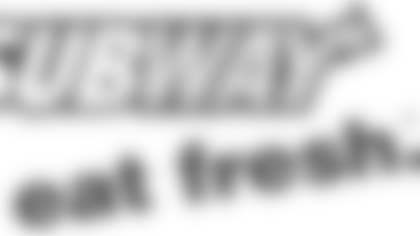 ](http://www.subway.com/)On Feb. 2, 1992, the Washington Redskins set a club record by sending eight – yes, eight – players to the Pro Bowl.
As we all know, the Redskins in that 1991 season would finish 14-2 and dominate their way through the playoffs, winning 24-7 against the Atlanta Falcons in the NFC Divisional Round, pounding the Detroit Lions 41-10 in the NFC Championship Game and pulling away from the Buffalo Bills, 37-24, to win Super Bowl XXVI.
Washington's winning ways continued, however. The NFC team, featuring four Redskins starters and four reserves, would go on to defeat the AFC 21-15 in front of a crowd of 50,209 at Honolulu's Aloha Stadium. Just for good measure, former Redskins quarterback Joe Theismann was ESPN's color guy for the telecast.
Here's a look at the eight Redskins participants in the 1992 Pro Bowl, as well as some notes from the 1991 season and/or the Pro Bowl game itself (click here for a copy of the gamebook and stats from that day):
Quarterback Mark Rypien: Completed 249-of-421 passes for 3,564 yards with 28 touchdowns to 11 interceptions in the 1991 season. In the Pro Bowl, he completed 11-of-18 passes for 165 yards with two touchdowns and an interception.
Offensive tackle Jim Lachey: Was part of an offensive line that allowed just nine sacks all season. Think about that. Lachey was a big part of that, and in 1991 was named First Team All-NFL by the AP, the Pro Football Writers of America – and just about every other media outlet.
Cornerback Darrell Green: The future Hall of Famer turned in another solid season in 1991, collecting 79 tackles with five interceptions. Green that season would be named First-Team All-Pro for the first and only time in his career
Kicker Chip Lohmiller: Lohmiller was clutch for the Redskins throughout 1991, making 31-of-43 of his field-goal attempts (72.1 percent), and all 56 of his extra-point tries. Lohmiller would convert two extra-point attempts in that year's Pro Bowl.
Running back Earnest Byner: Byner in 1991 helped keep defenses on their toes all game, as he ran 274 times for 1,048 yards with five touchdowns. He also had 34 receptions for 308 yards. He wouldn't be as fortunate in the Pro Bowl, however, as he recorded one rushing attempt for -10 yards on a play that was ruled a safety for the AFC squad.
Wide receiver Gary Clark: Clark in 1991 had a monster year, catching 70 passes for 1,340 yards and 10 touchdowns. He was just as good in the playoffs, catching 17 passes for 255 yards and two touchdowns. In the Pro Bowl, it was much of the same – albeit with limited opportunities. He caught two passes for 46 yards, including a 35-yard touchdown reception on a pass thrown from – you guessed it – Rypien.
Guard Mark Schlereth: Another Hog who was a huge piece of the Redskins' offensive juggernaut puzzle in 1991. He appeared in all 19 games in the 1991 regular season and postseason, and adding a Super Bowl title and a Pro Bowl appearance was pretty impressive for a 25 year old in his second year in the league.
Defensive end Charles Mann:Mann showed no signs of slowing down when he turned 30 years old in 1991, collecting 63 tackles with 11.5 sacks and forced three fumbles. In the Pro Bowl, he tallied two total tackles.