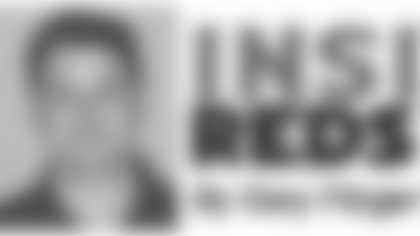 By all accounts, the Redskins' bye week arrives at a good time.
Players were at Redskins Park on Tuesday morning, just hours after their disappointing 23-6 loss to the Pittsburgh Steelers.
Some were working out. Some were chatting with media. Others were finalizing bye week plans.
After five preseason games and nine regular season games, the Redskins have earned five days off.
They must be back at Redskins Park next Monday to prepare for the Nov. 16 game against the Dallas Cowboys.
"The bye is coming at a great time," Jim Zorn said. "We're going to take some time off and relax, and just get away from it. Not that our guys are exhausted from it, but physically we're beat right now. When you have an opportunity to take a break, it refreshes you."
The Redskins' injury report heading into the Steelers game included a whopping 16 players.
Shawn Springs and Jason Taylor, both recovering from calf injuries, are expected to be available for the Cowboys game.
Chris Samuels and Santana Moss both were able to play on Monday night. Samuels has a knee injury that could require surgery at some point, while Moss has a hamstring injury.
Samuels was flagged for several holding penalties and Moss had just two catches for 14 yards, so clearly they were not at 100 percent for the Steelers game.
"[The hamstring] didn't get any worse," Moss said of his injury. "It pretty much held up, so that's a good thing. The bye week is going to be great for us because now I can just rest."
LaRon Landry also has a hamstring injury, but he has been able to play through it as well. He showed some "burst" in Monday's game that impressed Zorn.
Ladell Betts and Malcolm Kelly are expected to test their knee injuries after the bye, so they could be back in the mix soon. If Kelly's knee does not respond to rest, then he could be a candidate for injured reserve.
Of new injuries, Lorenzo Alexander suffered a shoulder injury, Anthony Montgomery had an Achilles injury and Marcus Washington suffered a rotator cuff injury.
At this point, Alexander, Montgomery and Washington are expected to be available for the Dallas game, Zorn said.
Beyond the rest, Zorn wants players to take a mental break from football as well as a physical break.
Not the coaching staff, though.
Heading into the bye with a 6-3 mark, Zorn said he will hold meetings this week to re-evaluate the Redskins' approach, both in terms of scheme and personnel.
"We are going to make sure we evaluate our schemes and evaluate individuals within those schemes," Zorn said. "I think we are on a pretty good roll, although we lost [on Monday night] so you have to qualify that. But we have the guys working hard. We just need to have them execute better as we work through the season."
On the offensive side, Zorn wants to analyze which play calls haven't worked--and why.
"We don't want to reinvent the offense," Zorn said. "Of the plays that we're not making consistently, we'll look at the percentages of how we're executing them. I think you can get a great evaluation by studying the results of a play you run five times in a season.
"There have been a couple of play-action calls that we have been outstanding at this season, but there have been a couple we haven't hit yet. Those are the ones I want to hone in on and find out why. If it's just route-running or protection, we have to answer those questions.
"But it may not be the scheme. It may be we're just not getting it done."
Several players refused to let the disappointing loss to Pittsburgh derail the optimism that has developed through the 6-3 start.
"We can't let one game detour what we have going on here," Moss said. "I'm glad we have a late bye. The past few years, we've had it in Week 3 or Week 4. The situation we have put ourselves in, leading up to the bye, we're still at a good point.
"We would like to be going off the bye with a win, but we have time to reflect on that and put ourselves in a better mental state for the second half of the season."
Added Mike Sellers: "The coaches have some decisions to make thus bye week about what is going on and if there are going to be any changes. Hopefully, we'll get right back on track heading into the Dallas game."