The outrage, the anger, the anguish, all of it can be attributed to the failure of the Redskins to meet expectations.
Heard it on the radio. Read it in the newspaper. That meets the two-source rule (right, sure, just bear with me on this). So it must be true.
One quick question then. Whose expectations?
Go back and look at the preseason predictions from any number of respected publications and news outlets. Find one that picked the Redskins to make the playoffs. Find one that predicted an 8-8 season to match last year's.
We're waiting. Keep looking. OK, now we're bored. Here's what you found -- 5-11, 6-10, even 4-12.
What you see is what you get. Worse, what you see is what you might keep getting.
The Redskins can compete with winless teams and sometimes beat them. It's anybody's guess what might happen against better competition but four scraggly games against the NFL's poorer clubs don't augur well.
"We've got a lot of things we need to iron out, a lot of problems," cornerback Carlos Rogers said Monday morning in the locker room. "It's from personnel to coaches to whatever it is. There are a lot of things that need to be ironed out.
"Until we address those issues and turn it around, we're going to be the same, going up and down. I don't know if it starts with the players first. It starts with ownership. They bring everybody in and they've got the last say-so of everything. That's where it starts, I guess."
Players, coaches, management. There's not an iron big enough to press out that many creases as Week 6 approaches. Right now the Redskins may not be equipped for any more than more of the same.
"We look better than everybody on paper," kick returner Rock Cartwright insisted. "They're doing it. We're not."
Better than everybody? Uh, no. Not getting it done? No argument.
The Redskins squandered a 15-point lead against the Carolina Panthers and lost 20-17. First victory for the Panthers. The Redskins had to come from 10 points down at halftime to beat the Tampa Bay Buccaneers. Still winless. Nipped the St. Louis Rams 9-7. That would be the Rams who have lost 15 consecutive games and allowed their four other conquerors to score 137. Lost to the Detroit Lions, who haven't won since and hadn't won for a whole season (and then some) before.
The Panthers have been outscored 104-57. The Bucs? 140-68. The Lions? 162-103. The Rams? 146-34. This clinking, clanking collection of caliginous junk is 2-17 this season, outscored in total by 552-262, and you know which opponent to connect to the deuce.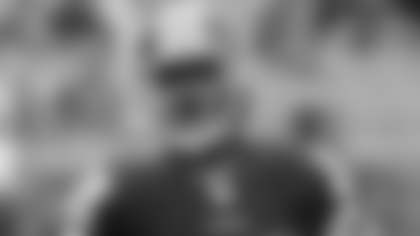 Again. This is the hand and the Redskins must play it.
"You can't do too much right now. You just have to go with what you've got and make the best for it," Rogers said. "That's what we're doing and making changes where they feel they need to make changes. Other than that, players have to step up and coaches have to step up and we've just got to find a way. That's the bottom line. We've just got to find a way to turn it around and deal with what we've got."
Contemplate this on the tree of woe. The Redskins might actually be playing as well as they can with the people they have.
They've started three right guards. They can claim no real depth at tackle and find themselves in deep yogurt with Chris Samuels' neck injury. Coach Jim Zorn declared the six-time Pro Bowl pick out of the upcoming game and now must make three moves – Stephon Heyer from right tackle to left, Mike Williams to right tackle from right guard and someone, either Chad Rinehart or Will Montgomery in for Williams.
The offensive line was the theoretical culprit in last season's late 2-6 slide and it appears to be appreciably worse with guard Randy Thomas already out for the season and Samuels joining him on the sidelines.
The Redskins have drafted four offensive linemen since 2004. That would include fifth-rounder Mark Wilson and sixth-rounder Jim Molinaro in '04 (not here, if either ever was), seventh-rounder Kili Lefotu in '06 (not here) and Rinehart, a No. 3 in 2008 who played not at all as a rookie and made two starts this season before again getting parked on the Sunday inactive list. The Redskins traded two draft picks to the New York Jets for guard Pete Kendall. He's not here.
Is anybody here even here?
So the Redskins rank 23rd in total offense, 25th in rushing. They've allowed 14 sacks. They've scored eight touchdowns. They average a laughable 4.8 yards per punt return. Their average time of possession of 27:55 surpasses only four teams and that group includes Carolina, the San Diego Chargers, the Buffalo Bills and the Oakland Raiders.
Gotta be careful about the company you keep.
The Redskins try again on Sunday at home against the Kansas City Chiefs. The Chiefs are not a team, Cartwright said, with which the Redskins should be lumped by fulminating fans or media meatheads.
"We're 2-3. The season's not over. We can win two games before we go to our bye. Then we can win seven in a row and what will you all say?" he said. "You guys make it sound like we're the worst team in America. There are a lot of teams that are 0-5. We're not one of them."
---
Larry Weisman covered professional football for USA TODAY for 25 years and now joins the Redskins Broadcast Network and Redskins.com to bring his unique viewpoint and experience to Redskins fans. Go to Redskins.com for the Redskins Blitz column and NFL Blitz on Friday. Larry also appears on The Jim Zorn Show on WRC-TV on Saturday night, on Redskins Nation, airing twice nightly on Comcast SportsNet, and on ESPN 980 AM radio, all in the Washington, D.C. area. Read his blog at redskinsrule.com and follow him on Twitter.com/LarryWeisman.