With the team taking some time off with an early bye, here's a list of the best quotes of the week, as compiled by Redskins.com, presented by GEICO.
10."Obviously, what we want our identity to be is a physical football team on both sides of the ball and a team that's mentally tough. We had some great flashes of that yesterday – them scoring a long-bomb touchdown to make it 21-10 and us coming right back to score on a two-minute drill to make it 28-10. In the second half, them scoring – we go three and out – and our defense is getting quality stops there to seal the deal. Some great situational work, some great signs of mental toughness and some great signs of hustle all across the board from our defensive line, linebackers, safeties, so it was an impressive performance."
Jay Gruden, on building a team identity
9. "I think we're very improved. I think any time you can hold a green bay packer offense to 17 points that's a pretty good day. And that was with one big play, for the majority of the game we played some really damn good football. We just gotta keep building on that and not get too comfortable during the bye week and take time to rest but also stay on top on your conditioning and physique."
Ryan Kerrigan, on the defense's performance so far
8. "It gives us a lot of confidence. It's definitely a good feeling going into the bye week coming off a win as opposed to a loss. We know there's some things we still gotta work on but now we kinda rest a little bit and just get ready for New Orleans, two weeks."
Jamison Crowder, on going into the bye week with a win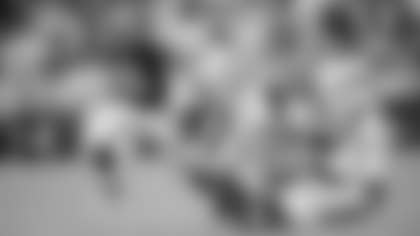 7. "Veterans are key to I think all football teams in the type of guys they are, the veteran leadership they provide, the veteran ways they go about their business on a daily routine – the routines they display for the younger players showing why they have been in the league for so long and how they are still so productive. With the work habits they have, their eating habits, the sleep habits, all that rubs off on the younger players. It's great to have them and then to watch them still produce at the high level that they do, it's good for everybody."
Jay Gruden, on having veterans
6. "You gotta keep an even keel. Like I said all week. It started with practice, all the older guys, all the vets, we took it upon ourselves to run to the ball extra, do whatever, because we knew what type of game this was gonna be. Just so proud of the guys, the young guys hopped right on board like they've done since OTAs. Run to the ball, you see Payne and all those guys flying around. We knew that's what is was going to take. It's going to take four downs to stop Rodgers sometimes, it was going to take special teams, it was a great time win. We knew we had to do it like that, it's never going to be easy. Every game is going to go down to the last minute and we're prepared to do it."
Mason Foster, on staying level-headed
5. "It builds confidence, it truly does. If you can have guys like that the whole time, that can go out there and be strong in that middle, in the trenches. It can takes us far, it really can and I've been preaching that since I got here. Whenever you can get guys like that because it starts up front. I starts with out O-Line, it starts with out D-Line, nothing more nothing less. We just service ourselves off of what they do, and they did a fabulous job today. Fabian, I said something about him earlier, he's my player of the game tonight. Just how he was able to go out there, he was playing all across the field today and making plays left and right. He got that force fumble, and I was there…it was his game, it was his ball and I just want him to realize that.""
Josh Norman, on how this performance will help moving forward
4. "We have three good games, especially for self-scout that is a good time to get that done. But you're right, we don't have a lot of data on that, just three games maybe our third preseason game we will throw in there. But just make sure we're aware of the tendencies that we have. Also start to get some work on New Orleans and Carolina because Carolina will be a short week, so maybe we get a little ahead on Carolina. We have a lot of work to do, make sure we keep in touch with our trainer and make sure that these guys are progressing like we think and getting ready for the game and address personnel if we need to. But really, it's about trying to get ahead and study what other teams are doing and continue to add to our playbook."
Jay Gruden, on how the team can use the early bye week
3. "It was a great team effort. We rush four not four one-on-ones, especially on the last one I gotta give a lot of credit to Preston, the defensive backs, there the ones who forced him up in the pocket, held e ball and I just happened to be the one who got there."
Jonathan Allen, on his two-sack performance
2. "Yeah, I have a great appreciation for Trent. He is the best in business, I have said it many, many times. It's a great luxury to have that blindside protected as well as he can protect it, also in the running game as productive as he is. It's not an easy task that he has. He's a very smart player, very productive, very strong, very quick footed. He's just an all-around great football player and it's a great luxury to have like you say. When he's healthy and even when he's not healthy he's the best in the business."
Jay Gruden, on Trent Williams
1. "I think it just shows how resilient we are, how versatile this defense can be. So if you gotta put Josh Harvey-Clemons in there to cover, or you gotta put me and ZB in there with 4 guys in front of us to stop the run, you have to do that. It's something that we work on all the time. So, I would just say being resilient, and being versatile. Being able to show different looks to quarterbacks and come out and blitz and stop the run with six people.It's something that we're going to have to do all year long, is switch it up and show different looks. But, I think we got a good versatile group."
Mason Foster, on the defense's performance