The Redskins' 40-32 victory over the New Orleans Saints to start this season will long be remembered as the impressive beginning of the Robert Griffin III era. But it should also be remembered as the game where Redskins long snapper Nick Sundberg played two quarters with a broken arm.
"We've got a story to tell to our kids and our grandkids, how we played with a guy who played a whole game with a broken arm," defensive tackle Barry Cofield said after the game. "I'm going to remember both. RGIII's going to come first, obviously, because that's what they're going to ask me about, but when my grandson scrapes his knee, I'll tell him about the guy who played with a broken arm."
During the first punt of the game, with under a minute left in the second quarter, Sundberg's left arm got pinned between two helmets and he broke his ulna, one of the two long bones in the forearm. At halftime, the injury was confirmed by the training staff. The bone was broken three-quarters of the way through approximately three inches below his wrist.
"I had to make a decision on what we were going to do for the rest of the game," Sundberg remembers. "Will Montgomery, the center – he's our backup snapper – I was watching him snap a little bit and I made the executive decision that I'm going to fight and get through the game."
As someone who would let his mom, who works for TASER, test out products on him growing up, Sundberg is no stranger to pain. Of course, breaking an arm is a different sort of pain from getting tased.
"The TASER hurts more for a shorter period of time," said Sundberg. "It's five seconds of agonizing pain, but after the five seconds, it's over. You don't have to feel it anymore. You get up off the ground like, 'That sucks, but at least it's over.' The arm, it just lingers and lingers and lingers."
To manage the pain during the game, Sundberg tried to convince himself it wasn't that bad.
"I tried to use some positive reinforcement techniques to tell myself it didn't hurt as bad as it really did," Sundberg said. "I snapped the ball eight or nine times after that, but honestly it wasn't nearly as bad on the field as it was warming up to actually snap. That's a tough one because I'm crazy about my warm-up regimen. I snap a certain amount of balls before every snap. On the sidelines, trying to throw them back was more difficult than being in the game because, when I was in the game, I was able to turn everything off and let my body react. On the sideline, I was very much aware of how much my arm hurt."
Somehow, Sundberg was able to make it through the rest of the game, snapping the ball for four punts, two field goal attempts and two extra points in the second half. The good news was that he was able to contribute to his team's big win over the Saints. The bad news was that Sundberg was placed on eight-week injured reserve and the 'Skins brought in Justin Snow to take over his job in the interim.
The third-year pro still showed up to the Redskins training facility every day, but he wasn't able to practice with his teammates for the first six weeks. He still attended all of the team meetings and did his best to be an active part of the team, even though he couldn't contribute on the field. Being injured and forced out of action was tough, not just physically, but mentally.
"I've never been hurt before. I've never missed practice, let alone a game, so I've never not been able to play. I think the most difficult thing was just watching my team play without me from home," he said.
Head coach Mike Shanahan doesn't allow players on injured reserve to stand on the sideline during games. So while Sundberg could have driven to FedEx Field to watch the games from a luxury box in the stands, he elected instead to watch the games at his house.
While he looked forward to seeing his team compete and wanted to see them win, it was still difficult for Sundberg to enjoy the game as a spectator.
"It's hard to just be a fan because I've got so much more invested, especially with knowing everybody," Sundberg said. "I wanted everyone to play well and wanted the team to succeed even if I wasn't playing. It was tough, but I didn't really have a choice."
The most challenging part of watching the broadcast from home, Sundberg said, was listening to the commentators weigh in on his team and his teammates.
"I literally had to watch games on mute," he said. "I can't stand listening to the commentators. It's bad. Just as bad as you fans think it is, it's even worse for us."
Being stuck at home for an extended period of time while on IR can be a bit maddening. For someone used to the fast-paced life of the NFL where seemingly every minute is accounted for, having so much free time to lounge around the house while recuperating from an injury is tough.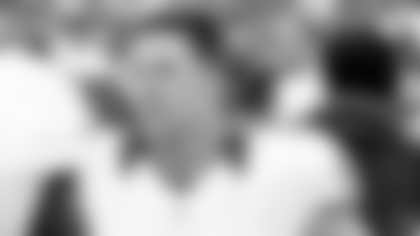 The 25-year-old spent much of his free time watching movies and daytime television – his favorite was the block of Friends reruns from four to six in the afternoon. He also found another key way to pass the time.
"I took more naps than I have in my entire life," Sundberg said.
When not napping or spending time with the gang on Friends, Sundberg looked for excuses to head back out into the world.
"I tried to get out of the house as much as I could, even if it was just to go to Chipotle to get some food," he said. "I just kind of got stir crazy for a little while."
Another thing that drove Sundberg crazy was handling all of the day-to-day tasks that suddenly became much more difficult while wearing a cast. Something as simple as getting dressed in the morning became a big ordeal.
"I would go to do something like put on my socks and it's the most difficult task of the day. Really? I just want to put my freaking socks on. Stuff that you never think about doing, when you can't do it, it's the most frustrating thing," he said.
While wearing the cast, Sundberg also had to stop wearing a watch because he couldn't get used to wearing it on his right wrist.
"It's so awkward wearing a watch on the other arm," Sundberg said. "You get so used to wearing a watch on your left arm. You go and put it on your right and you're like, 'What's going on here?'"
He did, at least, get to have a bit of fun with the colors of his various casts. The first one he wore was a traditional off-white cast that he was fitted for immediately after the game. But for the next two weeks, he sported a black cast. Then, as October rolled around, he decided to show his support for Breast Cancer Awareness month by sporting a bright pink cast.
"I got a lot of weird looks until I told people what it was for," said Sundberg. "I can't play, I can't wear the cool cleats, I can't rock the wristbands or whatever, so I'm going to get a pink cast."
Of course, wearing a pink cast is no big deal when you have a newfound reputation as a tough guy. Thanks to his decision to finish the game in New Orleans, the Phoenix, Ariz., native found himself getting recognition from his teammates, fans and the media as a tough guy.
"Right after it happened, I got a lot of really good feedback from guys on the team saying, 'I can't believe you were able to play.' I've gotten a lot of really good publicity I guess for just supposedly being a tough guy," he said.
Sundberg doesn't really see himself as a tough guy though. In his mind, it wasn't even a choice to keep playing, it was a necessity.
"When it happened, that's not the way I looked at it, like 'I'm tough enough to get through this,'" he said. "I've often said throughout my entire career that I don't care what happens, unless I'm carted off a field, I'm going to finish a game. It happened, so I couldn't go back on my word. But I really didn't have a choice. It was me or nobody. Call it tough or stupid or whatever you want, it is what it is. I just figured I didn't have a choice."
Sundberg decided to have some fun with his new-found reputation. He's started printing up shirts with taglines like "One arm? No problem" and "My long snapper is tougher than your long snapper." The idea for the shirts came out of a thread on Facebook where a buddy of his Photoshopped a pink cast onto a photo of Sundberg and all of his friends began jokingly coming up with various taglines. Sundberg found the whole thing amusing and decided to just run with it.
Of course, what Sundberg wanted to wear the most was his No. 57 Redskins jersey. And he finally got to put it back on and take the field once again when his team took on the Philadelphia Eagles two weeks ago. With a packed stadium full of screaming fans, including Sundberg's mother, he decided to reinstate one of his favorite traditions – he ran out of the tunnel, through the inflatable helmet, when taking the field, something most long snappers never do.
"That was a lot of fun. I was really excited. I got some laughs from all of the people in the tunnel. I don't think Justin ran through the tunnel when he was here. I kind of surprised a bunch of people and had to jump over a few others. When they're waiting for the team to run through, all the people that set it up are just milling around the big tunnel, so I come busting through and they have no idea," Sundberg said.
Since he's been back, the Redskins have beaten division rivals the Philadelphia Eagles and the Dallas Cowboys. The team is now back in the playoff hunt as they prepare to take on the New York Giants on Monday Night Football. Perhaps the toughest long snapper in the NFL is a good luck charm.
"No big deal, but we are 3-0 when I play," Sundberg said with a laugh. "Hopefully we continue the streak and make it 4-0."
It's sure to be a hard-fought contest, but as we all know by now, Sundberg is a tough guy.