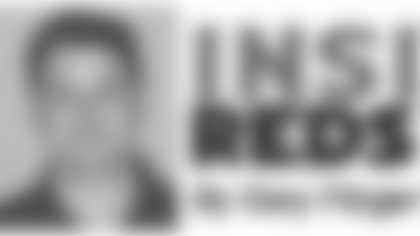 Redskins.com's training camp practice reports come to you with news and updates as action happens on the Redskins Park practice fields:
After two days of shorts and shells, the Redskins donned full pads and full gear on Saturday morning.
The intensity level of practice definitely picked up, right along with the humidity.
"There's a stress level and an uncomfortable-ness when you put on the pads," head coach Jim Zorn said. "The level of competition goes up and the level of tempo goes up. We don't try to tackle each other, but it is live to the tackle.
"It's a great thing. We're going to be doing this a lot in the morning practices."
No ferocious hitting, of course, but among the highlights was a mini-Oklahoma drill in which one defensive lineman matched up against two offensive linemen.
Heading out to practice, Rock Cartwright knew it was time to "buckle up" with the pads on.
"Everyone looks good with the shorts and shells on," he said. "When you put the pads on, that's when you see guys start to separate themselves."
The general consensus is that the defense is ahead of the offense, particularly up front on the lines.
Does London Fletcher agree?
"Yeah," he said. "For the most part, defensively we're doing a lot of the stuff we did last year. We don't have a whole lot to learn right now. Our comfort level with what we're doing is obviously going to be further ahead than the offense. But the offense did have some success against us in a couple different areas."
Jim Zorn was asked who impressed him during Saturday's full-pad session.
"I think Phillip Daniels was very sharp," Zorn said. "He's just so smart. I'm trying to outsmart him a little bit, but he won't be outsmarted, which is a good thing. And he's a real leader on the team.
"I look at London Fletcher as a guy who has really stepped up, getting people in the right spot and the communication. And look at some of our DBs--Justin Tryon filled a void with Carlos Rogers out and did a great job. DeAngelo Hall--he's just real active.
"The defensive line is wreaking havoc in our backfield right now. We have to block these guys. I'm excited on one hand, and then on the other I want to get going, too."
Zorn called the offensive line a "work in progress."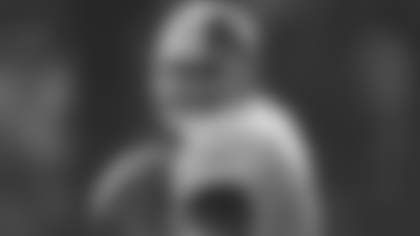 "I've seen some things I've wanted to see, but we're not done yet," he said. "Our guys are working hard and they're going to get better."
He said that while Stephon Heyer is working with the first team offensive line, he has not yet secured the starting job. He won't determine that until after preseason games.
"The position is open," Zorn said. "The decision will be made as we go along, but I want to wait until preseason to 'bless' the guy."
Two minor injuries to report: cornerback Carlos Rogers and rookie fullback Eddie Williams.
Rogers had minor leg soreness and was given the practice off.
Williams tweaked his hamstring and was working on the side with physical therapist Larry Hess. The injury was not considered serious.
Here's Saturday's recap of practice:
-- 7:50 a.m. ET
Welcome to Day 3. Upon arrival, fans were lined up outside the front entrance--should be a great crowd for this Saturday morning session.
Players are expected to wear full pads, full gear for the practice.
That means there could be some hitting out there.
All of the training camp competitions--right tackle, wide receiver, nickel cornerback--begin now. Coaches will look at and evaluate the film of Saturday's practice and begin their initial impressions of where players stand.
-- 7:55 a.m. ET
-- 8:25 a.m. ET
Despite all of the off-season rumors, fans have shown they are behind Jason Campbell.
As Campbell walked out to practice, fans started chanting "Campbell! Campbell!"
He is one of the keys to the season, and fans know it.
-- 8:29 a.m. ET
Always nice to see the Redskins greats at practice.
Redskins great Joe Jacoby is attending practice. Given his 6-7 height, he remains a towering presence.
It's still a shock that Jacoby, one of the legendary "Hogs," is not in the Hall of Fame.
Joe Theismann is also present again.
-- 8:44 a.m. ET
Rookie fullback Eddie Williams, the Redskins' seventh-round draft pick last April, is not in full gear.
It appears he is not practicing. He is working with physical therapist Larry Hess.
Williams must have suffered an injury during practice on Friday.
He is returning from a knee ligament suffered during his senior year in college.
-- 8:47 a.m. ET
Do players hear it when the fans cheer and chant their name?
Most of them pay no attention to it, though. It's nothing personal.
"You really can't get too caught up in that," Malcolm Kelly said. "I just go out there and play."
-- 9:10 a.m. ET
Spending some time this morning focusing on the linebackers.
Of course, Saturday is rookie Brian Orakpo's first "official" training camp practice.
Orakpo received instruction from linebackers coach Kirk Olivadotti on pushing off and fending off blocks.
Then Orakpo went full speed into H.B. Blades.
"There you go," Olivadotti said.
Robert Henson, another rookie, also drew praise, but Olivadotti pulled him aside and instructed him on footwork.
9:15 a.m. ET
Kirk Olivadotti led the linebackers through a fumble drill.
Players would fend off a block, then try to pick up the ball as it bounced on the ground.
"Bend those knees," Olivadotti said to Brian Orakpo.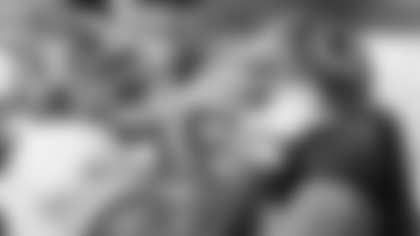 "Stay low the whole time," Olivadotti told Darrel Young, rookie out of Villanova.
Robert Thomas had the best bounce.
"Oh, there we go, Sunday hop," Olivadotti said.
9:20 a.m. ET
Not quite the Oklahoma drill, but close enough.
Two offensive linemen lined up against one defensive lineman. Then the defensive lineman challenged one offensive lineman.
One reporter thought the defensive linemen won the drills overall, but I thought the offensive linemen held their own.
Here are some of the memorable matchups:
Derrick Dockery and Casey Rabach teamed up against Albert Haynesworth. Big No. 92 got the best of Dockery, but not without a fight. Sometimes just slowing down Haynesworth is impressive enough.
Teamed with Casey Rabach, Randy Thomas got the better of Phillip Daniels, pushing him down to the ground as he charged them.
Next to Randy Thomas, Stephon Heyer used his massive frame to stop Andre Carter and push him to the ground.
Heyer and Carter go at it again, and this time Carter got past him by cutting inside, then cutting outside.
Best battle was between Will Montgomery and Kedric Golston. They both stood their ground for several seconds, pushing each other with full force, until the whistle blew.
Lorenzo Alexander blitzed past Chad Rinehart rather easily.
Rinehart again, this time against Daniels. Rinehart stood tall against the strongman Daniels, and Joe Bugel shouted his approval to the second-year lineman.
9:22 a.m. ET
Joe Theismann is standing in the middle of the field watching practice.
After a drill, he pulled aside Chase Daniel and appeared to be coaching him up on footwork and throwing motion.
If Theismann weren't a broadcaster, I bet he would become a coach. He loves football that much.
9:50 a.m. ET
The intensity level has picked up at training camp.
Yep, it's the pads. And the anticipation of hitting.
Here are some of the highlights:
Not a promising start for Derrick Dockery. He pulled up before the snap. Off-sides.
Devin Thomas made a nice grab in front of Fred Smoot. He collided with Smoot and LaRon Landry coming up behind him, but still held on to the ball.
Justin Tryon broke up a short pass to Malcolm Kelly.
Tryon again--he nearly picked off a pass to Santana Moss. The bounded off of his hands for an incompletion.
Todd Collins completed a pass to Antwaan Randle El on an intermediate route.
Fred Smoot playing free safety, he shouted out "SCREEN" at the snap, allowing Tryon to get in position to make a quick tackle.
Colt Brennan threw a quick pass to Marques Hagans, who caught in stride and turned up-field for a big gain. "That was a great pass!" yelled a fan. "Controversy!" shouted another.
10:10 a.m. ET
Improvement in the red zone is regarded as one of the keys for the Redskins' offense.
Midway through Saturday's practice, wearing full pads, the offense got to work in this critical category.
Ball placed at the 20. Here we go. Up first is Jason Campbell:
Campbell rolled right and found Antwaan Randle El at the 5-yard line for a nice pickup.
Derrick Dockery and Casey Rabach blocked Albert Haynesworth, then Rabach broke off and blocked Anthony Montgomery. Clinton Portis took the handoff and found a hole up the middle, scoring a touchdown.
Collins tossed a quick strike outside to Fred Davis, with Doug Dutch in position to make the tackle and hold the offense to a 5-yard gain.
Malcolm Kelly and Todd Yoder could not get open downfield, so Collins threw the ball away.
Renaldo Wynn got pressure past Mike Williams, hurrying Todd Collins. His pass to Ladell Betts was high.
Next play, Chris Wilson--lining up at defensive end--got past Williams in what would have been a certain sack.
One play, touchdown: Campbell threw a high-arching pass to Yoder in the end zone, who found an open area down the middle of the field. Randy Thomas raised his arms in triumph.
Campbell rolled right, and waited for Santana Moss to get open. Waiting. Waiting. Campbell threw the ball out of the end zone. Good team coverage by the defense.
Andre Carter put a nice move on Chris Samuels, escaping the Pro Bowler and pressuring Campbell. It would have been a certain sack.
Chris Cooley made an impressive diving grab, reaching for the ball in front of two defenders, for a 4-yard gain.
Same play, Fred Davis made a nice grab. Another 4-yard pickup.
Last play, Campbell tosses a high-arching pass to Malcolm Kelly in the end zone. Classic fade pass that uses Kelly's 6-4 height. Kelly fended off the defender and falling to the ground, held on to the ball. Out of bounds, though. Incomplete. After the play, Kelly earned praise from Campbell and offensive assistant Chris Meidt for his impressive athleticism. Just a slight adjustment, and next time that's a big play.
10:37 a.m. ET
Mike Williams, Rueben Riley
Offensive linemen Mike Williams and Rueben Riley walked off the practice fields a few minutes early.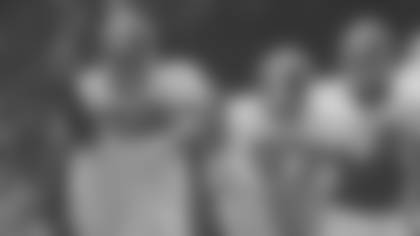 Williams walked off the field alongside head athletic trainer John Burrell.
It was a dehydration issue for both. Nothing serious.
10:40 a.m. ET
It appears Brian Orakpo has a following here.
Two prominent signs hoisted by fans:
"D.C. Texas Exes Welcome Brian Orakpo!"
"$20 Million Reasons Why Yesterday Was the Best Birthday Ever! Welcome to D.C., Brian Orakpo!"
-- 10:42 a.m. ET
The word is that Carlos Rogers left practice early due to some soreness in his leg and knees.
Nothing to be concerned about, I'm told.
Justin Tryon, who has played well this training camp, received extended reps in his place.
10:50 a.m. ET
With the Saturday morning practice over, rookies were recruited to carry the veterans' shoulder pads off the field.
Scott Burley, Maryland offensive tackle, had the worst of it. He appeared to be carrying three pads of his two of his linemates.
Even top draft pick Brian Orakpo had to carry London Fletcher's pads.
10:52 a.m. ET
Fan to Keith Eloi, undrafted rookie wide receiver: "Keith Eloi, you have some crazy hops!"
He has made a name for himself with a couple of Youtube videos, one of him leaping into a flatbed truck and the other of him leaping out of a swimming pool.
"What's your vertical?" the fan asked
"Forty-four," Eloi said, coming over to shake his hand.
11:10 a.m. ET
Eddie Williams sat out Saturday morning's practice due to a hamstring injury.
So it's not related to his ligament injury suffered last year.
The injury is not considered serious, it just tightened up on him, Jim Zorn said.
"It's not a pull, but I don't want it to be a full-blown [injury] that causes him to miss three weeks," Zorn said. "So we have him a break."
11:12 a.m. ET
Fresh off his first "official" training camp practice, Brian Orakpo spoke with the media and said he was excited to begin his participation wearing full pads.
"You always hear the talk, 'We're All-Americans in shorts and helmets,' but now with the pads on, nobody's talking," Orakpo said. "Everybody is well-padded, hitting, colliding, thudding."
"It feels good, though. The thudding feels good. I finally got my first thud with C.P. [Clinton Portis], so that felt good."
How is his adjustment playing both linebacker and defensive end?
"I'm still getting used to everything," he admitted. "When your mindset is on linebacker, then all of a sudden you go to different packages and I have to switch to defensive end. It's a totally different mindset and I'm trying to get well-adjusted to it."
He admitted it's a "relief" to play defensive end because that's what is most familiar to him. That's the position he played in college.
"With D-End, it's just get up-field and make a play," he said.
11:15 a.m. ET
Devin Thomas spoke to the media after practice on Saturday.
He was asked about his catch in front of Fred Smoot and LaRon Landry on the first play of 11-on-11s.
"You know, that's football," he said. "Those boys are ready. We have some good DBs. You always expect them to be right on you. I knew it was coming. I just made sure I caught the ball."
A storyline this training camp is the competition for the No. 2 wide receiver currently held by Antwaan Randle El.
Jim Zorn has made it clear that Devin Thomas and possibly Malcolm Kelly could compete for Randle El's position. Zorn would like to shift Randle El to the slot, where it is thought he could be more effective.
Said Thomas: "I just keep working hard and doing what I do. I want to make it a tough decision for [Coach Zorn]."
11:30 a.m.
Jim Zorn praised Malcolm Kelly after Saturday's practice and made note of the play he made on the end zone fade pass from Jason Campbell.
"I saw him flash on several occasions," Zorn said. "What a big target he can be. We ran a red zone drill and had him go up for the ball. Now he caught it out of bounds, but just the effort, the concentration on the ball and the snag out of the air--that's what we're looking for.
"As he becomes more comfortable running down the field and making breaks, we'll see more and more of him."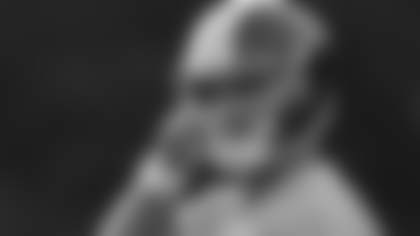 11:35 a.m.
The Redskins, as one reporter pointed out, lead the league in No. 3 quarterbacks with huge followings from their college years.
Colt Brennan is popular in Hawaii and Chase Daniel has his share of fans from Missouri.
Jim Zorn acknowledged that both are works in progress and that they are essentially competing to be the No. 3 quarterback. (Brennan, if he really shows improvement, could unseat Todd Collins at No. 2, but that doesn't seem likely.)
"They have to be almost perfect on any rep they get," Zorn said. "They don't get the grace a starter would or a backup would. They are demanded to play perfectly so they can earn more reps. That's it in a nutshell.
"With Colt, his footwork has gotten so much better, so he's feeling more comfortable. He just needs to continue to rise up. And Chase, I'm not even focusing on his throws yet, I'm focused on what he's doing with his feet. He's frustrated, but he has a great attitude. He actually has a pretty good ball when it comes out."
Any way they both could make the roster?
"I'm not going to keep four quarterbacks," Zorn replied. "I can't. I will not do that. That's tough."