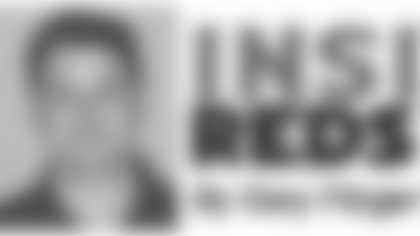 Redskins.com's training camp practice reports come to you with news and updates as action happens on the Redskins Park practice fields:
-- 7:55 a.m. ET
First Sunday of Football Season
I'm ready for a game. Who's with me?
Okay, this is training camp Day 4 instead. It's a soggy morning, thanks to some thunderstorms last night.
I spent Saturday evening with my wife Liza at the Paul McCartney concert at FedExField. Seats were a dozen or so rows in front of the owner's box. The stadium was rocking--literally. Great night!
Now let's see if practice is rocking.
-- 8:05 a.m. ET
Redskins players are in full pads for the second day in a row.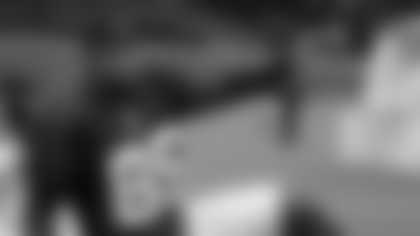 Fullback Eddie Williams is walking out to practice in shorts again. So it appears he's a no-go for practice.
There's a steady drizzle of rain, adding to the stress level of wearing full pads. Should be some good hitting out there again.
-- 8:08 a.m. ET
-- 8:20 a.m. ET
"Enjoy the rain," Jim Zorn said to a gathering of VIP fans as he walked out of Redskins Park.
Responded one fan: "This is good Seattle weather."
In that case, time for another cup of coffee.
-- 8:27 a.m. ET
As players go through warm-ups for practice, here's more from Devin Thomas's media session on Saturday:
On how he has improved as a route runner: "I've worked a lot on balancing my speed, coming in and out of my breaks, and learning to come off the line without taking too many cross steps. All in all, I just need to be fluid with my routes."
On realizing the importance of making adjustments, such as minimizing cross steps: "That's always something as a receiver that you've got to keep working on. As you become more mature as a receiver, you do little things better than you have done in the past. Coming out of college, I was pretty raw with certain things, but I used last year and the offseason to critique how I run my routes."
-- 8:36 a.m. ET
The drizzle turned into a steady rainfall now, just as the players complete warm-ups.
There's no lightning or thunder, so practice continued.
Five minutes later, the run subsided.
Head athletic trainer, wearing just shorts and a tank top, was among coaches who were drenched.
Pretty good crowd here on a Sunday morning.
-- 8:55 a.m. ET
Jim Zorn's wacky quarterback drills are back. These are perfect for training camp--they are a great attraction for fans.
Zorn gathered his quarterbacks midfield. As the QB dropped back to pass, he faced a barrage of pads.
Jason Campbell was tripped up as pads were thrown at his feet. At the last minute, another pad hit him in the back, and Campbell fell to the ground.
Todd Collins had his footwork impacted as he dropped back to pass. He stumbled, and his pass was off the mark.
Colt Brennan dropped back and did not have his mechanics interrupted at all by the barrage of pads. He maintained fluidity and completed his throw.
-- 9:15 a.m. ET
Returning from a minor calf injury is Carlos Rogers, who is back at practice on Sunday morning.
His calf is wrapped up and it appears he is working lightly in some drills.
It's early in training camp, no need to work Rogers hard.
-- 9:18 a.m. ET
The other day, Colt Brennan was seen playing free safety during offensive drills.
On Sunday, Jason Campbell and Chase Daniel got in on the action as the offense worked on drills.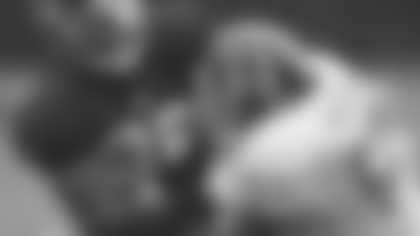 Backups need practice time, too, so that means the starters have to fill a role on defense.
Of course, the lanky Campbell would be an easy target playing safety.
-- 9:45 a.m. ET
After a tough first day in pads, could the offense rebound against the Redskins' stout defense?
Tough couple of plays for Roydell Williams. He dropped one pass, then let a well-thrown slant pass from Jason Campbell go right through his hands. The ball was thrown fast and hard, and he did not even get a hand on the ball.
Play of the day so far: Malcolm Kelly made a remarkable catch despite solid coverage by Alfred Fincher. Kelly leaped up and grabbed the ball, but Fincher poked at it. Kelly started to juggle the ball and slipped between his legs. Fallling to the ground, Kelly held on to the ball for the reception.
Todd Collins dropped back to pass and waited for a receiver to get open. From his right, Lorenzo Alexander had a shot at a sack. Collins got the pass off and connected with Todd Yoder downfield for a nice gain.
Nice effort by Trent Shelton diving for a Collins pass, but it wasn't enough. Incomplete. Doug Dutch had the coverage.
Jeremy Jarmon rushed into the backfield and was in position to tip a sideline pass by Collins. The ball fluttered behind Jarmon and into the arms of Santana Moss, who turned up-field for a nice gain.
Next play, Mike Williams handled Jarmon's rush, pushing him back twice. Collins rolled left but slipped on the wet surface. No play.
Anthony Alridge flashes his remarkable speed again. He burst past a block by Williams at right tackle and into the secondary. A frustrated Kareem Moore was in position to push down Alridge.
Antwaan Randle El in the slot, he burst into a cornerback at the snap. Randle El turned away and raced across the field, catching Colt Brennan's pass in stride and racing downfield for a nice gain.
-- 10:05 a.m. ET
Staying with the 11-on-11 action, Jim Zorn put 1:30 on the game clock and asked the first- and second-team offenses to move the offense into field goal range from the 30-yard line.
Jason Campbell is up first.
Brian Orakpo "thudded" into Chris Samuels, then was pushed into Derrick Dockery. Tough going for the rookie. Campbell completed a short pass to the sideline.
Albert Haynesworth escaped Samuels and pressured Campbell. He eluded the rush and found Devin Thomas downfield for a first down.
Campbell rolled right and found Thomas again along the sideline. Thomas made a nice catch right at the first-down marker.
Campbell threw a quick strike to Antwaan Randle El for a short gain. Just 12 seconds left, though.
More pressure on Campbell, but he stepped up in the pocket and found Thomas for a short gain.
Four seconds left, no time for another play.
Mike Williams pushed Jeremy Jarmon back, allowing Collins to complete a quick pass to Todd Yoder. H.B. Blades made the stop.
Reed Doughty leaped up in front of Yoder along the sidelines and had an interception in his grasp. The wet ball slipped through his fingers, though.
Collins connects with Marcus Mason for a short gain.
Collins connects with Ladell Betts on a pass in the flat.
Trent Shelton was open downfield and he had to dive for Collins's pass. He could not hang on to the ball, it slipped through his fingers. Tough play, but Shelton should have made the catch.
Collins passes across the middle to rookie tight end Robbie Agnone.
Just six seconds left, no time for another play.
Another chance for Campbell
Fred Smoot yelled "SCREEN." Campbell passes to Rock Cartwright, but he is quickly wrapped up by London Fletcher for a minimal gain.
Campbell passes across the middle to Fred Davis. Fletcher is there again, he tips the pass away and right into the arms of Chris Horton. Interception, series over.
-- 10:40 a.m. ET
Rogers Update, Williams Injury
Carlos Rogers participated in some of the drills, but he sat out the 7-0n-7 and 11-on-11 work.
The calf is "just a little tight," Rogers said after practice.
Roydell Williams may have injured a finger during practice. He was scheduled for X-rays, Jim Zorn said.
"A ball hit his finger and we have to get it X-rayed to see if there's any damage in there," Zorn said. "He said it was hurting real bad."
J.D. Skolnitsky suffered a minor hamstring injury during practice.
-- 10:45 a.m. ET
With the departure of Khary Campbell and James Thrash this offseason, there are openings for players on punt and kickoff coverage.
Campbell and Thrash were the Redskins' top two special teams tacklers last season. Campbell led the Redskins the last four seasons, too.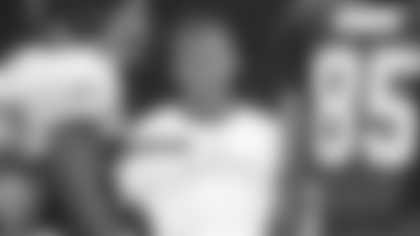 "There a larger pool this year," Jim Zorn said. "We call those guys core special teamers, playing on more than one unit. With all of the new young players coming in, and even the second-year players that have been in our program a year, they are better as well.
"I'm encouraged by what we have, but we have to work at it."
-- 11:05 a.m. ET
First-year running back Anthony Alridge continues to impress with his speed at practice, and Jim Zorn mentioned it in his post-practice media session.
"You saw a little bit of a flash with Anthony Alridge running the ball," Zorn said. "Everybody was looking around and he was through the line of scrimmage. The play was blocked very well, and he just took off."
Could Alridge emerge as the Redskins' version of San Diego's Darren Sproles?
Last offseason, team officials sought out a Sproles-like running back and came back with two in Alridge and Dominique Dorsey, formerly of the CFL.
"That's the type of acceleration that we can have with some versatility, both he and Dominique Dorsey are here because of that reason," Zorn said.
Alridge and Dorsey have to excel on special teams to beat out Rock Cartwright for the third running back.
"We don't have the luxury to take everybody, but in preseason games we have to judge what the combination is going to be," Zorn said. "I couldn't tell you what it is yet."
-- 11:30 a.m. ET
For the morning session, there was a steady rainfall early on, but it subsided.
Practice has been over for almost an hour and the rain is back.
Redskins practice again at 3 p.m.--it is closed to the public, though.
How did weather impact practice?
"We didn't switch a thing," Jim Zorn said. "We just went out and enjoyed the rain."
-- 11:35 a.m. ET
Zorn Impressed With Hagans
Asked Sunday about the development of second-year wide receiver Marques Hagans, Jim Zorn replied: "Yeah, he's showing up, isn't he?"
Hagans, a University of Virginia product, has had NFL stints with the St. Louis Rams and Kansas City Chiefs. He has nine career catches for 108 yards.
In college, he played quarterback, wide receiver, running back and even cornerback.
He's another Antwaan Randle El, basically, and he could be the front-runner to win the fifth wide receiver spot with Roydell Williams slowed by a finger injury.
"The thing Marques needs to do is just gain knowledge," Zorn said. "He ran a wrong route [Sunday] because he had never run it before. It was a clearing route and he took it too far over the middle.
"He really does a nice job running with the ball after the catch. He has a good, quick move. We're going to give him a shot in preseason games."
-- 11:55 a.m. ET
Jim Zorn was among those players who threw pads at the Redskins quarterbacks during the morning drill.
(A quick synopsis of the drill, mentioned earlier in the practice report: As the QB drops back to pass, he faces a barrage of pads thrown at him.)
One reporter suggested that Zorn looked a little too excited in the drill.
"I enjoy it every time I get to take a shot at those QBs," Zorn said, smiling. "Now we had a couple head shots, we want to stay away from that. It was fun. It was the first time that all of the guys had done that drill this year.
"I just want to give those guys a sense of the pocket collapsing or guys grabbing at them as they're in the pocket."
-- 2:48 p.m. ET
Back For Afternoon Practice
Redskins players are heading to the practice fields now, wearing shorts and shells.
The rain has subsided and it's a cool when the clouds shield the sun.
Keith Eloi and Kevin Barnes walk out of the facility together, chatting about hot tubs.
It appears that Carlos Rogers is going to sit out this practice with his calf injury. So are rookies Eddie Williams and J.D. Skolnitsky, who have hamstring injuries.
-- 3:09 p.m. ET
Tight ends coach Scott Wachenheim tossed some high-arching throws to his charges, forcing them to catch the passes over their shoulder.
This is something that Chris Cooley has mastered in his five years with the Redskins.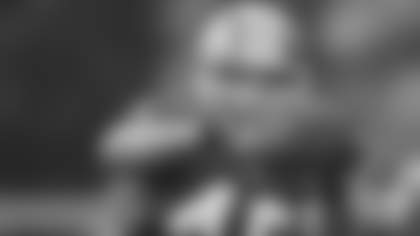 Remember that remarkable over-the-shoulder catch against the St. Louis Rams last year. nIt was one of the most memorable offensive plays last season.
-- 3:15 p.m. ET
Anthony Montgomery is sitting out Sunday afternoon's practice due to a sore knee.
The injury is not considered serious.
He is one of several defensive lineman sitting out practice.
Albert Haynesworth and Cornelius Griffin are also sitting out the practice as part of normal rest.
-- 3:30 p.m. ET
No word yet on Roydell Williams' finger injury, but he is on the practice field sporting a protective splint on his hand.
Williams even participated in a couple of drills and served as a cornerback as the offense worked on the field.
Williams is competing for the fifth wide receiver job, so any setback is detrimental to that cause.
Especially with Jim Zorn praising Marques Hagans earlier in the day.
-- 3:45 p.m. ET
Skipping over some of the mundane drills and moving right on to the action.
Spent a lot of time watching the offensive line vs. the defensive line, and it's reflected here:
Jason Campbell passed to Marko Mitchell, who found an open zone between two defenders. "Nice catch!" Jim Zorn shouted. "Now turn up-field!"
Jeremy Bridges pushes Brian Orakpo (lining up at defensive end) behind Campbell, giving Campbell time to throw to Devin Thomas on the opposite sideline. Pass complete.
Again, Bridges pushes Orakpo behind Campbell, and Campbell throws to Chris Cooley for another nice gain.
Chris Wilson speeds past Mike Williams and pressures Campbell--it would have been a certain sack. Campbell's throw to Fred Davis downfield was complete.
Bad pass by Campbell. He overthrows Dominique Dorsey in the flat.
Colt Brennan passes downfield to Robbie Agnone, but Kevin Barnes is in position to level a hard tackle.
Todd Collins throws a short pass across the middle to Rock Cartwright, but he did not see Antwaan Randle El running open down the right sideline.
Collins connected with Santana Moss for a nice gain.
Alex Buzbee and Lorenzo Alexander get a strong rush, but Bridges and Devin Clark are up to the task, fending them off and giving Collins enough time to throw to Dorsey downfield.
Campbell throws a deep pass to Marko Mitchell, who grabs the ball and holds on as he absorbs a hard hit from DeAngelo Hall. Another case of a veteran delivering a good, legal hit to a rookie.
Mike Williams battles rookie Jeremy Jarmon, as their pads clap together. Williams pushes Jarmon to the left, away from the quarterback and away from the play.
Rueben Riles pushes a hard-charging Lorenzo Alexander around Brennan, who throws to Robbie Agnone for a nice gain.
-- 4:15 p.m. ET
Moving right on to the 11-on-11 action:
Renaldo Wynn gets a strong push on Stephon Heyer, who steps backward. Jason Campbell's pass goes the opposite direction. After the play, Joe Bugel pulls aside Heyer for a brief talk.
Call it the "Old Reliable": Campbell passes to Chris Cooley downfield, Cooley catches the throw in stride. Chris Horton is there to make a touchdown-saving tackle, with Brian Orakpo also trying to chase Cooley down.
Santana Moss caught a short pass and then angle up-field. He found blockers in Will Montgomery, Chad Rinehart and Trent Shelton and he weaved his way through for a nice gain.
Mike Williams handles Rob Jackson, allowing Todd Collins to throw a short pass to Moss.
Colt Brennan drops a snap, quickly picks it up and, out of sync, quickly throws a pass to Chris Cooley. The pass is behind Cooley, incomplete.
Brennan hands off to Dominique Dorsey running to the left, but Alex Buzbee and Vaka Manupuna had strong pursuit, stringing out the play for minimal gain.
Brennan turns around in the pocket and quickly tosses to Moss. Diving to his left, Moss made a sensational grab.
Chase Daniel finds a well-covered Trent Shelton across the middle of the field for a nice pickup.
Daniel and Anthony Alridge mishandle a handoff; Daniel quickly scoops up the fumble and races around before the play is called dead.
Daniel makes a quick pitch to Dorsey, who cuts in front of a block to get up-field. Bugel saw something he didn't like from Scott Burley, and had a word with the rookie.
-- 4:30 p.m. ET
Mike Sellers and Kedric Golston got into a shoving match along the line of scrimmage after a play.
It's about that time in camp for players' patience to be tested.
"They love each other, trust me," Jim Zorn said with a wink after practice.