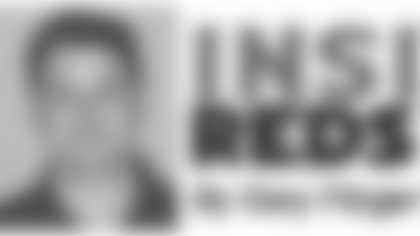 Redskins.com's training camp practice reports come to you with news and updates as action happens on the Redskins Park practice fields:
After four days of early morning practices, Redskins players had the morning off on Monday.
They came out for an afternoon session rested and ready.
Jim Zorn put the team through some 9-on-9, 11-on-11 and goal-line work.
Even though players wore shorts and shells, he wanted to see a crisp practice.
"That was one of the reasons we had a shortened practice--to have a high tempo," Zorn said. "I was very pleased. The guys had rest this morning, so I fully expected it. They gave me and my coaches a great effort out there.
"There were a few miscues, but I was looking for tempo, and I was looking for the alert assignment because we put in a lot of different situations."
After practice, Chris Cooley bristled a little bit at the suggestion that the defense is far ahead of the offense.
"We're so far ahead of where we were last year," Cooley said. "I don't think you can come into camp and say the defense is ahead of us in three days. You have to compare where we've been previously. What we have installed is three or four times more than what we did last year.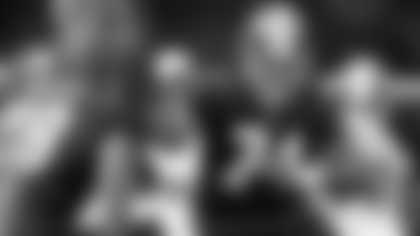 "We went out there [Monday] and installed a short yardage goal-line package, which we didn't install last year until one or two days before the Hall of Fame Game. We have 90 percent of our offense in."
Albert Haynesworth sat out Monday morning's practice to rest a sore knee. Same for Anthony Montgomery.
And Carlos Rogers missed practice due to a sore calf. It's uncertain when Rogers is expected back.
Here's Monday's practice recap:
-- 2:45 p.m. ET
No practice on Monday morning, and players had the opportunity to sleep in before morning meetings.
After four days of getting up at 5:30 a.m., I slept in, too.
Mid-afternoon, and players are heading out to the practice fields now.
They are in shorts and shells, so there won't be any hitting until Tuesday for the next open practice.
I anticipate this to be a relatively short practice report.
-- 2:55 p.m. ET
Just jumped up to more than 1,000 followers. We are behind compared to other NFL teams, but we're catching up fast.
-- 3:02 p.m. ET
By all accounts, Jeremy Jarmon has acquitted himself well, but he hasn't experienced that bone-jarring "Welcome to the NFL moment," yet.
"No yet, knock on wood," Jarmon said. "I'm just going to try to stay on my feet and keep myself going. I'm sure it's coming."
In practice, he has competed against 340-pound offensive tackle Mike Williams and held his own.
-- 3:15 p.m. ET
Montgomery, Haynesworth Update
Albert Haynesworth and Anthony Montgomery are not participating in practice.
Haynesworth and Montgomery are resting sore knees.
Haynesworth did some light work, but otherwise watched practice from the sidelines.
Montgomery was doing light jogging with assistant strength and conditioning coach Bobby Crumpler.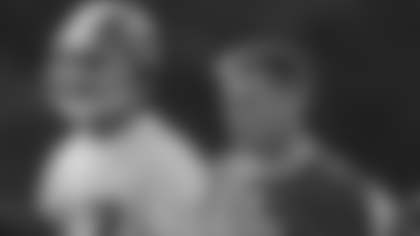 -- 3:35 p.m. ET
Players seem to have fresh legs after getting the morning off.
Good energy on the practice fields, and it shows up in 9-on-9 work.
Except for a couple instances, the first-team offense competed against the second-team defense.
Malcolm Kelly pulls in a Jason Campbell pass along the left sideline for a nice gain.
Campbell throws a beautiful deep ball downfield, Marques Hagans is open and races to catch up, but he can't hold on.
Clinton Portis races to the right and finds a hole behind blocking by Stephon Heyer and Chad Rinehart.
Devin Thomas pulls in a pass along the left sideline, and then cuts back inside and runs across field for yardage.
Again, Heyer and Rinehart open up a lane good enough for Ladell Betts to find running room.
Coaches are getting a good lock at the Heyer-Rinehart combination: another run to the right for Betts, but this time the hole closes quickly and he is stopped.
Kelly is well-covered by Michael Grant, so Campbell scrambles left and rushes through for yardage.
Cornelius Griffin got a strong push up the middle to stop Rock Cartwright on a run to the left.
-- 3:45 p.m. ET
Moving right into 11-on-11 goal line action.
Ball placed at the 3-yard line, second-team offense vs. the first-team defense.
First play, Todd Collins rolls right and finds Marko Mitchell in the right corner of the end zone for the touchdown.
Will Montgomery makes a nice block to help spring Marcus Mason up the middle for another touchdown.
Rock Cartwright takes a handoff from Collins, shifted left, but was met on by an unblocked Rocky McIntosh.
Collins rolls right again, this time on a bootleg, but Phillip Daniels was left unblocked and he had a clear shot at Collins as he turned the corner. Collins accepted his fate and the play was called dead.
On his first rep, Chase Daniel throws too fast to Dominique Dorsey, who was not open yet. H.B. Blades' tight coverage resulted in an incomplete pass.
Anthony Alridge took a handoff and went left. He cut past a block and turned into the end zone for a score.
Reed Doughty followed Todd Yoder as he went in motion. At the snap. Yoder was picked up by a blocker leaving Doughty to blitz into the backfield and disrupt a run by Dorsey.
Daniel throws a crisp pass to a well-covered Fred Davis in the end zone for a touchdown.
Next play, Daniel fumbles the snap (Devin Clark is there to gather it in) and walks off the field in obvious frustration.
4:08 p.m. ET
The Redskins ended practice after just an hour. Very light day in terms of workload.
Jim Zorn said he was satisfied with the tempo of the practice, though.
"That was one of the reasons we had a shortened practice like this--to have a high tempo," Zorn said. "I was very pleased. The guys had rest this morning, so I fully expected it. They gave me and my coaches a great effort out there. There were a few miscues, but I was looking for tempo, and I was looking for the alert assignment because we put in a lot of different situations."
Media horde is surrounding Albert Haynesworth as he walks off the practice field
4:10 p.m. ET
Albert Haynesworth said he was not concerned about his sore knee.
He had what is called a Synvisc injection earlier this week to help alleviate swelling and protect cartilage.
"I had the injection last year," Haynesworth said. "It's normal. I'm all right."
It's not related to the knee injury that sidelined him late in the 2008 season.
"Maybe I should just lose this leg, it would be better," Haynesworth joked.
4:12 p.m. ET
Carlos Rogers sat out practice on Monday and he was unsure when he would return to action. He might not be available in Saturday's scrimmage as part of Fan Appreciation Day at Redskins Park.
He said he continues to feel some soreness and tightness in his calf, but it's improving.
"I'd rather take a few days and make sure it heals, rather than be out for weeks like Shawn [Springs] was last year," Rogers said.
Springs, who plays for the New England Patriots now, missed seven games for the Redskins last year after suffering a calf injury prior to Week 1.
"I don't want that to happen to me, so I want to make sure I get these treatments and make sure it's right," he said.
4:20 p.m. ET
Back from a hamstring injury, rookie fullback Eddie Williams returned to practice on Monday afternoon. He was limited in his reps.
How did his hamstring feel?
"Not too bad," he replied. "It was a shorter practice and we didn't have pads on. I was just getting back out there and moving around a little bit. Coaches have been very accommodating and helping me through some things I don't know. So it went pretty smooth."
4:25 p.m. ET
With news breaking that the Philadelphia Eagles lost starting middle linebacker Stewart Bradley for the season due to a torn ACL, perhaps the collective Washington, D.C., media had injuries on their mind.
So Albert Haynesworth's sore knee was under the media microscope after practice.
It was the first question of Jim Zorn's media session.
"We're just trying to keep his knee, which is sore from all of the work we've been doing, so that we don't have to shut him down for more than a day or two," Zorn said. "I'm absolutely pleased with where he's at right now."
Asked if he considered it a long-term concern for the season, Zorn replied: "No. Not at all."
Haynesworth has not played 16 games in a season since 2002, his rookie year. He has averaged playing in 13 games per season, so he does not miss extensive time when hurt.
Late last season, Haynesworth was slowed by a knee injury and missed two games.
Is durability a concern with Haynesworth?
"It's a concern, but I wouldn't single him out," Zorn said. "This is a violent game. You just never know. What I like about a football player is that he goes hard until he can't go hard any more. That's what we expect and that's what a ball player expects from himself.
"I fully expect him to go as much as he can. Now he's not going to play 70 plays per game. He's going to play a percentage. Some of that has to do in part on how he feels and the rotation we have. He is 350 pounds and to go hard for 70 plays is very difficult. So the rotation is what we're looking for."
4:35 p.m. ET
Wide receiver Roydell Williams has suffered a fractured little finger and he underwent surgery on his finger on Monday.
It is unknown how much time Williams is expected to miss due to the injury.
"They had to put a plate in there," Jim Zorn said. "It was fractured enough to have to put in a plate. We'll see what the weeks are until we can get him back."
Williams suffered the injury during Sunday's first practice.
5:20 p.m. ET
Second-year offensive lineman Chad Rinehart saw extended reps during Monday's practice.
He responded by teaming with Stephon Heyer on several nice running plays.
Rinehart saw action with the first team to spell Randy Thomas during practice.
"We want to watch Randy Thomas and make sure he does not get overworked or sore," Jim Zorn said. "He kind of took a shot a couple days ago where his elbow hyper-flexed. He's not taking any time off, so we have to force him to watch a little bit.
"Chad is coming on. We want mix guys in with the starting group so we can find that right formula."