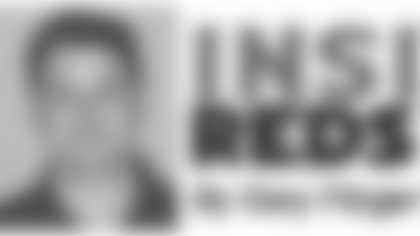 Redskins.com's training camp practice reports come to you with news and updates as action happens on the Redskins Park practice fields:
After six days of practices, including five 2-a-days, the storyline from Redskins Training Camp is once again the offensive line.
This time, effectiveness is not the issue. It is health.
Stephon Heyer suffered a knee injury that required an MRI on Tuesday. Jim Zorn called the MRI results "encouraging" and said the team would monitor his progress.
Mike Williams suffered a lower abdomen strain. The team continues to monitor his progress as well.
Randy Thomas sat out practice to rest a sore knee and Zorn said there was no timetable for his return.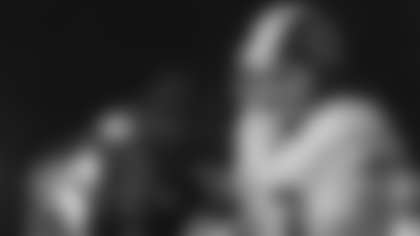 Casey Rabach was seen limping during practice and his calf was later taped up with an ice pack.
Rueben Riley suffered a sprained ankle during Tuesday's practice.
The most serious injury seemed to be Heyer, but Zorn was optimistic that would not be a "major issue."
"It happened in a big pile, and I heard a little 'ugh,' so I knew something had happened. It was Heyer," Zorn said. "If he's out because we have to rest him, then that's what we'll do...We'll see. This will be a practice setback, not a season setback."
Regarding Thomas, Zorn said: "He felt like when he tried to anchor and really put a load on the knee, it was a little bit abrasive. So we held him out. I don't know how many practices we'll have to hold him out. With Randy, it's probably not going to be for long."
During Tuesday morning's practice, the Redskins worked on multiple sets, including 11-on-11, 7-on-7, goal line and short yardage.
The offense has started to shake off its rust and show signs of progress against a defense that was overwhelming in the first few days of camp.
"It was a very physical practice," Zorn said. "We had a chance to work on goal line and short yardage, and that's always a challenge because you have tighter splits and guys really coming hard off the ball.
"We had a couple of great plays. Our defense stopped a run, which they should be able to do. It was very competitive."
Then Zorn was asked what he was most proud of in the first six days of camp.
"I'm proud that the defense is really swarming and doing a nice job together," he said. "They're really communicating to each other and they're really playing fast.
"On offense, I'm pleased with the amount of offense we have put in right now. We don't have it all down, but we have a larger amount we have put in and we have come a long way. And I'm proud of the way we're working. We're really focused right now."
Here is Tuesday's practice recap:
-- 8:05 a.m. ET
It's already the sixth day of Training Camp. Time flies when you're working around the clock.
The Redskins host a morning practice that is open to the fans--and a good turnout is expected.
Players are in full pads for the morning session. Since the team had a light workday on Monday, look for Tuesday's session to include some hitting.
It's a 2-a-day--the Redskins host a special teams practice this afternoon. That session is closed to the public.
-- 8:07 a.m. ET
Follow Redskins.com's practice reports--as well any breaking news--on Twitter.
-- 8:18 a.m. ET
The Redskins have been limiting the reps of Randy Thomas in training camp. He is coming off neck and knee surgery in the offseason.
Thomas walked out on to the practice field in shorts, but he was carrying his helmet.
Looks like it's limited work for Thomas this morning.
That means more reps for Chad Rinehart, the second-year offensive lineman out of Northern Iowa.
Rinehart got an extended look in practice on Monday working alongside Stephon Heyer.
-- 8:38 a.m. ET
Albert Haynesworth is in full gear and is practicing on Tuesday.
So, as expected, all of the concern about his sore knee and the Synvisc injection was much ado about nothing.
Carlos Rogers (calf), Anthony Montgomery (sore knee) and J.D. Skolnitsky (hamstring) are sitting out practice.
Roydell Williams is also not at practice after undergoing surgery on his finger on Monday.
-- 8:55 a.m. ET
Under the watchful eye of Jim Zorn and Chris Meidt, the quarterbacks gathered at midfield and took turns throwing the ball into a small hoop in he middle of a net.
The drill tested quarterback accuracy, both in the pocket and on the move.
Jason Campbell was the least accurate, missing the hoop in the net on four throws that I saw.
Colt Brennan did the best, nailing the throw in the hoop on two occasions.
Todd Collins hit on one of his throws, as did Chase Daniel.
-- 9:30 a.m. ET
Heavy focus on running the ball and stopping the run midway through practice.
"Stay consistent," yelled Fred Smoot to the defense.
Not much room to the right for Ladell Betts, and Justin Tryon came up and put a good hit on the running back.
Alfred Fincher, Lorenzo Alexander and Tryon got in position to tackle Betts on another run to the right.
Renaldo Wynn twisted off a block and got in position to tackle Marcus Mason on a run up the middle.
Jeremy Bridges and Fred Davis had solid blocking as Mason found a hole to the right.
Jeremy Jarmon falls down as he tries to fend off a block, and Anthony Alridge finds a lane for him to cut back through.
Will Montgomery blocks out Antonio Dixon, giving Dominique Dorsey a hole up the middle.
-- 9:45 a.m. ET
Moving on to some 11-on-11 work during practice.
Here are some of the highlights, coming at you fast and furious.
First play, defense sets the tone: the pocket collapses quickly on Jason Campbell, and his throw to Antwaan Randle El was off target.
Campbell's pass to Santana Moss was high, and Moss leaped up. He could not hang on. "You've got to catch that, Santana!" shouted a fan. I beg to differ--that was a tough catch.
Mike Sellers picks up Brian Orakpo at the line of scrimmage, giving Campbell more time. No one open, so Campbell scrambles left, away from Orakpo.
Handoff to Rock Cartwright, and to his left Chris Samuels and Lorenzo Alexander fall down as they go against each other. Cartwright takes advantage and races around left end for a nice gain.
Campbell fumbles a snap, and he claps his hands in frustration. Play over.
Mike Sellers picks up a blitzing Alfred Fincher as the pass protection unit picks up coverage. It allows Campbell, still smarting over his fumbled snap, to throw a high-arching deep pass to Antwaan Randle El downfield. Randle El had beat his defender by 10 yards and pulled in the pass for an easy touchdown.
Todd Collins comes in and quickly throws a strike to Trent Shelton. Kareem Moore gambled and tried to deflect the pass, but he missed. It allowed Shelton to break free downfield.
Jeremy Jarmon and Antonio Dixon both get penetration up the middle and disrupt Cartwright's run to the right.
Colt Brennan's first throw of 11-on-11s is a crisp pass to Marko Mitchell.
Anthony Alridge, giving up a lot of size given his 5-9, 175-pound frame, is able to slow a blitzing Chris Wilson in the backfield. Brennan scrambles left to avoid Wilson's blitz and decided to run with the ball.
-- 10:15 a.m. ET
Switching gears, the Redskins move to the goal line and run a series of plays.
It's the second day in a row the team has worked on goal line packages.
Jason Campbell rolled right, and Reed Doughty moved away from coverage to make a play. That left Marko Mitchell wide open in the end zone for an easy touchdown.
Chris Samuels effectively blocked out Rob Jackson, opening up the left side for Ladell Betts to scamper into the end zone.
Colt Brennan rolls right and quickly throws to Fred Davis, who catches the ball at the 2-yard line and swerves into the end zone.
Brennan drops back to pass and seems to hesitate. He starts to roll right again. This appears to draw the ire of Jim Zorn: "What are you looking for?"
Albert Haynesworth, sore knee and all, bursts through the line and disrupts a run by Dominique Dorsey.
-- 10:20 a.m. ET
Casey Rabach was in the athletic trainer's tent getting his calf wrapped in ice.
It appears he suffered an injury during the previous series.
"I just tweaked it," Rabach said.
(After practice, Rabach was no longer wearing the wrap.)
-- 10:25 a.m. ET
Prior to more 7-on-7 drills, Fred Smoot got some "smack" in at Jason Campbell.
As Smoot walked over to his position, he said: "All day, J.C. It's going to be today, it's going to be tomorrow, it's going to be the day after that. We're bringing it all day."
Here's a sampling of the 7-on-7 action:
It's Smoot on Santana Moss, but Campbell's throw goes to Antwaan Randle El in the middle of the field.
Todd Collins throws a deep pass to Marcus Mason running downfield. Timing is off. Mason does not turn around in time and the ball falls incomplete.
Next play, Collins connects with Mason on a swing pass, although rookie linebacker Darrel Young has the play well covered.
Collins throws to Fred Davis, but the ball bounces off his hands and up in the air. Safety Michael Grant is there to haul in the interception.
Collins hung on in the pocket...Too long, though. Jeremy Jarmon finally broke loose and had a clear shot at a sack.
Colt Brenna fakes play-action, then rolls right. He connects with Trent Shelton for a nice gain.
-- 10:30 a.m. ET
Practice ends after two full hours.
Word is that Stephon Heyer may have hurt his knee during a pile-up during the goal line drills.
Stay tuned for more from Jim Zorn.
-- 10:40 a.m. ET
Coming off the practice field, Randy Thomas said the team was "taking its time" with his sore knee.
Thomas had an off-season knee scope and it swelled up after the first few days of camp.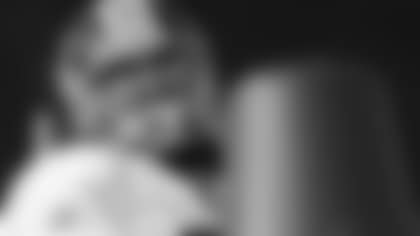 "We just have to be careful with it," Thomas said.
Like Cooley on Monday, Thomas bristled at suggestions that the offense was far behind the defense early in training camp.
"This is how [the media] makes money, the stories," Thomas said. "You have to keep something going, some type of thing. We're just taking it day by day and we're getting better. You guys can keep writing stories, we'll just keep playing ball."
-- 10:45 a.m. ET
Waiting to hear the word on Casey Rabach's injury, and Tanner Cooley catches me off guard by suddenly interviewing me on his flip cam.
I have done TV, but I feel like I need to be prepared. I don't do off-the-cuff too well.
So my answers to Tanner's questions--which were intended to make fun of Rabach? Pretty lame.
Here's hoping my little interview ends up on the cutting room floor.
-- 11:10 a.m. ET
Stephon Heyer has a bruise on his knee, Jim Zorn said after practice.
"I don't know what the extent of it is," Zorn said. "We're looking at it."
Also, Mike Williams has injured his groin, Zorn said.
They join Randy Thomas and Casey Rabach in nursing injuries.
-- 11:15 a.m. ET
Roydell Williams could be sidelined 4-6 weeks as he recuperates from surgery on his finger, Jim Zorn said.
"I'm just speculating [on the timeline], though," he added.
Williams cannot start running for "a couple weeks, possibly three weeks" post-surgery, Zorn said.
Williams' absence has put more pressure on the younger wide receivers as they get more reps and try to emerge from the pack.
"They have sore legs right now, too," he said.
-- 11:20 a.m. ET
Antwaan Randle El finds himself in competition to hold on to the No. 2 wide receiver job, as well his punt return duties.
Even so, Randle El is a critical piece of the Redskins' puzzle.
"We have to have him," Jim Zorn said. "He has to practice every day. He has a little wear and tear, but he just keeps going. He's a great football player, a great leader and a great person for our football team. Our team respects that. His presence out there is just perfect for us."
-- 11:30 a.m. ET
Jim Zorn did not seem to think that Stephon Heyer's knee injury was very serious.
"If he is out because we have to rest him, then we'll do that," Zorn said. "I don't think it's a major issue. We'll see."
Zorn also called it a "practice setback" for Heyer, not a "season setback."
Jeremy Bridges could get more playing time at right tackle as Heyer and Mike Williams, who has a groin injury, get rest.
-- 11:35 a.m. ET
Jim Zorn was asked after Tuesday's practice about players who are active on Twitter and other social networking sites.
Not surprisingly, Zorn does not use Twitter.
"No, I don't Tweet on my Twitter."
What about his players using Twitter? Any concerns there?
"I don't worry about it, but we talked about it," Zorn said. "There are so many things that players can do. You can Facebook, you can blog, you can Tweet, you can text--you can do all these things. How many things are there?
"I can't worry about it. What we do is we try to educate and talk about the perils. They already know about he advantages, but you talk about the cautions that you need to take with it."
-- 1:35 p.m. ET
Special teams coordinator Danny Smith is hosting a special teams practice early this afternoon.
Most of the veteran starters had the afternoon off.
It's a spirited session, with plenty of drills. Even Chase Daniel, a quarterback by trade, is out on the practice fields helping out.
There is a focus on new rules, particularly the new wedge rules when blocking on kick returns.
This offseason, the NFL changed its rules about blocking wedges on kick returns, forbidding teams from using groups of three or more guys to block kick coverage gunners and open lanes for the returners.
-- 1:50 p.m. ET
What does Danny Smith want to see from players on special teams?
"The big thing is effort," he said. "If you give me effort, my job is to coach you. And then I start looking for pad level. And are they coach-able. When I make a correction, do they get it right the next time?
"When a guy is working and ripping and really throwing guys on the ground in a game, then they realize how important those reps are during practice.
"Trust me, I've got plenty of game tape and drill tape that I'll show the players and reinforce why we do the drills we do. And then they begin to understand it."
-- 2:10 p.m. ET
Turns out that Stephon Heyer had an MRI on his injured knee.
Jim Zorn said the results were "encouraging," but he added that the team will monitor his progress.
Who takes over at right tackle with Heyer and Mike Williams sidelined with injuries? (Williams has a groin injury.)
Best bet is Jeremy Bridges.
We'll find out Wednesday.