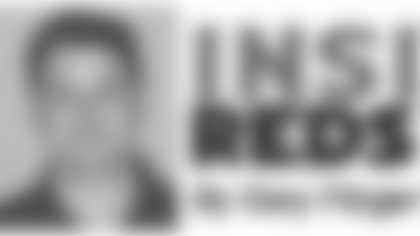 Redskins.com's training camp practice reports come to you with news and updates as action happens on the Redskins Park practice fields:
Wednesday morning, the buzz at Redskins Park was D.J. Hackett, signed to the roster to replace the injured Roydell Williams.
The greater sense of urgency was the status of the offensive line.
Three starters were on the sidelines as practice began: Stephon Heyer (knee), Randy Thomas (knee) and Casey Rabach (calf). Add in backups Mike Williams (calf) and Rueben Riley (ankle).
The concern for Jim Zorn is that cohesion suffers.
"They are nagging pulls and strains, so I'm not as concerned about the injuries as I am about the lack of work that we get when we are injured," Zorn said. "It slows down the ability to work as a unit."
Thomas's return was described by Zorn as "ratcheting it down, and then revving it back up." During training camp, Thomas is going to get rest, then get reps.
"At the end of [training camp], we need to have him ready to go," Zorn said.
Offensive line coach Joe Bugel admitted he was "concerned" about Thomas's knee.
Otherwise, Bugel took the optimistic route, saying that giving all of the backups work with the first team offered "great evaluation."
"We've got some good young kids," he said. "Devin Clark--we thought he wouldn't be able to play tackle because of the high rushers, but he is having an awesome camp.
"I'll tell you who's having a good camp besides Casey Rabach is our centers. We have three quality centers. Will Montgomery is really having a banner camp and behind him is Edwin Williams. We're moving Montgomery down to guard, too. I tell you what, he is a real workhorse, that kid."
Bugel said coaches are bringing Williams along slowly, adding that the 340-pounder lineman is basically "starting all over." Chad Rinehart, seeing action at right guard in place of Thomas, has improved his technique and is "becoming a pretty good hitter in there."
Of course, preseason tells the tale for the backups.
For now, the concern is the starting five and the fact that, due to injuries, they are losing an opportunity to come together as a unit.
"It's a work in progress," Zorn said. "I'll be confident when we play a game, so we are still working on the group. I'm not confidence [right now], but not for a particular reason that I am disappointed. I'm just not confident because we just haven't put the whole thing together."
Here's Wednesday's practice recap from Redskins Park:
-- 8:25 a.m. ET
The seventh day of Training Camp is underway. Players are out on the practice fields now.
It's a 2-a-day. The Redskins host a morning practice that is open to fans, then return for an afternoon session.
Once again, players are in full pads for the morning session.
-- 8:30 a.m. ET
Who's Twittering? Not Chris Horton
Twitter has been a sub-plot at Redskins Training Camp.
Chris Horton weighed in on the subject.
"I just kind of let that Twitter stuff be," Horton said. "If that's what guys do, that's what guys do. Just don't get yourself in trouble by what you say on your Twitter."
-- 8:45 a.m. ET
As first reported by Matt Terl on his Twitter page, D.J. Hackett is at practice on Wednesday.
It appears he has been signed by the team, but no official word yet.
Hackett is a 5-year veteran who played for the Carolina Panthers last season after four years with the Seattle Seahawks. He played for current Redskins head coach Jim Zorn during his time in Seattle.
Hackett participated in Redskins mini-camp in early May, so he has a degree of familiarity with the offense.
Hackett has 118 career receptions for 1,575 yards and nine touchdowns. Last year, he was a reserve with Carolina and logged 13 catches for 181 yards.
Hackett was a fifth-round draft pick by the Seahawks in the 2004 NFL Draft.
-- 9:05 a.m. ET
The Redskins have parted ways with wide receiver Roydell Williams. The team waived/injured Williams on Wednesday.
Williams had surgery on his finger earlier this week. He had suffered a fracture in the finger during practice.
Williams had never played in a West Coast offense before this year, and he admitted early on that it was a tough transition for him. He was not a lock to make the roster even if healthy.
-- 9:08 a.m. ET
The Redskins have signed first-year defensive tackle Michael Marquardt, the team has announced.
Marquardt, 6-3 and 297 pounds, has had an NFL stint with the Cincinnati Bengals.
He played college football at Arizona State. In two years as a starter, he collected 48 tackles, nine tackles for a loss and 3.5 sacks.
-- 9:30 a.m. ET
Reporting on the comings and goings, I haven't been able to focus much on practice.
There's offensive lineman matching up against defensive lineman in one corner of the field.
Stephon Heyer (knee injury), Randy Thomas (knee), Casey Rabach (calf) and Mike Williams (groin) are in shorts. They are not practicing.
It appears Jeremy Bridges is getting reps at right tackle with the first-team offense.
-- 9:35 a.m. ET
Joe Bugel and John Palermo bring their charges to an end zone.
Kedric Golston bursts between Chad Rinehart and Jeremy Bridges, getting off a double-team effectively.
Lorenzo Alexander pushes rookie Edwin Williams back, but Williams fights back and the two tumble to the surface.
Michael Marquardt matches up against D'Anthony Batiste. No push for the newcomer, battle won by Batiste.
Jeremy Jarmon flashes impressive speed as he rushes around Bridges.
Next time, Bridges is better prepared. He engages Jarmon sooner, and the two eventually fall to the surface.
Will Montgomery fends off Antonio Dixon on a rush up the middle.
Devin Clark adjusts quickly and fights off a spin move by Alex Buzbee.
-- 9:45 a.m. ET
Midfield, it's time for 11-on-11 action.
D.J. Hackett runs a route up-field, and catches Jason Campbell's pass. Hackett already looks more comfortable in this offense than Roydell Williams.
Campbell in shotgun formation, throws to Fred Davis. The ball slips through Davis's fingers, incomplete.
Santana Moss gets a step on Kevin Barnes, and Campbell tosses a perfect pass to Moss along the right sideline.
Phillip Daniels batted down a Todd Collins pass at the line of scrimmage.
Andre Carter got pressure turning inside against Chad Rinehart, and Collins has to throw the ball away.
Great coverage by LaRon Landry and Chris Horton on a throw to Chris Cooley. Collins's pass is incomplete.
Justin Tryon has tight coverage--maybe too tight?--on a short pass across the middle to Marko Mitchell. Tryon breaks up the pass and rolls over Mitchell.
Collins throws a short pass to Dominique Dorsey across the middle, but just as the ball arrives, there's Landry coming up to knock the ball away.
-- 9:55 a.m. ET
Ball placed at the 10-yard line, offense vs. defense.
Santana Moss puts a move on Kevin Barnes and is wide open in the end zone. He catches Campbell's pass and draws applause from fans.
Campbell looks right, no one is open. So he shifts left and sees an opening. Kareem Moore and Reed Doughty close fast, and Campbell is stopped short of the goal line.
Good blocking on Campbell's delayed handoff to Marcus Mason, who cuts right and goes through an opening for a nice gain.
Colt Brennan's first option is not open, so he races through a wide hole up-field. LaRon Landry closes fast, and Brennan slows up near the goal line.
Brennan's pass to Chris Cooley in the end zone is off the mark. The ball bounces off Cooley's outstretched hands, incomplete.
Todd Collins looks for Moss in the back of the end zone, but his throw is too high, even for the athletic Moss to reach.
Anthony Alridge makes another cutback on a run to the right, but Chris Horton is there to meet him.
Collins looks for Cooley in the back of the end zone. Once again, his throw is too high for Cooley to reach.
Collins's pass to Antwaan Randle El across the middle of the field is deflected by Rocky McIntosh.
-- 10:20 a.m. ET
After red zone, the Redskins gather at midfield for more 11-on-11 work.
A sampling of the highlights:
Todd Collins fakes a throw, then hands off to Ladell Betts. Renaldo Wynn is not fooled, he meets Betts at the line of scrimmage for the tackle.
Santana Moss is having a great practice: he catches a sideline pass from Collins along the right sideline and manages to keep both feet in bounds for a remarkable catch.
Colt Brennan pitches to Rock Cartwright and he follows great blocking by Chris Samuels and Mike Sellers as he sweeps around left end.
Chase Daniel rolls right and throws a crisp pass to Trent Shelton along the right sideline.
Jason Campbell throws downfield to Chris Cooley, but Reed Doughty has the coverage and pulls in an interception in front of Cooley. In an uncharacteristic move by Doughty, he pitches the ball to DeAngelo Hall, who fumbles it before the play is called over.
On a run up the middle, the defensive line maintains its ground and slows Marcus Mason's run. Kedric Golston lets out a loud yell to celebrate the stop.
Jeremy Jarmon gets in position to push down Mason on a run up the middle. A loud clap could be heard as Jarmon met Mason.
-- 10:30 a.m. ET
Clearing Up Any Confusion
I noticed a thread on ExtremeSkins in which fans were confused about who was on the first team and who was on the second team.
At this stage of training camp, that doesn't matter.
Coaches want to look at different lineups and different packages, so you may see Kevin Barnes working with the first team. They want to see how Barnes does against an elite wide receiver to gauge his progress.
Or coaches may need a leader on the second team to help make sure others know their assignments, which is why you may see LaRon Landry working with the second team.
-- 10:32 a.m. ET
I missed this play, but I was told about it after the fact.
Colt Brennan tossed a deep pass to Santana Moss, who caught it in stride for a touchdown.
More proof of Moss's great practice.
Brennan continues to show flashes. He makes a perfect play, then he makes a poor play and raises the ire of Jim Zorn.
-- 10:35 a.m. ET
Someone on the offensive line committed a false start penalty during Wednesday's practice--I did not see who it was--and so the entire offense had to run wind sprints after practice.
"We have to run a gasser each time we go off-sides," Jason Campbell said. "We're trying to hold each other accountable for our own actions."
This is something the players are doing on their own. The coaches are not involved.
-- 10:45 a.m. ET
Stephon Heyer spoke to the media after practice about his knee injury.
He had an MRI on Tuesday and it revealed no structural damage, Heyer said.
"I don't feel like this is that serious of an injury," he said. "I'll get back out here in time and keep going."
There is no timetable for his return.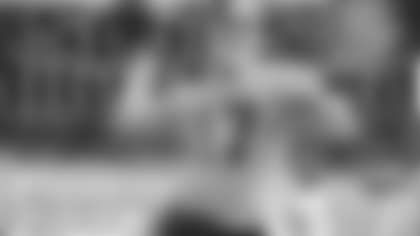 "It'll probably be a few days, but we'll see what the athletic training staff wants to do," Heyer said.
-- 10:55 a.m. ET
For those not in the know, Jason Campbell is on the cover of Sports Illustrated this week.
"I'm greatly honored to be on the Sports Illustrated," he said.
Does he believe in the S.I. jinx?
"No, I don't believe that," Campbell said. "I have faith in God."
-- 11:02 a.m. ET
With all of the bumps and bruises among the offensive linemen, Jason Campbell is working with a new set of big bodies up front.
The first-team offensive line included Jeremy Bridges at right tackle, Chad Rinehart at right guard and Will Montgomery at center.
Jim Zorn was concerned that the chemistry and cohesion would suffer as a result of so many offensive linemen banged up.
"My level of concern is that they're not getting the reps it takes to be cohesive," Zorn said. "These are nagging pulls and strains, so I'm not as concerned about the injury as I am about the lack of work when you are injured like that.
"It is slowing down our ability to work together as a team, no question about it."
"It's tough right now because a lot of guys are getting nicked up and bruised," Campbell said. "One thing it's doing for the backups is it's giving them a lot of reps that they wouldn't be getting. It's important for them to take advantage of these reps."
-- 11:10 a.m. ET
Throughout training camp, it has been an odd sight to see quarterbacks periodically playing safety on the scout team during offensive drills.
Jason Campbell saw action at safety on Wednesday.
"I haven't done that since my rookie year," he said. "It's fun. Guys on the scout team give us looks every day during the season. So we're out here in training camp and we're preparing for preseason games, it's our turn to return the favor and help those guys out, too."
-- 11:12 a.m. ET
During practice, Jim Zorn pulled aside his quarterbacks and started showing them how to throw a fade pass into the end zone.
Of course he had to take a toss himself.
"We were trying to throw some goal line patterns and I love that area of the field, so anytime I can get a chance to steal a rep, I take it," Zorn said. "I was just trying to talk to them about trajectory and ball speed and the timing of the release.
"Now I look like a gimp out there, but sometimes the picture of me doing it speaks loudly, although if you saw me out there, you'd say, 'Hmm. Next.'"
Said Jason Campbell: "I think he wanted to get in there and show his arm off."
-- 11:20 a.m. ET
D.J. Hackett made it look easy. On the second play of 11-on-11s during Wednesday's practice, he ran an up-field route and caught a Jason Campbell pass.
"Hack knows the offense and the terminology," Jim Zorn said. "He was here before, for a short time [as a tryout player during a May mini-camp].
"I think he'll perform very well. Usually it takes a while to get up to speed, but he fit right in."
-- 11:22 a.m. ET
Devin Thomas was sidelined during practice due to a minor hamstring injury, Jim Zorn said.
"We just kept him out," Zorn said. "He has a pulled hamstring, and I don't want it to pull. So we're trying to just be cautious with him."
Thomas has looked sharp during training camp, making several acrobatic catches.
Malcolm Kelly was in full gear but appeared to be limited in practice reps.
-- 12:15 p.m. ET
Chad Rinehart saw the bulk of reps at right guard in place of Randy Thomas on Wednesday.
Thomas is returning from neck and knee surgery last offseason, so his health is closely being monitored.
Would Jim Zorn feel comfortable if Chad Rinehart were to start Week 1?
"Well, if Randy could not go, yes I would feel comfortable," Zorn said. "That guard position behind Randy is not solid right now. We're trying different guys there.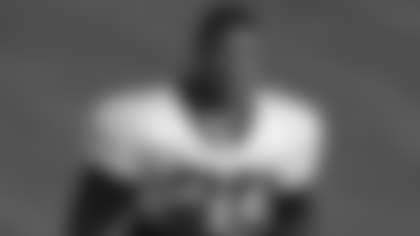 "Chad had a great practice Tuesday morning and we expect him to continue to push to get that role."
Zorn also mentioned Jeremy Bridges and D'Anthony Batiste as candidates for right guard.
"We need guys that can play multiple positions," he said.
-- 3:15 p.m. ET
And we're back. The Redskins' second practice of the day began 15 minutes ago.
Players are in shorts and shells.
Working off to the side with athletic trainers and athletic trainers: Anthony Montgomery, Phillip Daniels, Cornelius Griffin, Albert Haynesworth and J.D. Skolnitsky. It's normal rest for all but Montgomery (sore knee) and Skolnitsky (hamstring).
Also, Stephon Heyer, Randy Thomas, Casey Rabach and Mike Williams are not practicing.
-- 3:30 p.m. ET
Wednesday was the first day that Joe Bugel spoke to the media.
As always, he had plenty to say.
"If we could ever block our defensive line, we'll be okay," he said. "Our defensive line--they're a bunch of warriors. It may take five guys to block Albert Haynesworth. They have a salty bunch over there and they have great speed.
"When you practice against that, you're either going to get better or you're going to get worse. We get a little better every day."
On the right tackle position, Bugel said. "I don't know why everyone is really concerned about right tackle. That aggravates me. We have great candidates there. Stephon Heyer has played there, he's started there. Jeremy Bridges has started in the league there. We've got Mike Williams who's really come on.
"So we are not desperate at that position. We've got plenty of beef right there, just coach them hard. You can get humpty dumpty to get in there, as the guy is tough I'll coach him."
-- 3:50 p.m. ET
11-on-11 In the Afternoon
The Redskins are moving briskly through practice.
Time for some 11-on-11 highlights:
The offense is working on screen passes on consecutive plays. Jason Campbell throws to Clinton Portis to the left on one play, then tosses to Ladell Betts on the right. When a screen pass is run right, it can be a beautiful thing, and both times it appeared the execution--as well as the blocking--was well done.
Colt Brennan throws a short pass across the middle, but Brian Orakpo is in position to break up the play. Incomplete.
London Fletcher shouts out, "To the left! To the left!" Brennan takes the snap...and fumbles. Play dead.
Again, Fletcher shouts out, "Left! Left!" Brennan drops backs, targets Robbie Agnone about 15 yards downfield, and throws. DeAngelo Hall closes fast and breaks up the pass.
Brennan throws a sideline pass to Marques Hagans, but the ball bounces off his hands. Jim Zorn, standing across field, claps his hands in frustration.
Todd Collins tosses a short pass to Marcus Mason in the flat, he catches it in stride and turns up-field for a nice pickup.
Collins throws a crisp pass to Agnone downfield, but Agnone is not ready. He turns around too late and has to try to catch the ball with one hand. Incomplete.
-- 4:10 p.m. ET
Quarterbacks and wide receivers closed practice by working on fade routes on their own in the end zone.
All of the QBs tool their turn throwing high-arching passes to uncovered wide receivers in the end zone.
They practiced the timing and trajectory, but the wide receivers were uncovered.
Santana Moss made a nice catch, pulling in a pass from Jason Campbell just before he stepped out of bounds.