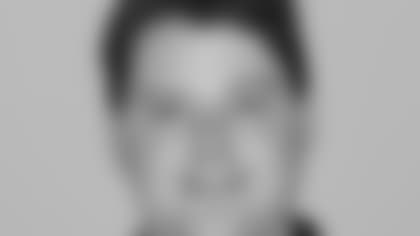 Redskins.com's training camp reports come to you as action happens at Redskins Park.
Practice Wrap-up
It was the last open practice for fans, and they saw plenty, including an impromptu birthday celebration for Chris Samuels that ended with Samuels wearing the cake instead of eating it.
On the practice fields, Jim Zorn was frustrated with the play early on, so he huddled up his players and urged them to concentrate.
"One of the things we have been talking about this week is knowing who you are coming out of the huddle, and where to line up," Zorn said. "I think the team at some point has to get fed up with mistakes. That's what happened to them. They rallied.
"That is a veteran team because they grouped up and started concentrating. It really takes focusing in on every play in order to have a good practice."
The Redskins spent a portion of practice in 9-on-9 drills working on blitzing and blitz pick-ups.
Jason Campbell was inconsistent with his throws, but still earned good marks from Zorn.
"He was very good because he was making faster decisions and not hesitating when throwing the ball," Zorn said. "I am just pushing him to hit everything and to not let the ball hit the ground. He threw a couple of balls at the wrong shoulder, which is what I have to coach him on.
"If I don't, he will be making vicinity throws, and I want him to be exact. One of the ways to be successful in this game is allowing the receivers to run after the catch, and the only way to do that is if the ball is thrown well."
The team reported three new injuries after practice.
Second-year linebacker H.B. Blades suffered a sprained left knee and running back Eric Shelton had a neck injury. He was still being evaluated by team officials.
Stuart Schweigert has a mild calf injury. He said he suffered the injury during Saturday's scrimmage.
"I've had some treatment on it," he said. "I took Sunday off, but [Monday] I did some conditioning on it with the strength coach a little bit. It's getting better. I hope to be out there Tuesday morning."
8:28 a.m. ET
The Redskins have made their way out to the practice fields. Players are in full gear for Monday morning's practice.
This is the last open practice session of training camp.
Wide receivers Devin Thomas, Anthony Mix and Malcolm Kelly are not available to practice. Sidelined with hamstring injuries, Thomas and Kelly are spending a few extra moments signing autographs before heading to watch practice from the sidelines.
LaRon Landry has a minor hamstring injury and he is sitting out the morning session. Chris Wilson is sitting out practice with a calf injury again.
And Erasmus James and Kareem Moore continue to rehab their knee injuries.
Rocky McIntosh and Stuart Schweigert are in full gear, but they are working with the athletic trainers off to the side.
Anthony Montgomery and Rian Wallace are not here. They are scheduled to undergo surgery on their fractured right hands on Monday.
8:40 a.m. ET
No competition for Shaun Suisham this training camp.
During special teams drills early in practice, Suisham nailed a series of field goal attempts, each from a further distance than the previous one.
Every kick went right down the middle.
Two field goals bounced off the camera crane positioned behind the goal post. That feat earned applause from fans.
8:47 a.m. ET
"Are you gonna get 15 [sacks] this year, Jason," a fan yelled as Taylor jogged to a practice field.
9:02 a.m. ET
The Redskins.com TV crew has put a microphone on head coach Jim Zorn for Monday morning's practice. With the fans here for the final open practice, there should be some good interaction from Zorn.
On the field, Zorn is overseeing his quarterbacks as they throw forward while on the run.
Later, Zorn was instructing quarterbacks and wide receivers, using his hands to emphasize a point. He is a very animated coach.
9:10 a.m. ET
Chris Samuels is celebrating his 31st birthday. Word is that pranksters may be targeting him after practice.
For now, Samuels is on the practice fields working with the first team offensive line.
He is expected to increase his workload on his surgically repaired elbow during Monday's practice.
9:20 a.m. ET
Billy McMullen continues to impress as he earns playing time due to the Devin Thomas and Malcolm Kelly injuries.
McMullen got a step on Fred Smoot and made an over-the-shoulder catch on a pass from Jason Campbell.
McMullen has earned praise from Jim Zorn in recent comments. He is part of a crowded wide receiver corps, but he emerges as a player to watch this preseason.
9:25 a.m. ET
Carlos Rogers participated in some 1-on-1 drills with wide receivers during practice.
Rogers is expected to sit out most of preseason as he recovers from knee ligament surgery last year.
He hopes to be available for the Redskins' regular season opener against the New York Giants.
9:28 a.m. ET
In the first set of 11-on-11 work, the Redskins' offense worked against defensive blitzes.
Linebackers, cornerbacks and safeties took turns blitzing into the backfield.
On one play, Clinton Portis was in motion and ended up running a pass route. He caught Jason Campbell's pass 10 yards downfield, well before a blitzing cornerback could get near him.
On another player, Campbell threw a pass downfield to Maurice Mann. Safety Cedrick Holt was the last line of defense to stop Mann from escaping for a touchdown.
Prettiest play of the series, Campbell tossed a deep sideline pass to Horace Gant, who got a step on Matteral Richardson downfield. Gant pulled in the pass and raced untouched into the end zone, to the applause of fans.
9:45 a.m. ET
Frustrated with the pace of practice and the mistakes, Jim Zorn stopped play and called a time out.
He pulled players around him and told them to start concentrating better.
Many players have admitted they are weary from the 2-a-days, and struggling to push through.
9:50 a.m. ET
The Redskins spent a good amount of time in 9-on-9 drills, with two defensive linemen sitting out the session.
Danny Verdun-Wheeler came up the middle on a blitz, but Jason Campbell sensed the pressure and threw a quick pass to James Thrash.
Stephon Heyer played at left tackle with the first team, so it appears Chris Samuels is still sitting out contact due to his injured elbow.
Chris Cooley found open space in the defense, and waited for Campbell's pass. J.T. Tryon saw the play and raced across field. He was a step too late to break up the pass, and Cooley escaped with the ball.
Fred Smoot read the next play right away, yelling "Screen!" The play went opposite Smoot, so he hustled across field. Marcus Mason caught the pass and slipped through defenders. Just as he was forced out of bounds, Smoot arrived and collided with Reed Doughty. They both fell to the ground.
Billy McMullen tried to make another over-the-shoulder grab in the end zone, but this time he could not hold on. Vernon Fox had coverage.
McMullen on the next play, but Byron Westbrook had solid coverage at the goal line. Westbrook batted away the pass.
Thrash found a zone in the coverage and was wide open as he pulled in Todd Collins's pass. Fox was late getting over, and Thrash eluded him to get into the end zone for a score.
10:05 a.m. ET
Sometimes you have to watch the trenches to see the action.
During 9-on-9 work, Andrew Crummey leveled a strong block on Lorenzo Alexander, who fell to the ground. The block gave Todd Collins plenty of time to complete a pass.
Crummey is an undrafted rookie out of Maryland who Joe Bugel has praised several times. He is making a strong bid for a roster or practice squad spot.
10:15 a.m. ET
Westbrook in the Red Zone
The 9-on-9 work continued as the offense positioned the ball at the defense's 20-yard line. It seemed Byron Westbrook was a target on several plays.
Santana Moss pulled in a touchdown pass, leaping high in the back of the end zone for the score. Shawn Springs, playing safety, and Westbrook had the coverage.
On another play, Westbrook broke up a pass to Burl Toler near the end zone, drawing cheers from teammates.
James Thrash made a grab in the back of the end zone, leaping high and angling his body to keep both feet in bounds. Touchdown? Westbrook was there with him, and waved his arms to signal incomplete pass. No referees in attendance at the practice to decide the matter.
10:20 a.m. ET
Just a handful of 11-on-11 work in the morning practice. Jason Campbell was up-and-down with his throws.
"Come on, Jason," Jim Zorn yelled after Campbell's pass across the middle was behind Antwaan Randle El. Incomplete.
Later, Campbell continued to show a strong rapport with Chris Cooley. He completed several passes to the tight end, including one across the middle with defenders all around him. Cooley caught the pass, turned around and raced into the end zone for a score.
10:20 a.m. ET
As soon as practice is called, fans start serenading "Happy Birthday" to Chris Samuels.
He heads over to the fans and starts signing autographs.
10:40 a.m. ET
"Playing football is like riding a bike, but switching sides [on the defensive line] is like riding a unicycle because it is just something you have to get used to," Jason Taylor said after practice.
Taylor is expected to play at right defensive end most of the time, but he has versatility to move around and play the left side.
"There are a lot of things we can do with Andre and me on the outside," Taylor said. "Regardless of which side we are playing on, we will be able to create a lot of pressure, force the quarterback to step up in the pocket, and help the defensive tackles make plays."
10:55 a.m. ET
Chris Samuels was ushered to the podium to answer questions from media on his birthday.
Among the media: Clinton Portis, who just shrieked "We love you Chris!" Then he sprayed some water at Samuels, interrupting his response to a question.
That was just the beginning.
Later, the offensive line led by Randy Thomas and Stephon Heyer brought out a cake for Samuels and sang "Happy Birthday."
It had a picture of a seal on it.
Samuels laughed. Apparently, teammates have given Samuels the nickname of "Seal" because he looks like the pop singer Seal.
The questions continued as the pie was laid nearby.
Thomas came back out with a mission. He subtly weaved his way through the media and as Samuels head was turned, he picked up the cake.
You know what happened next.
Samuels was caught completely by surprise. Thomas shoved the cake in his face.
Samuels laughed, but this media session was over.
"You guys set me up," he said good-naturedly to the media as he stepped down from the podium.
We knew nothing about it. Honest, Chris.
function showChatBox()
{
    var chatWin = window.open(â??/aolchat/popup.jspâ??, â??_blankâ??, â??width=350,height=509,toolbar=0,directories=0,menubar=0,status=0,location=0,scrollbars=0â??);
    if( chatWin == null ) {
        alert(â??The chat window could not be opened. Please check your popup blocker settings.â??);
    }
}