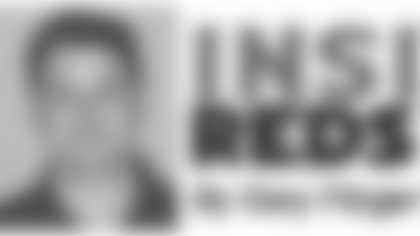 Redskins.com's training camp practice reports come to you with news and updates as action happens on the Redskins Park practice fields.
First day of training camp is usually hectic. Think back to last year when the Redskins suffered two key injuries to two defensive linemen, and then traded for All-Pro end Jason Taylor. Talk about a whirlwind.
This year, there was none of that.
In fact, the first day of Training Camp 2008, in the heart of Loudoun County, Va., was calm and collected. Even a little laid-back.
Jim Zorn has high expectations for his second training camp, and his players stepped up to the challenge.
"I expected things to go better--and they did--than last year's start, and I think it's because our players just have a real knowledge of both offense and defense and special teams. Everybody worked fast.
"Last year I was complaining about the lack of tempo and I realized after a while it was just a lack of knowledge of the terminology and the vocabulary. This year, I only [complained] a couple times out there, in a couple of drills.
"It was pretty impressive, especially the recall from our OTAs. In our meetings, we'll stress it again because they have to absorb a lot of information."
Zorn's offense is in its second year, and the familiarity with the scheme has helped players get a head start.
"I was very comfortable that everyone knew the direction we were going," Zorn said. "We worked on more of the details and the technique of how to work a play instead of just the basic assignment of a play. We were pretty efficient on the field."
Zorn also praised the effort of the offensive line, regarded as one of the keys to the season.
"They put a lot of work in, and I think our defensive line challenged them right back," he said. "They're not going to sit back and take any punishment at all. So it's very competitive out there."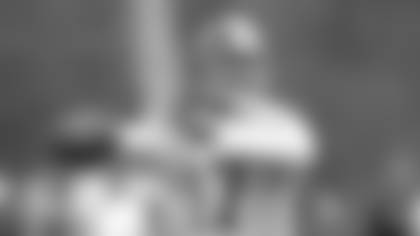 Added Greg Blache, talking about the defense: "We have a veteran group. We have a lot of guys who have been together since we got here five years ago. So I think our guys are comfortable with what we're doing and know what we're doing.
"They have a leg up on what they were doing last year. And they know what's expected of each other."
Here is Thursday's practice recap, starting bright and early with the morning practice:
-- 7:45 a.m. ET
Reporting live from Redskins Training Camp in the heart of Loudoun County, Va., I am here to provide you regular updates from practice fields.
In years past, I have done practice reports for those days that training camp is only open to the public. I may expand it this year to include practices after Aug. 8, the last open practice. It all depends on my workload. This year I manage the content of GameDay magazine and I'll need to factor the August production deadlines into the equation.
All that aside, I begin my seventh Redskins Training Camp.
My first was in 2003, and on my first day as an employee of the Redskins, I remember working with Derrick Dockery on composing a Rookie Training Camp Blog. I kind of measure training camps and my Redskins years along with Dockery, who returns to the team this camp after two years in Buffalo.
It's obvious Dockery has really matured, both as a Redskin, as a teammate and dealing with the media. Here's hoping Dockery, all 6-6 and 326 pounds of him, doesn't get mad at me for something negative written about him in The Washington Post. (A few years ago, he confused me for a Post reporter and confronted me. I was befuddled, to say the least.)
In 2004, I recruited Chris Cooley for the Rookie Training Camp Blog. Who knew Mr. Cooley would become an Internet media sensation at the time?
Last year, it was Colt Brennan's turn. He was fun to talk with, and I could tell he would be a big hit with fans. Best bit of info from Colt's blog: he was named after Colt Siever, the main character of the 1980s television show "The Fall Guy."
I arrived at Redskins Park 10 minutes ago--said hello to team photographer Ned Dishman on my way in--and watched as dozens of of fans made their way into the facility. Should be a great crowd for the first morning session.
Watch for Ned's photos on Redskins.com throughout training camp, by the way.
I'm headed to the practice fields now.
-- 7:55 a.m. ET
Not only am I updating Redskins.com, but I am also updating the Redskins.com Twitter page when possible.
Our media team has a host of Twitter pages, and there are some player Twitter pages as well. Enjoy!
-- 8:10 a.m. ET
You had to be an early arrival to catch the opening of training camp.
Players have already started heading out to the field for the start of a walk-through practice and warm-up drills.
Fans are still filtering in to the training camp grounds.
-- 8:15 a.m. ET
First things first: Redskins top draft pick Brian Orakpo is not here for the first day of training camp.
The linebacker/defensive end remains unsigned, along with dozens of other first-round draft picks.
Disappointing, but Redskins have start working.
Orakpo's learning curve will be impacted, but as Jim Zorn said in his pre-training camp press conference on Wednesday, it's too early for concern.
In mini-camp and OTAs, Orakpo proved to be a quick study.
-- 8:20 a.m. ET
Something different this year.
ESPN 980 has a huge tent positioned on the Redskins Park astroturf field. That's where the Daniel M. Snyder-owned radio station will be broadcasting from training camp.
So I guess it's safe to assume that the Redskins won't be using the astroturf field during training camp.
-- 8:35 a.m. ET
Three things to note about the Redskins' uniforms on Day 1 of training camp.
First, players are in shorts and not wearing full pads.
Second, offensive players are wearing white jerseys while defensive players are wearing burgundy. That's a cross-up from the usual practice routine.
Even the special teams players are wearing burgundy jerseys--they usually wear white, too.
Finally, Redskins rookies do not have a logo on their helmet. This was instituted by Jim Zorn last year; basically, the rookies have to "earn" their logo by making it through training camp and earning a roster spot.
-- 8:40 a.m. ET
Mike Williams may be down to 342 pounds--he is actually listed at 337 on the team's roster sheet handed to media--but he still looks like the biggest man out there.
Bigger than Albert Haynesworth, and that's saying something.
Some quotes from Williams during his Wednesday media session at Redskins Park:
On if he ever wondered if it was all worth it as he went through the grueling workouts to lose all of that weight? "That's an interesting question, because it's all worth it. When I started this, it was a life-changing deal. It had nothing to do with football at first. As I began to lose weight and get towards my goal, it was one of those mental changes like, 'Man, hey, I can do this. And I want to do this.'"
On his journey back to the NFL: "In February, before I left on this journey, I was 450 pounds. Now I stand here at 342. When I came here for a Redskins tryout, when I was trying out, I was like, 'Man, I still got it.' There are some things that are a little rusty, but it's there. It's like uncovering an antique. Once you polish it up a little bit, it's worth some money."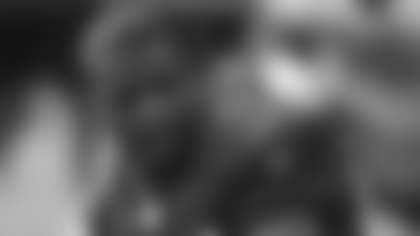 On his chances of earning the starting right tackle job: "I'll let you watch in practice. It's going to be a competition. Stephon [Heyer] has worked hard. We pushed each other. I'm going to push him and he's going to push me. That's what we want. We want to make this offensive line the best offensive line it can be this year."
-- 8:55 a.m. ET
Cornerbacks-secondary coach Jerry Gray was overseeing a special teams drill in which defensive backs would try to beat double coverage.
Rookie Kevin Barnes drew quick praise from Gray for juking past two defenders, in this case Michael Grant and J.T. Tryon.
"There you go Barnes," Gray shouted. "Good job!"
-- 9:05 a.m. ET
The so-called Z-Shades are back.
Z-Shades, as fans recall, are sort of mini-coverings in which players can huddle under and get some needed shade when the sun is beating down.
Not much sun this morning, though. There's a slight breeze keeping things reasonably cool.
No need for the Z-Shades...yet.
-- 9:20 a.m. ET
Sorry for another uniform update.
Malcolm Kelly is donning bright yellow cleats for Thursday's practice.
He showed them off running a deep route during passing drills, but Chase Daniel's pass was overthrown.
"Too much, Chase," a fan yelled.
-- 9:45 a.m. ET
After running through some mundane drills for the first hour, quarterbacks, wide receivers and cornerbacks converged on the main practice field.
Time for some one-on-ones between wide receivers and cornerbacks.
DeAngelo Hall batted away a deep pass to Devin Thomas, although the ball was slightly underthrown by Jason Campbell.
Undrafted rookie Keith Eloi against veteran Fred Smoot: Eloi clearly pushed off Smoot to get open and pull in a pass. Jerry Gray, standing nearby, clapped his hands, a sign of praise for Smoot.
Acrobatic Antwaan Randle El reached across his body to make a remarkable catch in front of a defender. The reception drew some "Ooohs" and "Aaahs" from fans.
Trent Shelton fell down as he tried to race past Michael Grant. No play.
Marques Hagans went deep versus Kevin Barnes and pulled in the pass from Todd Collins.
Malcolm Kelly made a nice cutback in front of Smoot to pull in a slant pass. Nice play, but Jim Zorn quickly jogged to Kelly after the play to give more instruction on his route-running.
Thomas ran a deep pattern and beat undrafted rookie Doug Dutch for a touchdown.
Grant played too deep, allowing Eloi to stop short and pull in the pass from Campbell.
Justin Tryon maintained good coverage against Shelton, and was in position to get in front of the ball and bat away Collins' pass.
Byron Westbrook made downfield contact with Randle El while defending a short route. Randle El stopped, knowing it was an infraction. Westbrook kept going and batted away the pass.
Thomas ran another impressive route, twice juking out Tryon to get wide open on a downfield route.
Last play: Kelly vs. Hall. Kelly took a sideline route to get past Hall. He leaped up over the two-time Pro Bowl cornerback to pull in a pass, drawing applause from fans.
-- 10:05 a.m. ET
Family Time For Haynesworth
Albert Haynesworth's family was on hand for the first day of training camp.
Sitting along the sidelines in the VIP area, they hoisted a sign that read: "Take 'em To the Turf, Albert Haynesworth!"
Hey, that rhymes...almost.
-- 10:25 a.m. ET
Heavy emphasis on the run game early in the session, with the defense looking solid on most plays.
Greg Blache has his defensive line pursuing ball-carriers very well. On several plays, multiple tacklers were in position to take down the running back.
Later in the session, there were more pass plays called.
Here's a sampling of some of the plays:
Mike Williams pushed Alex Buzbee past him, opening up a lane for Marcus Mason to get open and grab a pass in the flat.
Santana Moss ran a crossing pattern, making a quick cut to elude a defender. He caught Jason Campbell's pass, but the ball hit his pads and got away from him for a moment. Moss had time to pull the ball back in, completing the reception, before a defender could close in.
Anthony Alridge slipped through good blocks by Casey Rabach and Derrick Dockery for a nice gain up the middle.
Campbell's sideline pass to Moss was underthrown, but Moss was still able to dive for the catch, get up and dart down the field.
Mike Sellers and LaRon Landry don't want any part of each other. Sellers made his way downfield after a catch, and he converged on Landry. Both players, known for their hard hits, eased up a few yards before contact.
Albert Haynesworth burst past Devin Clark into the backfield, then chased down the running back all the way across the field. Shouted a fan: "Earn your money, baby!"
Reed Doughty logged the play of the day with an interception off of Chase Daniel. The pass was thrown high and Doughty leaped up to make the grab. He found a lane--as well as some blockers--down the right sideline.
Alridge showed impressive cut-back ability on a run to the right. He slipped past a tackle by Byron Westbrook, practically leaning sideways to avoid him.
Rookies Darrel Young, donning No. 53, and J.D. Skolnitsky combined on a tackle of Alridge, limiting the ball-carrier to a short gain.
That's it for the first practice. It was the first of 34 training camp practices through Aug. 20.
For those keeping score, that's one down and 33 to go.
-- 10:38 a.m. ET
Saw a fan hoisting a sign that read "D.C. Wants Vick."
Well, as Jim Zorn said on Wednesday, the team has no plans to sign free agent quarterback Michael Vick, at least for now.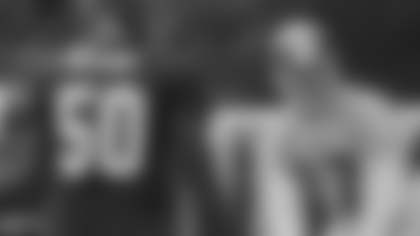 My prediction? No NFL team signs Vick and he tries to rejuvenate his career in the fledgling UFL.
-- 10:45 a.m. ET
Update On Haynesworth's "Family"
Turns out Albert Haynesworth has never met the group of people hoisting "Haynesworth Family" signs at training camp.
Haynesworth said he stopped and chatted with them after practice. They claimed to be a part of his family from the Washington, D.C., area.
"They had the same name and they showed me their license, stuff like that" Haynesworth said. "My mom told me a long time ago that we had family up here. I believe it.
"This is the first time I met those people. It's pretty wild. They said they would print out a family tree. I'll take it to my mom to see if it's true."
-- 10:50 a.m. ET
Samuels Interview On the Field
Coming off the practice field, the media horde surrounded Chris Samuels and Casey Rabach--primarily because they were the first players to make their way to the team's facility.
Samuels commented on his weight, which he says is at 305, down from 330 last year. (The team lists him at 314.)
"I feel better conditioned," he said.
What brought on the weight loss?
"I feel like I needed a rebirth of my career," Samuels replied. "Last year, I went on injured reserve [with a triceps injury] and I was disappointed in that. I just rededicated myself to the offseason program, worked a little bit harder, and I got better results.
"Hopefully it has extended my career at least another 5-6 years."
-- 11:10 a.m. ET
During a post-practice media session, Clinton Portis discussed his relationship with Coach Zorn.
Portis, of course, made headlines last December when he went on ESPN 980 and criticized Zorn. Portis was upset that he was not featured more in a game against the Baltimore Ravens.
The issue was put to rest by both sides after a meeting, but questions lingered into the offseason. In June, Portis refuted a rumor that there was a practice incident between him and Zorn during OTAs.
Asked if the relationship between the two had improved, Portis replied: "I think so. I think our communication is a lot better. I think he understands me."
Then, without prompting, Portis discussed the perception that he does not like training camp and preseason.
"I'm going to give you everything I've got on Sundays. I think people get caught up in whether I'm working hard in preseason. Every day is going to be a go-hard day for me.
"Some days are learning days, some days are resting days. I'm not on my own schedule, but that's the way my body works. I'm going to go out on Sundays and give you above and beyond what you ask me to give you. I'm going to give you everything I've got. That's the only way I know how to play.
"I can't practice the same way I play. My 75 percent is not the same 75 percent of somebody else's. If it's full speed, I go full speed. If it's learning, I learn a different way than others."
Does Portis regret saying what he said on ESPN 980?
"I can't say I regret it," he said. "I think everything is a learning experience...What I said then I felt was the truth and I got it off my chest."
-- 11:20 a.m. ET
Clinton Portis is still on the podium, chattering away.
He was one of the first players on the practice fields on Thursday because he had to do his conditioning test.
Portis said he passed the test.
-- 11:25 a.m. ET
Haynesworth Media Session
Asked how he felt about his first Redskins Training Camp practice, Haynesworth called his performance "rough."
"I just have to get better," he said. "I have another shot in the afternoon to be all right."
Was it different than what he was used to in Tennessee?
"No, it didn't feel different," he replied. "It was just getting used to the way our offense plays and the way our offense blocks."
Comparing the Redskins' training camp to the Tennessee Titans' camp in Nashville, Haynesworth commented that the fans at Redskins Park were situated a lot closer and there was a larger media presence.
"I think we had about three TV cameras in Nashville showing up for practice," he said.
-- 11:30 a.m. ET
In his post-practice media session, Jim Zorn seemed a little irked that the first question was about his relationship with Clinton Portis.
"Here's the deal," he said. "I think that our relationship has grown. He didn't know me when I first got here, I didn't know him. I think based on what he did in the OTAs, mini-camp--he worked very hard. I was very impressed with what he did.
"He came out here and worked [on Thursday]. So I think we have a very good relationship but it's because we have communicated. Even all of the [rumors] that we had an incident--that's just all about trying to communicate and trying to be up front with each other, knowing how each other feel, stuff like that.
"I'm trying to anticipate those issues before they even rise up. So it's good."
-- 2:45 p.m. ET
First Day's Second Practice
Players and coaches are heading back to the practice fields.
This practice is closed to the public. Show up, and you'll be shown the door. (Our security detail is that good.)
My approach to posting updates on closed practices is as follows: there will be less detail because the team is actually installing and practicing plays they will run during the season.
I'm not going to give away team secrets. I need to keep my job.
-- 2:55 p.m. ET
Former Redskins wide receiver James Thrash is at Redskins Park and just walked out to the practice field with the team.
He is in casual Redskins gear.
Not sure if he is planning to serve in a coaching capacity with the club this season. Perhaps he is a coaching intern.
Something to ask Jim Zorn after practice.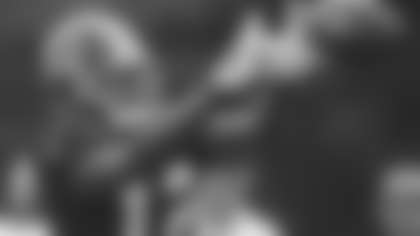 Thrash, of course, was released by the Redskins in June.
-- 3:05 p.m. ET
There is a host of national media personalities at Redskins Park on Thursday.
Sports Illustrated's own Peter King was on hand for the morning practice and spent time interviewing Jason Campbell.
Walking by the Redskins.com TV tent just now was ESPN's Adam Schefter, formerly of The NFL Network.
And Redskins great Joe Theismann, formerly of Monday Night Football and Sunday Night Football, has been present at both Thursday practices.
-- 3:21 p.m. ET
Jason Campbell spoke to reporters after the morning practice. I was able to catch just a few snippets of the media session.
He talked about assuming more of a leadership role than he has in the past.
"It came out at times during the season last year, but more so now," Campbell said. "Last year I was kind of sure about what I was supposed to be doing, but I wasn't as sure. We were all learning and feeling our way around the whole year.
"Now, if you make a bad throw, you still feel like you can take that leadership position. Not every is going to be perfect. You can come back the next play and hit them with a bang and go deep."
-- 3:28 p.m. ET
Four players, including three defensive linemen, are sitting out the afternoon practice, just for rest.
They are: Albert Haynesworth, Phillip Daniels, Cornelius Griffin and Malcolm Kelly. All four were huddled in a tent riding an exercise bike to maintain their conditioning.
So Haynesworth does not get to improve after his "rough" afternoon practice.
Coaches want to rest some veteran defensive lineman as much as possible. No sense wearing them out during training camp.
Kelly is sitting out to ensure that swelling does not occur on his oft-injured left knee.
-- 3:45 p.m. ET
Defensive lineman surrounded coach John Palermo as he instructed them on a drill.
Players had to run a circle around Palermo and bat away a baton to his specifications. If they did not maintain their balance and did not bat away the baton correctly, they had to do the drill again.
He was hardest on undrafted rookie Antonio Dixon. "Pay attention," Palermo shouted to Dixon just before he took his stance.
Supplemental Draft pick Jeremy Jarmon drew praise. "That's it!" Palermo said.
-- 4:05 p.m. ET
Running back and kick returner Dominique Dorsey was carted off the Redskins Park practice fields.
I'll check on his status after practice.
Whatever the injury was, it did not look very serious. Dorsey was sitting upright in the cart.
-- 4:20 p.m. ET
The afternoon practice was drill-heavy, so I'm fast forwarding to the 11-on-11 work.
Here's a recap of some of the action:
Todd Collins took a chance and threw into traffic. The ball bounced off a receiver and fell into the arms of Byron Westbrook for an interception.
Rob Jackson did a classic swim move to get past Devin Clark to get pressure on Collins.
LaRon Landry showed his athleticism by cutting in front of Trent Shelton to break up a pass.
Jason Campbell threw a deep pass to Santana Moss, who had Landry beaten down the left sideline. The pass, unfortunately, was overthrown.
Chase Daniel appears to be struggling early on. On a throw in the flat, Doug Dutch came up and broke up the pass.
Anthony Alridge continues to flash his speed. His cut-back ability is so swift that he slipped and fell, tripping up an offensive lineman who was running out in front of him as a blocker.
Chad Rinehart and Jeremy Bridges, playing on the left side on the second team, combined to open up a huge hole for Ladell Betts. Prior to the play, the defense may have paid too much attention to Santana Moss, who was in one-on-one coverage against Fred Smoot on the opposite side of the field. When the offense ran left, it appeared the defense was not ready.
Get excited, Colt Brennan fans: No. 5 completed consecutive passes, one on a short route to Marko Mitchell and another on a downfield route to Santana Moss.
Daniel dropped a snap, but was alert enough to pick up the ball, find a hole and scramble up-field for a big gain.
Next play, Jim Zorn had to call Daniel back from the line of scrimmage. "Huddle up," he yelled, frustrated that the offense was not in a correct formation. At the line of scrimmage, Daniel dropped back and completed a nice pass to Mike Sellers across the middle of the field.
With that, the Redskins called it a day. The first two training camp practices are in the books.
-- 4:30 p.m. ET
It appears James Thrash has rejoined the Redskins in a player development role. He is expected to work alongside Bobby Crumpler, the team's strength and conditioning coach, in that capacity.
Could be the start of a coaching or administrative position for Thrash. Former Redskins running backs coach Earnest Byner started as a player development director with the Baltimore Ravens.
So welcome aboard, Mr. Thrash.
-- 4:35 p.m. ET
Dominique Dorsey has a bout of cramps. He was carted off the field late in Thursday afternoon's practice.
Otherwise, the Redskins made it through the first day of training camp without any serious injuries.
-- 4:40 p.m. ET
Redskins' first-round draft pick Brian Orakpo still does not have a contract done with the club.
Defensive coordinator Greg Blache did not mince words when asked about his absence.
"Any time a guy is missing practice, somebody is taking his reps," Blache said. "Somebody else is better, he's not getting better, and we're not getting better as a team. It doesn't help him and it doesn't help his football team. The only person it benefits is his agent.
"The guys that aren't here, we don't worry about them. When he comes, then we'll worry about him. In the meantime, they have to make decisions, he has to make decisions. But you know what, we have to make decisions. We're moving forward."
Alfred Fincher got the bulk of reps at strong-side linebacker in place of Orakpo.
"No question he is benefiting," Blache said. "If you're fighting for a job and you get more reps, then you get more chances to show coaches what you're doing."
-- 4:45 p.m. ET
Remember Jerry Gray praising Kevin Barnes earlier on Thursday?
Greg Blache is not one to pay compliments to rookies, and Barnes is no exception.
"He's a rookie and he plays like a rookie," Blache said. "I mean, quite honestly, he makes a play and then he does something where you say, 'Son, that's not the way it's done.'
"I had to tell him a couple things this morning. He is a classic, typical rookie. And that's not a compliment."
-- 7:05 p.m. ET
Looks like the offensive linemen weren't the only ones to lose weight this offseason.
Malcolm Kelly lost about six pounds pounds from his 6-4 frame. He deemed it necessary so that the extra weight would not put any strain on his oft-injured left knee.
"Once I took that weight off, I was moving a lot easier and a lot better," Kelly said. "I wasn't putting as much pressure on my leg."
On his second NFL season, Kelly said: "I came out here with the same attitude I had last year--to get into the starting rotation. That has to be your attitude. But this year I have done more things to help my body, from dieting to the strengthening program.
"You can go out there and play, but if you don't get your body right, it's no good."