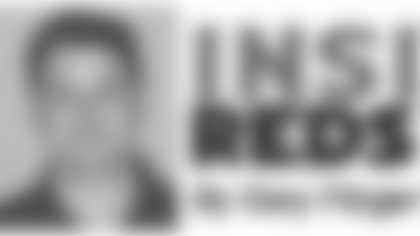 Redskins.com's training camp practice reports come to you with news and updates as action happens on the Redskins Park practice fields:
The Redskins hosted a morning practice on Friday, with top draft pick Brian Orakpo making his training camp debut.
Thousands of fans were on hand, many of them cheering for Orakpo even though it was the first time they caught sight of the Redskins' new linebacker/defensive end.
Count Phillip Daniels among those impressed with Orakpo, by the way.
"I remember early in the offseason I was saying if there was a guy we could draft, I hoped we would get Orakpo," Daniels said after practice. "I saw him in the weight room and he works out hard, trains hard. You like to have a guy like that on the team.
"He fits in because he listens. You can talk to him and he's willing to learn. When I called him on the phone, he let me know he was really thankful and he said he is 'willing to come in and learn all he can.' He is definitely a guy who fits in well with us."
By mid-afternoon, there was a steady downpour in Loudoun County, Va., so the day's second practice was canceled.
Players return to the practice fields on Saturday morning and they are expected to be in full pads.
That's when the competition level really picks up.
"Until we get the pads on, it's hard to really evaluate how well [players] are doing," defensive line coach John Palermo admitted.
Until then, here's Friday's practice report:
8:15 a.m. ET
Brian Orakpo agreed to terms with the Redskins late last night. He is expected to be at Redskins Park on Friday.
It is also Orakpo's birthday--he is 23 years old--so there could be something festive for the fresh-faced rookie.
Players are heading out to the practice fields now, to the cheers of the thousands of fans on hand. Once again, they are in shorts and shells.
8:20 a.m. ET
There's no rule that fans of opposing teams can't show up to Redskins Training Camp.
Would it be too much to ask that they not wear the opposing team's jersey?
I just saw someone wearing a Brandon Jacobs jersey alongside someone wearing an Ed Reed jersey.
If they walk into the VIP area along the sidelines during practice, I worry they might get inadvertently tackled by a Redskin.
8:36 a.m. ET
Our crack Public Relations staff contacted Brian Orakpo for some quotes last night.
On his thoughts now that he has agreed to terms: "Oh man, I am relieved. This was more nerve-wracking than actually being drafted. You really want to get in because you know your teammates are there working and you want to get in to get started to have a miraculous season. Finally I am back."
On where he was when he got the news the deal was done: "Actually, I was having a little birthday dinner in Austin (Texas) with my fiance at a sushi restaurant. I got word about it while I was eating a California roll and I kind of dropped it on the floor because I was so excited."
On how old he will be: "I will be 23 years old on Friday."
On his thoughts on the team, defense and coaching staff: "My overall thoughts are very optimistic. I really feel I have great teammates. They really guided me and showed me the ropes during the days that I had been there [during OTAs]. I am very comfortable with my situation and they are very comfortable with me as well. I want to get in there and earn the respect from the guys. When we put on these pads, I feel like the coaches have just been phenomenal."
8:45 a.m. ET
"Follow you if you follow me..." Great Genesis song from back in the day.
8:50 a.m. ET
Mike Sellers was taking it easy during some early practice drills, sitting on his helmet in the end zone.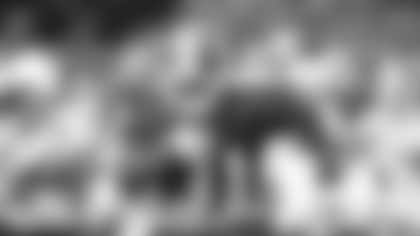 "Mike!" yelled Stump Mitchell, assistant head coach-running backs. "Don't sit on your helmet. This is training camp."
Even the veterans, even guys as big as Sellers, aren't immune from getting yelled at by coaches.
8:55 a.m. ET
Stump Mitchell brings the running backs over to the blocking bag.
Mike Sellers, perhaps seeking some revenge, gets ready to pound the bag as it swings back and forth in front of Mitchell.
Sellers gives it a push and nearly knocks down his coach.
Up next is Clinton Portis, then Ladell Betts, then Rock Cartwright.
For a little guy, the 5-8 Cartwright gets a strong push. No one is as strong as Sellers, but Cartwright is surprisingly close.
The veterans are better at this drill than some of the younger running backs.
Cartwright, calling Anthony Alridge as "Double A," offer the second-year player some advice. Later he pulls aside rookie Eddie Williams to instruct him on technique.
Cartwright the coach? Down the line, I can definitely see it happening. He would make a great coach.
9:01 a.m. ET
Dominique Dorsey is back and participating in some drills in practice. He is expected to sit out team work, though.
Dorsey left Thursday afternoon's practice with cramps, but it was not thought to be serious.
He is expected to be full-go for Friday's practice.
9:05 a.m. ET
Brian Orakpo must have taken an overnight flight from Austin--right after he finished his sushi dinner?--because the Redskins' first-round draft pick is on the field.
No. 98 is working with the linebackers, of course.
Another Orakpo quote from last night: "I'm very excited. Obviously I want to get in as fast as I can because I am learning a new position as the strong-side linebacker and I'm very optimistic. During OTAs and mini-camp, I thought I did very well [playing linebacker]. The coaches were very impressed with what I brought to the table. I can do what I do best and that is getting on the edge whenever the different packages allow me in to do that."
9:30 a.m. ET
Bubba Tyer, who retired last offseason after 30 years as head athletic trainer with the Redskins, has been at Redskins Park the last two years.
"No, I can't," he said. "I love it!"
9:32 a.m. ET
When the offense is working apart from the defense, sometimes they have to recruit one of their own to mimic defenders.
During one drill on Friday, quarterback Colt Brennan donned a yellow rag over his helmet and lined up at strong safety.
Before the ball was snapped, Brennan even approached the line of scrimmage in an apparent effort to blitz.
He was quickly swallowed up by blocker Eddie Williams, though.
9:35 a.m. ET
Quarterbacks and receivers worked on the deep route this morning, giving fans some "ooohs" and "aaahs."
Jim Zorn, meantime, stood behind the quarterbacks as they dropped back, intently studying their footwork and technique with every step.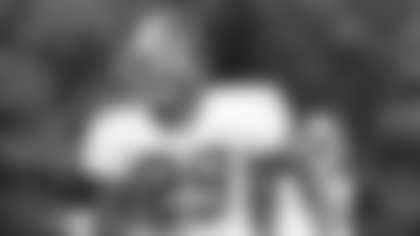 Sometimes it's all about connection, too.
Jason Campbell threw a deep ball to Antwaan Randle El, who adjusted to the throw and caught it.
Campbell's toss to Roydell Williams was overthrown, despite Williams' hustle to catch up.
Campbell and Randle El have been working together since 2006. It's Williams' first year working with Campbell. Sometimes that makes a difference.
10:20 a.m. ET
Dark clouds rolled by and there were a handful of raindrops, but not enough to distract players, coaches, fans...or me. The Z-Shades could be used for covering from rain, too.
Here are some quick highlights from the 11-on-11 session:
Colt Brennan's deep pass to Roydell Williams was too far. Williams had to adjust his body and veered out of bounds to try to make the grab.
Big Mike Williams blocked out rookie Jeremy Jarmon, giving Brennan time to get a pass away. Brennan found Marko Mitchell across the middle for a nice gain.
DeAngelo Hall blanketed Antwaan Randle El and pulled him down after a catch for a minimal gain.
Albert Haynesworth was almost pulled off-sides, fooled by Campbell's cadence at the line of scrimmage. At the snap, he got around Derrick Dockery and pressured Campbell.
10:40 a.m. ET
Practice came to an abrupt end, so these 11-on-11 highlights are belated.
Jason Campbell's pass across the middle to Chris Cooley was high, and Cooley was able to get a hand on the ball and tip it into the air. Once. Twice. On the third tip, the ball fell into the outstretched arms of Alfred Fincher, who logged an interception.
Devin Thomas, showing his athleticism, made a remarkable leaping grab after he found an open zone in the secondary.
Santana Moss pulled in a crisp pass from Campbell in front of Kevin Barnes.
Roydell Williams is not getting much of an opportunity to show his skills. Colt Brennan's pass to him in the flat was low and off the mark. Williams had to lean down for the ball, but he could not hang on.
Chase Daniel looked crisper than he did on training camp's first day. He completed consecutive passes to Marko Mitchell, Marques Hagans and Anthony Alridge.
Chris Cooley, trailed by London Fletcher and Chris Horton, beat double coverage across the middle and hauled in a pass.
10:45 a.m. ET
Casey Rabach is the starter at center, followed by Will Montgomery and rookie Edwin Williams. All three are getting extensive reps in practice.
Centers don't get often a lot of contact during these practices. They often snap the ball and get set in stance, looking for somebody to block. By the time they find someone, the pass has been thrown.
One time during 11-on-11s, Montgomery combined with rookie lineman Scott Burley to block hard-charging Vaka Manupuna and give Colt Brennan time in the pocket.
10:50 a.m. ET
On Thursday, a fan hoisted a sign saying "D.C. For Vick," a reference obviously to free agent quarterback Michael Vick.
On Friday, another fan held a sign that read: "Real Fans Want Campbell."
It was enough to draw Campbell over to the fans and sign autographs after practice.
10:52 a.m. ET
The first-team offense lined up against the first-team defense for a couple of plays. (Alfred Fincher was at strong-side linebacker and Anthony Montgomery was in for Albert Haynesworth, though.)
Jason Campbell threw a quick strike to Antwaan Randle El for a nice gain.
Ladell Betts took a handoff and rolled right, finding a huge hole opened up by Stephon Heyer and Randy Thomas.
Malcolm Kelly came in and lined up against DeAngelo Hall. Solid coverage. The pass was on target, but Kelly could not hang on as Hall was right on him.
Finally, Roydell Williams catches a pass. He caught a quick strike from Campbell and made his way down field. If this were a game, though, he would have been leveled by Alfred Fincher coming across the middle of the field.
11:20 a.m. ET
After practice, Jim Zorn was asked if every Redskins player had passed the pre-training camp conditioning test.
Fans will recall that last year there was much ado about Devin Thomas and Malcolm Kelly not being able to pass the conditioning test.
Zorn said there were some "close calls," but every player passed the test this year.
"We had no trouble with it," Zorn said. "But we're not jumping up and down about [some of the results]."
Zorn did not single out any player except Fred Smoot.
Smoot, who Zorn said also failed the conditioning test last year, passed this year with flying colors. He showed marked improvement, Zorn said.
"He was right there," Zorn said, smiling. "It was great to see."
11:30 a.m. ET
Brian Orakpo signed his rookie contract before practice on Friday morning. Then he went out and participated in some drills, but otherwise sat out team work.
Orakpo said his "first official practice" would be Friday afternoon.
"I was just getting acclimated out there," he said. "I felt ready to go, but coaches told me to just relax."
Orakpo missed just one day of training camp before agreeing to terms on his contract.
Orakpo reiterated that he was "very excited, mostly relieved" that the contract was done. He was working out on his in Austin, Texas, focusing on cardio and footwork. But it wasn't the same as being in training camp with teammates.
"I don't like missing workouts, but there is a business side that I needed to get taken care of," he said.
He sees himself as a linebacker and defensive end that can "create havoc and fly around with fresh, young legs."
Orakpo, as mentioned previously, is celebrating his 23rd birthday on Friday.
He was at dinner with his fiance at a sushi restaurant when he found out from his agent that his rookie contract was done. He also received calls from Redskins owner Daniel M. Snyder, head coach Jim Zorn and defensive coordinator Greg Blache, among others.
Despite Orakpo's newfound money, his fiance still paid for dinner.
It was his birthday, after all.
And it has turned out to be the best birthday of his life.
"This has to be No. 1," he said. "Deal done, and my pockets are bigger."
Orakpo was also asked about Blache's comments about his contract holdout on Thursday. Blache was blunt in his assessment that Orakpo was missing valuable practice time at training camp.
"That's Coach Blache--he doesn't hold his tongue," Orakpo said. "He says what's on his mind."
In other words, message sent.
12:10 p.m. ET
A Few Words From John Palermo
After practice, reporters cornered defensive line coach John Palermo.
Palermo was asked how the defense would integrate Brian Orakpo, given that he would be primarily getting practice time at strong-side linebacker.
"It won't be hard," Palermo said. "We'll make it work."
Palermo said he would work with linebackers coach Kirk Olivadotti to make time for Orakpo to work with the defensive ends.
1:45 p.m. ET
Closed Practice This Afternooon
The Redskins return to the practice fields on Friday afternoon. It is closed to the public.
Check back with Redskins.com for practice updates starting at 3 p.m.
For the time being, here's Jim Zorn talking about Marcus Mason getting cut last year: "It was frustrating for all of us last year to have to release Marcus because he had such a fine preseason. I could not keep all the backs that I wanted to.
"There were three running backs and we decieded to let him go. He did everything he could have done to make this football team.
"It's a good thing for us when you have enough talent in these particular spots where you're cutting players who can play, and he certainly can.
2:30 p.m. ET
Thirty minutes before the afternoon practice, and there is a downpour outside.
Needless to say, practice will be delayed.
I don't see any lightning, so there's no expectation that practice would be canceled. At least for now.
3:10 p.m. ET
Just received word from a host of team sources--including a couple of players--that practice has been canceled.
That means the "official" debut of Brian Orakpo will have to wait.
Going hard the last couple of days, so it's a welcome respite.