Editor's note: Redskins rookie wide receiver Terrence Austin, a seventh-round draft pick last April, talks with Redskins.com's Lindsey Gay after training camp practice about his thoughts on joining the Redskins, adjusting to the Washington, D.C. area, and more.
-- THURSDAY, AUGUST 19
Today was the last day of training camp but that doesn't mean we were less aggressive at practice. I ran a lot of scout team work for the defense and I did work on offense, too. So it was double duty for me.
As soon as I was done with the defense, I had to come back out and run plays with the offense the next period. And it just kept on going back and forth, back and forth. I was tired, but it was a good day, I had some good catches out there. I'm just trying to make sure I continue to do well and help out in any way possible.
The fans at training camp have been great. I'm used to having fans at practices because back at UCLA our practices were open all the time. I think the difference is that it wasn't as intense as it is here.
Whenever someone makes a big play, everybody's rooting for us. If somebody makes a mistake ... Well, most of the time they'll give encouraging words.
I think it gives fans a chance to get to see the players work hard. They're used to seeing us play in a game and a lot of people don't realize how hard we work at practice.
We have a lot of characters on the football team and a lot of people don't even know that. Some of these guys could be comedians if they really wanted to be. There are a number of them. Trent Williams is funny. Dennis Morris is funny, as far as the rookies go. The older guys like Clinton Portis and Larry Johnson.
And the coaches are funny too. [Special teams coordinator] Danny Smith is a character. Every day it's something different with him.
Our coaches are really professional, but at the same time they make football fun for us. When you have someone that can make you laugh, it takes your mind off the hard work sometimes.
Just because it's the end of camp doesn't mean it's the end of hazing for the rookies. They have the whole year and they can get you anytime. I just hope that they don't get me. There have been rumors that they're going to tape me up to the goal post, but it hasn't happened yet.
Now our focus is just on the Ravens game. There's been a lot of good talk about that team. A lot of people have been saying that they are a Super Bowl contending team this year.
Without a doubt they have a lot of good players over there and Ray Lewis is one of their leaders. He's leading a tight ship over there. They're going to be a good team to play. It's going to help us judge where we're at and how we're getting better each week. It's just going to be one of those tough games to grind out.
It's all about focusing now.
---
-- WEDNESDAY, AUGUST 18
The rookies got here early today because we had to lift at 6:30 a.m. So we were here at 6 a.m. when we saw the new schedule.
We were a little disappointed that practice was postponed until 2 p.m. but they moved everything back because it was supposed to rain. We got here and we were just hanging around waiting for the rain to stop for practice.
We basically had a break from 10:30 a.m. until 2 p.m. So I just stayed here. I didn't want to go back to the hotel and have to come all the way back. I just took a nap on a couch at Redskins Park and just waited for practice.
Offensively, we started off pretty bad at practice. Coach Shanahan wanted us to start over and make sure we did everything right. We have a certain level of intensity we want to have and we weren't really meeting the requirements.
So he had us do it over and it looked like a whole new practice basically the second time we went over it.
Then we finished off strong. The defense played real well today. They stuffed us on the goal line a couple times. Overall it was a productive practice.
Throughout camp I've probably spent the most time with [wide receivers coach] Keenan McCardell. He actually coached me in the East-West Shrine Game so I had a chance to meet him before I got here.
He played in the league for 17 years and he hasn't been out of the game too long. He treats everyone the same and I like that. He's very informative. Especially for me being a rookie, it's good to have a coach who has played the game for so long and was very productive.
---
-- TUESDAY, AUGUST 17
I had a better practice today than yesterday. I had a few good catches. I made sure I watched film from our walk-through so I knew exactly where I needed to be on my pass routes. When it came down to running the plays, I made some good choices on how to run routes based on the coverage. I was getting open.
Donovan McNabb wanted to stay a little late after practice today and we just ran through some passes that he wanted to be able to hit. We worked on our timing.
He overthrew me on a deep ball that definitely would have been a touchdown. It kind of bothered him a little bit, so he wanted to make sure that he can judge my speed and know where he has to put the ball.
The competition at every position is noticeable at practice. We have a lot of receivers who are capable of being big play threats. That's one of our greatest attributes to this football team, I believe.
When you have different guys that can make big plays, you want to use them. I think it's great that we have the opportunity to do that. In addition to competing, we're also helping each other get better. We all want the same thing and that's to make the team better.
Yesterday was a nice way to relax with the team. We went bowling and I ended up scoring a 142. I was pretty okay with it.
I bowled with Adam Carriker, Phillip Daniels and Reed Doughty and they smashed me the first game. I think a bowled 108 and I think Carriker bowled in the 170s.
I started off well -- first bowl, strike, second bowl, strike, so everybody started putting the pressure on me to do it again. I didn't – I think I might have gutter balled it.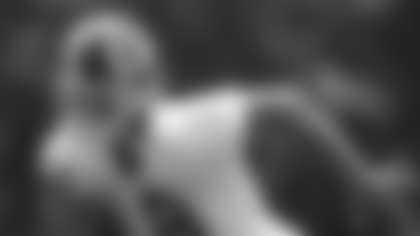 In the second game, I just looked around at everyone else and I told myself, 'I have to copy somebody who's good.' So I just started rolling the ball as straight as I could and I ended catching back up.
---
-- MONDAY, AUGUST 16
Today was a rough practice for me. I was out there running left and right. And I muffed two punts back-to-back. But I came back—it was just a little technique thing I had to fix.
He [Josh Bidwell] punted me like a trick ball on my second one. Out of all the times I've been catching punts, I've never seen anything like that—the ball was like a knuckle ball.
I bounced back and I ended up catching the next one, making sure my technique was right. I'm usually real confident back there, real smooth and that ball just took me for a loop.
We're about to go bowling as a team today.
I'm going to try and hurry and get me a shower and get ready to go.
I'm a pretty descent bowler now. I've at least gotten better. When I first started I was bowling like 80, 90 a game and then I started bowling around 180—without bumpers of course.
Everyone's competitive about everything. Guys here talk, but you got to see it first. They're always talking about what they can do.
I used to be terrible and I was trying hard too! But then somebody ended up teaching me how to do it a little bit. The one thing I don't have is a personalized ball like Rocky [McIntosh]. He's got that Miami Hurricane ball.
---
-- SUNDAY, AUGUST 15
Practice was a little tough today, because it was a practice after a game. You're sore and tired a little bit. But we worked through it.
We went over some of the mistakes that we had made in last Friday's preseason game vs. Buffalo and tried to fix them, rerun them. We tried to figure out where we went wrong.
We have to try to make sure we correct them so that when we see the scenario happening again, we'll know what to do.
My first NFL game was fun. It was great to win and really dominate 42-17. I got out there and it reminded me of college again. The big crowd, my teammates flying around, a different opponent. The weirdest thing was seeing myself on the video boards. I'm so used to seeing myself in [UCLA] blue. I've never worn a red uniform...ever.
I liked how I looked in it. I always told myself that I hated red because I went to UCLA and I didn't like to play any team in red. I just didn't. But I was looking at myself on the video boards and I said, 'I think I could get used to this.'
Before anyone asks, I didn't help Brandon Banks with his John Wall dance. It was so funny, though, because I sat back and told Brandon, 'This is going to be big time, you've got to get a big-time return today. You're up first, you've got to do it, I'm going to be right behind you.'
A few plays later, Brandon ran it back. And he got in the end zone and he does the dance. We all went wild and we were laughing about it.
There were a couple good touchdown celebrations that night. It's all about having fun. We work real hard every day and to score a touchdown -- it's really tough to do that. This is the National Football League. This is the best of the best we're playing.
So when you score a touchdown, you should feel good about it and I think that's a good reason to celebrate. If someone wants to do a little dance or something, it's cool. You definitely can't do anything excessive or anything crazy that's going to taunt the other team, but a little touchdown dance is always fun to do here and there.
Preseason games are tricky. First off, you can't overlook the fact that we scored 42 points, you just can't. The way that we're going to look at it as a team is that we're trying to get better and we want to be able to take that mindset out there on the football field every week.
We want to not only win games, but also dominate. That's exactly what we did. We still made a whole lot of mistakes -- don't get me wrong. We're definitely humble about what happened, but we feel good about the final score.
---
-- WEDNESDAY, AUGUST 11
Today's practice was another long and draining day. Coach cut it short for us because he liked our effort. The guys were out there flying around like usual, so it was fast and productive. Again it was another hot day.
We spent the practice just preparing for Friday's preseason game. I always get butterflies for the first couple minutes of the game.
In college, I used to always start the offense first. I either would be returning the opening kick of the game or I would be returning the punt return for the offense. I was always the first guy on offense to touch the ball and that's how I just looked at it. I told myself, 'Okay, well I'm going to get these butterflies out as soon as I touch the ball and do whatever I have to do.' Then the next play, the butterflies are gone."
As long as I get out there and just know my assignments, I'll be fine. I'll just go out there and play that one play – get the butterflies out, and I'll be good.
It's my first NFL game and I'm really excited about it. It's something I've been dreaming about since I've been a little kid. We all know how slim the numbers are, how slim the chances are to get in the league. And I've got the opportunity. This will be my first time out here and I'm going to take advantage of it.
My favorite movie is "Paid in Full." It's actually a true story. I love that movie. I can watch that movie every day.
Favorite superhero? The Hulk, because he's different from everybody else. I don't like Spiderman. Batman doesn't have any powers. And everybody likes Superman. So I like the Hulk.
And finally, the money question from today: songs to sing in the shower? I like Bob Marley, so I'll sing "Jamming." I'll sing songs by Usher, because I used to always drive and sing his songs to myself. I would think I was singing just as well as he does.
---
-- TUESDAY, AUGUST 10
I was a little sluggish today. I still made some good plays with a couple of big catches, but I just felt a little tired. It didn't really affect me that much because I was still out there running hard.
Fans always ask me about the bracelets I wear. First I have this yellow band that says 'Play Hard' both ways. My offensive coordinator from UCLA gave it to me -- he gave it to the whole offense actually.
I liked it because sometimes when I get tired or I think I'm not going to make it in practice or the game or the 4th quarter, I just look down at it and it reminds me to play hard. I haven't taken it off since my junior year.
I also wear a power-balance band. It's supposed to help me with power, balance and flexibility. It's supposed to work. I don't know if it does, but I tell myself, 'It's just a wristband, I might as well wear it.' So I wear it – just in case.
We're into the second week of training camp and I'm slowly getting some of rookie hazing. Joey Galloway usually gets me to carry his pads, which I did today.
And I heard sometimes they make you sing your college fight song. I hope they don't do that any time soon, because if they do I'm going to need to learn mine all over again.
I hope nobody from UCLA knocks me on this, but I've definitely forgotten it. The last time I sang it was actually when we played Temple here in Washington, D.C., in the EagleBank Bowl last December. I guess I have some work to do.
It's still a little weird to me that I'm playing with some people that I've really admired, especially Santana Moss. It's been a pleasure because when you look up to somebody like that, you model your game after him. You never think one day you'll end up playing with them.
---
-- MONDAY, AUGUST 9
We had Sunday off and it gave me a chance to get my body some rest. We had been practicing 10 days straight, so it was just a perfect day to get the rest out and get our mind off football for a little bit.
In Monday morning's practice, we ran some of the plays that we ran on Saturday, and then we just touched up on everything. I know there are some things that I need to focus on with each play. I really focused on the details.
We have our first preseason game on Friday night against the Buffalo Bills. I did say to myself before I came out to practice, 'Time to start making sure we start limiting the mistakes.'
I want to be able to play on Friday night without worrying about what my assignment is. The worst thing in the world is to line up in competition and say to yourself, 'Man, what do I have on this play?' And the next thing you know, the quarterback snaps the ball and everything is all scrambled. You really don't want that.
I told myself today that I was going to make sure that I paid attention to each play in detail so that when Friday comes I'll be able to just go out there and play.
On our day off Sunday, I really just relaxed. Mike Sellers had a barbecue for the team and I got to finally eat some home-cooked food. It had been awhile.
I haven't had a chance to go back home in a month and a half. The food has been great here, don't get me wrong. But when Mike cooked, it was like being back at home.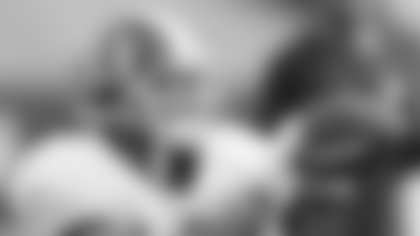 He made everything-- ham hocks, baked beans, mustard greens, baby back ribs, baked chicken, and potato salad. It was good. And we had red velvet cake, too.
---
-- SATURDAY, AUGUST 7
It went well today. It looked like there were about 20,000 fans out there checking us out on Fan Appreciation Day. They were "oooh-ing" and "ahh-ing" at every move we made and it was very exciting.
I got a chance to get a taste of what it's going to be like to play in front of Redskins fans. And I got to hear them cheer for me when I made a couple plays out there.
They cheered for me when I scored a touchdown and that felt good. I enjoyed it today -- it was really, really nice.
After the touchdown, I high-fived with Brandon Banks and a couple other guys as sort of a celebration. I've been thinking about it for the games, but I'm feeling a little cautious right now after the referees came in and told us about all of the penalties that can happen and fines for excessive celebrations.
I might come up with a little celebration. But it's not going to be anything outrageous that's going to cost me money -- which I don't have, by the way.
I love performing in front of crowds. I'm used to it because I went to a high school where football -- actually every sport -- was a pretty big deal. Our high school had a lot of great athletes and a lot of people wanted to see us.
I feel like I've been on the national scene a lot at UCLA, running in front of 30,000-40,000 fans on track. I get excited when I see a lot of people out here like this.
I'm excited to see what this Friday's preseason opener is going to be like.
---
-- THURSDAY, AUGUST 5
It was hot today. Hot. Hot. Hot. I'm not going to lie -- I might have lost nine pounds today.
It was a lot of work, but I did pretty well. I had about five or six balls come my way-- caught them all. And then I did some great stuff in the run game. I think I had an exceptional block today.
We had NFL referees out here for the first time but I really didn't even notice them. I knew they were there, but when I started noticing them the most was during the 2-minute drill. They were there to call the ball down or say somebody ran out of bounds or something like that. It wasn't really different. We practice like we have refs all the time.
After practices like this, I just like to relax. So the cool-down routine today is to get back to my room and then open my laptop and play some reggae.
I'll play some Bob Marley and it'll put me to sleep, to be honest. I'll take about a 2-and-a-half hour nap before the next practice. I may call my mom or my dad and give them an update.
Tonight maybe I'll watch some TV. I want to start watching "Jersey Shore." I heard it's pretty good.
And then everybody has been telling me about watching "True Blood," so I'm going to check that out, too.
---
-- WEDNESDAY, AUGUST 4
It was a tough practice today. Santana Moss and Mike Furrey and Joey Galloway took the day off -- they gave the vets a little break.
They left it up to the rookies and first-year players to get extra work. And it was rapid fire; back-to-back-to-back. We only had two minutes for the first series and that's always tough. So I was tired today because of practice and then the heat started to pick up a little bit at the end.
Out on the field, everyone has a nickname. Mine's been "TA" -- guys like acronyms around here.
Since I've been in Washington, I've heard a couple of nicknames. It's been "TA," "LBC," "Lil' Snoop," "Baby Tanner" ... I think those are all of them.
I heard some fans were calling me "Terror Squad." That's a good one. I like that.
Today was the second day with John Beck – and without Colt Brennan – but to be honest with you, I really don't remember the quarterback a lot. I see the quarterback when I'm in the huddle and then I forget about it and just go straight to the play.
The quarterback, whoever it is, calls the play and I line up. And then I run it.
I heard Wale was here today. If he does a Redskins song, I'd try and get a line in there for sure. Maybe something like "TA, Terror Squad, by way of Long Beach, from the west coast to the east coast." He's got to say Long Beach though because that'll be real distinct to me. "Terror Squad, 18, from Long Beach to D.C.' – there you go, that's it.
---
-- TUESDAY, AUGUST 3
I like to stay late after practice and get some extra work in -- some extra catches. You only get a couple balls a day during practice.
Today was a mixture of highs and lows.
The high? The fact that I caught another touchdown pass in the red zone today.
The low? I had just a minor mistake in the blocking scheme. I still blocked my man, but coaches actually didn't want me to block, they just wanted me to run down field.
I just ended up blocking my guy -- I ended up doing my job, but they said I was doing too much work. Always giving 110 percent.
Working in the NFL is my dream job. I'm doing what I love. But my first job ever wasn't until college. It was being a referee for the recreational and intramurals at UCLA.
I've never had time to work because I was always running over the summer. When I was out of school, I traveled for USA Track & Field. So I never really had time to work. I used to be a high jumper. I could get up to seven feet.
---
--MONDAY, AUGUST 2
I had a strong practice today. It was probably one of my better practices. I had the most catches I had all camp actually.
I made some good reads out there on the field that got me open and I just stuck to my fundamentals. I ended up getting open and getting some balls thrown my way.
The biggest play was during the 11-on-11 between Donovan McNabb and me. I lined up and I just remembered the play in huddle, then McNabb looked at me, sort of like, 'This should be your big play right here.'
McNabb called the play and right then and there I knew we were going deep. I said, 'Okay, I just have to make sure I get the leverage on the defensive back because I know McNabb's going to put it out there because he has a big arm.'
I just stuck to my fundamentals and got the angle on the defensive back. I beat him deep and McNabb threw the perfect pass, right in the pocket.
What music do I listen to so I get pumped up for practices? I listen to everything. Today specifically it was a little Bob Marley. It was a little reggae this morning -- that's what got me started.
I usually play a lot of Snoop, he's my favorite rapper. "Secrets" is one of my favorite songs by him. It's a jumpy beat. You can be sitting down, not really in a good mood, and that song comes on and you just start getting bouncy.
---
-- SUNDAY, AUGUST 1
I had some good grabs today. The main thing is to just take it day by day. I'm trying to make sure I know everything I'm supposed to do so that I can capitalize when I have an opportunity to make a play.
I did get hit a couple times today, though. Who was it that hit me? I don't even know! I mean, it's hard but I'm used to it. At UCLA, we practiced at high tempo, but here guys are really flying around.
We're all NFL players here. Everybody's a pro, so obviously we're trying to play at a high tempo all the time. Sometimes it just gets the best of you, but there are no hard feelings with that at all. It's just football.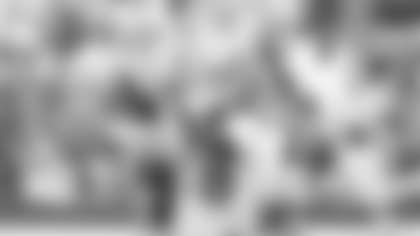 I stayed later after practice today to get some extra work in and when I came off the field people were asking for autographs.
It feels good when that happens. It tells me that people are rooting for me. It just gives me a little bit of inspiration to keep going out there and do my best every day. If I'm able to help contribute, I'll get more fan love.
---
-- SATURDAY, JULY 31
I was going 100 percent out there today. I had one miscue where I jumped offsides and coach got after me about it afterwords. At the same time, he told me that he liked that I was going 100 percent, so that was good. I know I can't make that mistake -- that's going to cost us some yardage in the game.
Other than that I felt good about today. I had a couple catches, ran some great routes and checked on all my assignments. I'm happy with my performance.
I grew up in Long Beach, California and I went to UCLA. I've realized the biggest difference between California and Washington D.C. is definitely the weather. In California, it gets hot but it's dry weather. It's not as humid out there as it is here. Actually I don't really feel any humidity in California.
I miss California, because there's a cool breeze here and there and practices aren't so steamy. But I've become acclimated here. It's not a problem for me.
When I get some free time after training camp, I definitely want to catch a couple of the Washington Wizards games.
One of my favorite players in college was John Wall and he got selected first overall by the Wizards, so I want to get to see him play.
---
-- FRIDAY, JULY 30
I felt great today. I'm glad I got a chance to get out there and be with the quarterbacks, to finally get their timing down.
I'm trying to figure out how fast I have to run in between routes to actually get a good judgment on the ball with the different quarterbacks. I haven't been here with them for most of the offseason.
That's all it's about right now -- just making sure I get the timing down and I'm feeling good.
In regards to the passing formations, I think it's good that we're mixing it up a little bit, putting some guys in different spots, finding ways to get open.
There's a lot of competition at the wide receiver position. It doesn't do anything but make us better. I like it -- it keeps me on my game every day, lets me know, 'Hey, if you want to be in this spot, you have to compete with this guy.'
You can't make too many mistakes because the guy behind you is going to gain on you or the guy ahead of you is going to separate himself from you. So that's what it's like every day.
I got some time in with special teams today. It's something I'm comfortable with; it's what I did in college. I did both kick and punt returning. I was a natural at it and I'm hoping I get to help the team out in that way.
Coming into the NFL, I had a whole lot of UCLA alumni telling me the best way to earn a spot on an NFL roster is through special teams. Whether you think you're a No. 1 receiver or whatever, the best opportunity of making the team is on special teams.
I've embedded that in my mind since I started returning kicks in college. I knew I wanted to be in the NFL and that my best opportunity will be to excel in special teams.
There's a big difference between punt and kick returns. First of all, I honestly believe catching a punt is the hardest catch in football -- period. There are a number of different reasons. First, every punter kicks the ball differently. Then, the ball goes different ways when it's a left-footed or right-footed punter. All of that plays into it when you're trying to catch the ball.
On a kickoff, the ball goes directly where the kicker wants it to go. As far as returning a kickoff, it's simple. It's all about having a knack and just going where the open space is.
What makes a good returner? Someone who has vision and isn't indecisive when they're trying to make a move.
Redskins' special teams coach Danyy Smith is great to work with, too. He reminds me of my special teams coach at UCLA, Frank Gansz, Jr. They're actually just alike, to be honest with you. When I first got here, I thought he was Gansz when I saw him.
I like a guy who is intense like that because it gets me fired up when I get out there on the field.
---
-- THURSDAY, JULY 29
Today was my first training camp practice and I was excited even though it rained and the field was a little wet. I didn't get to practice with the team during OTAs or really even mini-camp, so I was ready.
I was involved with some plays that got the fans going, so that's always good. It was nice to get my feet wet, literally. It was nice to get back into the swing of things and get back into football.
I like everyone here. I feel like I'm part of something big, like a fraternity, except I have not experienced the hazing yet. I'm still waiting for that.