As they jockey for position on the depth chart, Je'Ron Hamm, Chase Dixon and Devin Mahina are making every rep count during their audition processes.
All three come from small school backgrounds, and all three know they've got a steep hill to climb to make the final 53-man roster, but Redskins tight ends Devin Mahina, Chase Dixon and Je'Ron Hamm are eager to showcase their talents alongside their established veteran teammates.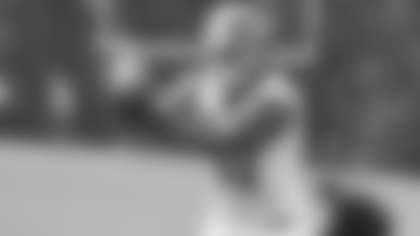 Of the trio, Hamm was the first to join the Redskins last September, signing a deal to be on the team's practice squad.
As he took in his surroundings early on, the converted wide receiver turned tight end considered his time on the practice squad as a blessing in disguise.
"It definitely changed me being on the practice squad," he said. "I felt like I needed that because coming from receiver to tight end, blocking-wise it was a big help being there and going against Ryan Kerrigan and Trent Murphy every day."
And not only did it help going against much larger linebackers, so, too, did studying other tight ends.
"I just watched the tight ends for the blocking aspect," he said. "The route part and the receiving part was pretty natural since that's what I was, but just watched them for the technique with the blocking and how they approach the tight zone vs. the wide zone and things of that nature."
After going undrafted last spring, Hamm signed with the New Orleans Saints before a late-summer release. Then he had to wait until after the regular season started to find a home.
In comparison to that situation, this offseason has been much more comfortable for the 6-foot-3, 236 pounder.
"Last year, my head was spinning every day trying to learn the playbook, while trying to block somebody that's way bigger than I'm used to," he said. "This year, it's kind of just I know the playbook, and it's about going out there and executing."
Later in the season, Hamm was joined on the practice squad by Dixon, a 6-foot-5, 240 pound Central Arkansas product.
And, like his teammate, this year has been completely different for Dixon.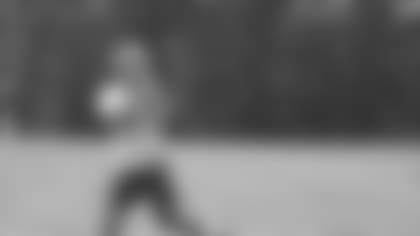 "Last year coming in as a rookie, you're scrambling your brain trying to learn the plays, staying up all night, and have to go back the next day and try to do it all over again," he said. "This year, I have a solid foundation from rookie minicamp and all the OTAs. So now, it's just about going out there, doing my assignment fast, playing physical and actually getting the work done, not just thinking, 'Oh, what is my assignment?'"
Dixon said it was "difficult at first" practicing but not getting to go on gamedays, but after getting his footing there was "a sense of relief."
"I was out for half of the season, but I didn't know where I was going to end up, so having the opportunity to come here was a big thing for me," he said. "I was grateful for that opportunity, but as a competitor, I wanted to be on the field obviously."
And seeing as Redskins fans have never seen him on the field for a preseason or regular-season game, it'd be understandable that Dixon's not exactly the easiest guy to pick out on the roster.
But you'll always find him giving it his all.
"I'm always going to give 100 percent effort. I'm going to try and do my job every play," Dixon said. "I think I bring the long-ranging athleticism. I'm a go up and go get it kind of guy. I'm not just going to burn with you speed, I'm not going to be a big dominant physical guy, but I feel like I can put all those things together and be good for us in the red zone."
As for Mahina, the least experienced member of the group, he's had the chance to learn from the other five tight ends on the roster after signing with the Redskins as an undrafted college free agent in early May.
The crowded feeling at his position has made Mahina "get into my playbook more," but he said he's been getting help from the longest-tenured tight end in Washington.
"I try to be a complete tight end with pass catching, run blocking, and pass blocking," he said. "Logan Paulsen has been a great mentor to me. He stays with me after, and we watch film together. He's just trying to teach me everything I need to know to be a great tight end."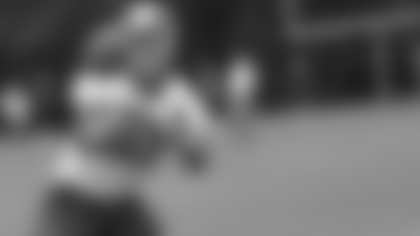 While he was productive during his four years at BYU, Mahina ended up like many of his fellow rookie tight ends this year – a college free agent.
That didn't change his mindset one bit.
"Sure, anyone can get disappointed about not getting drafted, but still, having the opportunity to get picked up, and that the Washington Redskins wanted me to be there, is still a good feeling," he said. "It was good knowing that they believed in me, giving me that confidence that I can play this game."
Through minicamp into training camp and then the preseason, each and every rep these three get will be essential in their auditions to the coaching staff.
Hamm said it's important to "just try to do it to the best the coaches have taught us."
"I cheer guys on also," he said. "It's a competition but it's a friendly competition, so when guys do well, I commend them. When they have something they can work on, everybody kind of helps each other out."
"The tight ends are all a close-knit group of guys but when it comes to training camp we're all competing," he said. "I'm going to compete to try and take that spot and get more reps."