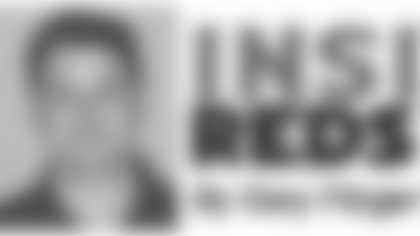 In the last five weeks, since Redskins training camp started, Jim Zorn has experienced enough ups and downs to last a football season.
Zorn maintains a positive, upbeat outlook, so it's not surprising that he sees wins in the Redskins' future.
Fans learned about his approach at the 47th annual Welcome Home Luncheon at The Ritz-Carlton in Tysons Corner, Va., on Thursday.

The entire Redskins team, including players, coaches, staff and alumni, was in attendance. Fans had an opportunity to have lunch and spend time with members of the team.

Proceeds of the event benefited the Redskins Charitable Foundation and the Redskins Alumni Association.

Chris Samuels was presented as the 2007 Offensive Player of the Year, London Fletcher was presented as the 2007 Defensive Player of the Year and Rock Cartwright was presented as the 2007 Special Teams Player of the Year.

Of course, the keynote speaker was Zorn himself.

He recounted the series of tragedies that the team has experienced in the last year, starting with Sean Taylor passing away last November. His legacy remains a significant part of the team.

"We're not going to forget [Taylor]," Zorn said. "Things are never the same after something like that happens."

He discussed the loss of Phillip Daniels and Alex Buzbee on the first day of training camp to season-ending injuries.

He paid tribute to Joe Bugel, whose daughter Holly passed away on Aug. 15 after a bout with a rare form of bone cancer.

"I get a lot of strength just watching Joe and his family deal with their tragedy," he said.

Zorn's point?

Professional football can be all-consuming at times, but "real life" always intrudes.

And that's why a football team is like a family.

Zorn emphasized that he wants to build a team of players who come together on and off the football field.

"We're going to try to build something here," Zorn said. "From the first day I started to the next 10 years--I'm hoping to be here that long--we're going to continue to build our family on this football team and be that close."

He cited attributes he looks for in football players.

Character, courage, consistency and commitment.

"We're looking for men who are the same every single day they come to work, so that when we get out on the field, it's not a new experience to play hard, pay attention and do the right thing," Zorn said.

He added: "If you could see the type of courage our players have shown not only during games, but also during practices, you would be very proud. We've had some difficult practices. It takes a lot of sacrifice to put the effort in that they have put in."

Zorn doesn't want characters. He doesn't want complacency. He doesn't want cowards.

"We're going to prove to the fans and to this great Washington, D.C. area who we are," he told the crowd as the luncheon ended. "We're going to put something together so that the players can be proud, and we're going to put something together that you can be proud of--because it's your team as well."