Bobby Wade grew up in Los Angeles, so perhaps it's not surprising that he seems to excel in the West Coast offense.
Wade, a 7-year veteran wide receiver, signed with the Redskins on April 29 for that very reason.
In 2007-08, Wade was at his best playing in the West Coast system used by the Minnesota Vikings. He was a regular starter for the Vikings and caught 50 passes both seasons.
As a free agent this offseason, Wade wanted to be a part of Mike Shanahan's version of the West Coast offense in Washington.
"Obviously this offense that we run and Coach Shanahan's reputation, it was definitely a big reason," Wade said. "It's a very similar offense and a lot of the routes are very much the same. The terminology is different and obviously the play-calling will be different, but for the most part the learning curve was pretty fast for me to pick up."
Wade, 5-10 and 186 pounds, entered the NFL as a 2003 fifth-round draft pick by the Chicago Bears.
He was just starting to establish himself with the Bears, grabbing 42 passes for 481 yards in 2004, when he was traded midseason in 2005 to the Tennessee Titans.
Since then, Wade has bounced from the Titans to the Vikings to the Kansas City Chiefs in 2009. He caught 36 passes for 367 yards and two touchdowns for the Chiefs lasy year.
For his career, Wade has started 50-of-102 games and caught 244 passes for 2,858 yards and nine touchdowns.
In Washington, Wade hopes his experience in the West Coast offense gives him an edge in the competition at wide receiver.
He is competing for playing time with veterans Santana Moss and Joey Galloway and young receivers Devin Thomas, Malcolm Kelly, Anthony Armstrong and Terrance Austin, among others.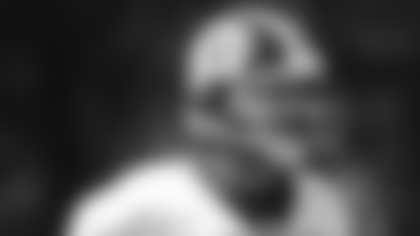 At this point of the offseason, it's safe to say no wide receiver on the roster has locked down a starting job.
Given his speed, Wade believes he can be most productive playing in the slot, but he has the speed and route-running ability to play outside as well.
"I think the biggest thing I bring is veteran experience," he said. "I've played seven years and I've been a starter in this league. I've played every position -- outside, inside, even getting the ball on reverses. There are a lot of things I can do in this offense. However I can fit in this offense, I'm willing to do anything."
Wade is expected to serve on special teams as a kick return specialist.
He has returned 78 punts in his career for an 8.5-yard average, and he has a 73-yard punt return for a touchdown in 2005. He has returned 50 kickoffs for a 23.9-yard average.
"I've been catching some punts [in OTAs] and trying to get involved," Wade said. "I've served as a kick returner for a while in this league and hopefully I'll get a chance to do that here as well."