After raising funds at the Washington Football Legends Scholarship Gala, Doug Williams presented Tyler Williams with a donation needed to purchase crucial in-home rehabilitation equipment on Tuesday.
It doesn't take long to be inspired by Tyrell Williams.
The Georgetown linebacker, who became paralyzed after a catastrophic collision during the first game of the 2015 season, sat up straight in his wheelchair, surrounded by family, friends, teammates, his head coach, and then a bunch of cameras, and smiled.
"This is my reality right now, this isn't going to be my reality for the future," he said. "This is not what I'm meant to do. I'm not meant to sit in this chair. So the plan is to get out of it. I'm going to get out of it."
Achieving that tenacious goal became much easier Tuesday afternoon, when Doug Williams, on behalf of the Washington Football Legends, announced that the organization had purchased necessary equipment for Williams to help with his in-home rehabilitation.
The press conference and gathering took place at BMW of Sterling, whose owners Thomas and Joyce Moorehead helped cover part of the $24,000 that was raised just more than a week ago at the eighth annual Washington Football Legends Scholarship Gala.
"[I'm] kind of floored to be honest," said Georgetown head football coach Rob Sgarlata. "When you come up with the price tags for some of these things that happen, you have resources, but you have to go find them, and it takes a while for these things to be done. Honestly, time is of the essence. For him to be able to have this stuff, have it right now, have it in his room, have it in his disposal, it's going to accelerate his recovery."
Doug Williams first heard about Tyrell when everyone else did.
During Georgetown's Sept. 5 season opener against St. Francis University in Pennsylvania, Tyrell, while attempting a tackle, shattered sections of his vertebrae. He was immediately transported to UPMC Altoona where he endured nine hours of surgery. The following week he was transferred to Atlanta, where he spent the next four months in recovery.
But Tyrell was determined to return home, which is what he did at the beginning of Georgetown's second semester. In the past few months, he's been able to operate his own wheelchair, has resumed two classes as a junior majoring in government and continues to work with doctors twice a week at the National Rehabilitation Hospital.
The equipment he needed to continue his rehab at home wasn't covered by insurance, however. That's where Doug Williams stepped in, and after a phone call with the gala's coordinator Burt Trembly, decided to invest in Tyrell's recovery. The choice was a "no-brainer."
"We asked everybody to leave a donation and fortunately enough, [it was] exactly what he needed," Doug said. "I know Bruce [Allen] was sitting at the table, Scot [McCloughan] was sitting at the table and Jay [Gruden], and they all understood what was there, and they were adamant about making sure they left a sizeable donation to make sure the young man was able to get the equipment that he needed. And I think everybody in the room responded, which is great."
Tyrell, who was flanked by his parents, admitted he couldn't have gone through this journey by himself. Back at school, he's been able experience some normalcy again, this time in a handicap accessible apartment, where he'll probably stay this summer to catch up on classes.
"I may be strong, but this is tough, it's tough for anybody and honestly I don't think anyone is strong enough to do it by themselves," he said. "I've been lucky enough to have a lot of people in my corner backing me up."
The money will help with two large pieces of rehabilitation equipment – one, called a standing frame, props him up to enhance blood flow, while the other is called an FES Cycle, which simulates biking and pumps electrical pulses through to his muscles to help his leg strength and movement.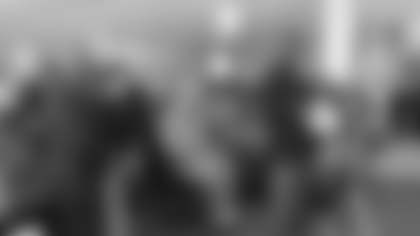 "You never hear him whining, you never hear him bemoaning his fate in any sad state," local News-4 anchor Jim Vance said. "I am so inspired by that young man's will and his tenacity and his courage that I could not help but be blessed to participate in any way that I could with his recovery."
Tyrell, who excelled in multiple sports in high school, played in all 22 games in his first two seasons with the Hoyas, converting from a running back to a linebacker during his freshman year.
It's taken some time to come to terms with his condition.
Sgarlata said he received a phone call from former Rutgers head coach Greg Schiano, whose own player, Eric Legrand, suffered a similar spinal injury, to offer some wisdom, and the team, already one of the closest he has coached in his 20-year career, came together in a really powerful way.
What continues to motivate them – and what gave extra meaning to the No. 2 patch each player wore on his helmet this past season – is that Tyrell's journey isn't finished. The gift he received is the start of another journey, one he won't take alone.
"Having this support is really amazing," Tyrell said. "Just being able to know that I'm not just fighting by myself really helps get me through it."