If anyone knows whether Eagles running back Brian Westbrook will be playing on Sunday, it is probably his younger brother, Redskins practice squad cornerback Byron.
The elder Westbrook sat out last week's loss to the Bears with an injured ankle and took only limited work during practice this week.
"I think personally from seeing him on the sideline, just walking, that ankle looks real bad," Byron Westbrook said. "Hopefully, he doesn't play, but it is an NFC East game and it definitely has playoff implications, so he might step up and play."
Even though it's still unclear whether the elder Westbrook will be in the lineup on Sunday, the Redskins' defense is preparing for him.
Just like last season, Byron, who is in his second season with Washington, is playing his brother on the scout team during Redskins practices this week.
"He kind of knows what his brother likes to do, so he'll give us a couple of tips, and we listen to him, because it pays off in the game," cornerback Fred Smoot said.
The Redskins will need all the help they can get stopping the Eagles' Pro Bowl running back, who scored two touchdowns--including a 57-yarder on a screen pass--the last time the two teams met.
Although Byron Westbrook does not dress for games, he has had his hands full this season helping the Redskins' defense prepare for some of the most dangerous offensive weapons in the league.
In practices leading up to the 29-24 victory over New Orleans, Westbrook played Saints' running back Reggie Bush, giving the defense the feel of playing against a smaller, quicker back.
The next week, Westbrook helped the defense prepare by playing Cardinals wide receiver Anquan Boldin. Washington limited Boldin to 25 yards receiving and came away with a 24-17 win.
"He does whatever it takes to help the team win," cornerback Shawn Springs said. "Guys like Byron do not get enough credit for the success of our defense."
Helping his teammates get ready for the opposing offense is something Westbrook takes pride in.
"When we shut them down, I have a great feeling inside knowing that I did my job for the week," he said.
While most of the team has nothing but praise for the former Dematha standout, linebacker London Fletcher has one complaint.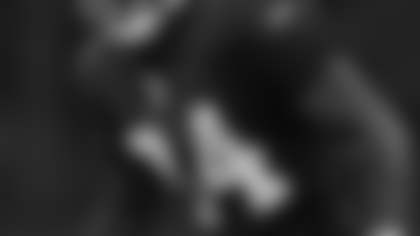 "I teased him last year about him not giving me the look that I wanted [in practice]," Fletcher said with a wide grin. "I got in the game against his brother and his brother shook me in a hole, and the next week I said, 'Man you didn't give me that look.'"
Replied Westbrook: "I gave Fletcher a great look last year. It's not my fault Brian shook him in the hole."
Teasing aside, Fletcher is appreciative of the work Westbrook puts in each week during practice.
"It is extremely important because these are opportunities for us to continue to prepare from a mental standpoint of knowing what type of back we will be facing on Sunday."
Whether his brother gets on the field on Sunday or not, Byron knows he is doing his part to prepare his teammates.
Who will the Westbrook family be pulling for during Sunday's game?
"My parents will probably be neutral, but my cousins, aunts and uncles--they can pick whoever," Westbrook said. "My parents are going to be neutral and wear white tee-shirts."