Receivers are a little bit like certificates of deposit. They take time to mature. They don't always offer high rates of return.
Of all the positions where the Redskins continue to create competition, receiver may be the most fascinating. Devin Thomas and Malcolm Kelly might be expected to make huge strides entering year three of their tied-together NFL careers but the honchos aren't taking any chances.
Thomas and Kelly will earn whatever they get. Any time they forget that equation, they can scan the roster.
Joey Galloway. Bobby Wade. There are two veterans who know their way around the NFL. Roydell Williams, who was here in training camp last year until he broke a finger. Marques Hagans, another previous camp body. Anthony Armstrong, who has performed well in two voluntary minicamps.
Notice we've not even mentioned Santana Moss, who is still recovering from minor knee surgery.
No one enjoys the benefits of incumbency any longer, not in politics or at Redskins Park.
Moss, who will be 31 on June 1, led the team in receptions last year with 70. Antwaan Randle El, released in March, was second with 50. Next among the wide outs were Thomas and Kelly, with 25 apiece.
Kelly won a starting job, then lost it, admittedly due to "sloppy routes." Thomas replaced him. Neither considers his body of work so outstanding as to warrant special consideration.
"I haven't proven anything yet," Thomas says. "Nobody really has a starting job, everything is up for grabs and that brings out the best in everybody."
With a heavily-revamped coaching staff, change is everywhere. It may be most apparent with the receivers, now under the tutelage of Keenan McCardell. He played a few years in this league (16), the last in 2007 with the Redskins. Five 1,000-yard seasons and another where he just missed (917) plus two Pro Bowl berths equals expertise.
He's a first-time coach but one who has the players' ear.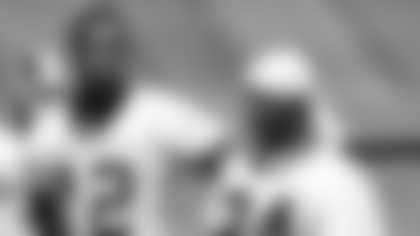 "He demands perfection and that gives me the extra edge to come out here and do my best," Thomas says.
Galloway, entering his 16th season, carries credentials similar to McCardell's (and was his teammate in Tampa). He can impart the knowledge of the ages to the next generation.
"I've been around a while," Galloway says. "These guys are young guys. There really is no substitute for experience."
Thomas and Kelly were both second-round picks in 2008. Kelly's balky knee limited him as a rookie while Thomas got some playing time later in that season. Kelly has 28 career catches, Thomas 40. Sandwiched around tight end Fred Davis as part of a three-choice round, they're linked permanently in Redskins' annals.
"I don't think people mention his name without mentioning my name or mention my name without mentioning his," Kelly says.
Ah, but other names are in play now. Like Galloway's. He's 38 and lightly used the last two seasons. His three consecutive 1,000-yard seasons with Tampa Bay (2005-07) recede in memory but his speed remains and so does hope.
"Joey Galloway can still run," head coach Mike Shanahan says. "I watched him last year in New England's camp."
Wade, 29, has played for six teams, starting six games with Kansas City last year. He's a solid, if not spectacular, punt returner and the Redskins need answers in that area. Armstrong continues to open eyes.
Productivity and big plays cannot be the sole domain of quarterback Donovan McNabb. He needs receivers who will run precise routes, elude defenders, protect the football and add yards after the catch. Hence the pile-up on the depth chart.
Each snap in these off-season workouts, at minicamps or in OTAs, counts toward separating from the pack.
"Whatever you did in the last practice, that's what you are," Kelly says.
The young can learn from their elders. They certainly should. Or they'll be watching from the sidelines, their playing time not given away but taken away by teachers and competitors.
---
Larry Weisman, an award-winning journalist during 25 years with USA TODAY, writes for Redskins.com and appears nightly on Redskins Nation on Comcast SportsNet. Read his Redskinsblitz blog at www.Redskinsrule.com and follow him on www.Twitter.com/LarryWeisman.