Some day soon, both will.
Maake Kemoeatu and Albert Haynesworth could be two of the Redskins' three starting defensive linemen when the 2010 season commences. They weigh a combined 695 pounds, emphasizing the 'front' in front line.
Kemoeatu takes part in a daily regimen at Redskins Park but does not practice. He can't.
Haynesworth popped in on the first day of off-season workouts to say he wouldn't be around for any of them except the mandatory mini-camp this week.
Both were signed as free agents, Kemoeatu this spring and Haynesworth over a year ago. Kemoeatu wants nothing more than to get in the mix with his teammates. Haynesworth? We will know soon enough what his state of mind (and body) may be.
Kemoeatu continues rehabilitating a surgically repaired Achilles tendon. He runs, he works out with the athletic trainers and strength coaches and he counts the days until training camp, when he should be ready for full participation.
Kemoeatu misses the football part of football. He hasn't played in a game since the Carolina Panthers' playoff loss to the Arizona Cardinals in January of 2009 or a regular-season contest since Dec. 14, 2008.
How about a real practice?
"It has been almost a year," he says, remembering the painful rupture of his Achilles tendon and his season ending before it ever started. "I got hurt the first day of training camp last year, just running a pursuit drill. Heard the snap. It was tough."
Haynesworth hasn't played since last Dec. 27, missing the Redskins' season finale. He played in 12 games in his first season with the club.
It is only fair to point out that Haynesworth has not violated his contract nor missed anything that is mandatory. Voluntary workouts are, well, voluntary.
Coach Mike Shanahan has said the club has had a participation rate of 90-94 percent in the off-season sessions and that putting in two hours a day, four times a week, was not extreme.
With so much change since the end of 2009 season, those who volunteered will be in much better condition in every aspect of that word for what lies ahead. They attended the classroom meetings, they learned their new roles and they got a sense of how the team, and their teammates, now function.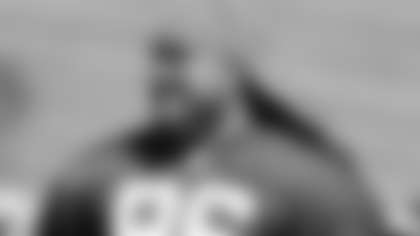 Kemoeatu has been here and yet feels that is not nearly enough.
"You're not really a part of it until you're on the field with the guys," he says.
That's a point former Redskins defensive end Charles Mann made last week on ESPN 980 radio in discussing Haynesworth's impersonation of the Invisible Man.
"Just do the work," Mann said, among other things.
Did he expect Haynesworth to be physically read for mini-camp?
"Heck, no," Mann said. "Did he show up last year in shape for the league, for the season? I mean, come on, now."
That's his opinion. Nobody knows whether Haynesworth will arrive with a body to die for or one that needs a diet. Maybe his version of an off-season program will surprise everyone.
We know he will lag his teammates in understanding the new scheme, in relating to the new coaches, in having performed football-related activities. We know the choices he made and that he was within his rights to make them. They are his business but football is also a business, and a year-round one at that.
Kemoeatu cannot wait to get on the field and yet he must. Haynesworth? For the Redskins, this whole off-season, as it regards him, has been about waiting.
The Redskins practice Wednesday. This one is mandatory. The wait is nearly over. The next question will be the weight.
---
Larry Weisman, an award-winning journalist during 25 years with USA TODAY, writes for Redskins.com and appears nightly on Redskins Nation on Comcast SportsNet. Read his Redskinsblitz blog at **www.Redskinsrule.com* and follow him on *www.Twitter.com/LarryWeisman*.*