Twice this season, the Redskins have turned to Keiland Williams with a game on the line.
Seems like a lot of responsibility for a rookie running back.
But he's proving he can handle it.
In Week 2 vs. Houston, Williams was on the field late in the fourth quarter with the game tied 27-27. He was back on the field in overtime of a game the Texans won 30-27.
Last week vs. Indianapolis, with the Redskins trailing 27-17 midway through the fourth quarter, Williams was again called on.
Replacing Ryan Torain in the backfield, Williams caught a pair of short passes to keep the drive going and then picked up 14 yards on a run to the right.
On 2nd-and-goal at the Colts' 8-yard line, he pulled in another short pass and then sneaked into the end zone for his first NFL touchdown.
It was the final score in a game won by the Colts 27-24.
Williams is counted on in late-game situations because he is an effective receiver out of the backfield and is reliable in pass protection.
"We were down by 10 points and we went into our two-minute [offense] without the no-huddle," head coach Mike Shanahan said after the Colts game. "Keiland was in there. He had a draw play at the end [of the drive]. Keiland is a guy that we were going to put in passing situations. He handled that well."
Williams's role in the offense has to be among the surprises of the season.
"I'm comfortable with how I'm used," Williams said. "I get out there, catch a few passes, try to pick up blitzes. And whenever it's my turn to run the ball, I'm ready to go."
For the season, Williams has two carries for 12 yards and 11 receptions for 57 yards.
An undrafted rookie out of LSU, Williams earned a roster spot after a solid preseason.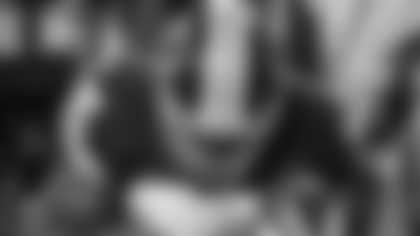 Keiland Williams (AP Photo)


He admitted it was "somewhat nerve-wracking" competing with established backs Clinton Portis, Larry Johnson and Willie Parker in training camp.
"I came into it knowing the strengths that I had," Williams said. "I tried to focus on those things."
Parker was released at the end of preseason and Johnson was cut after Week 2.
Portis was at the top of the depth chart, but he suffered a groin injury. He is sidelined for at least the next 2-4 weeks.
Torain emerged as the starting running back the last two weeks.
Meantime, despite his surprising productivity, Williams alternated between the roster and the practice squad during a 10-day stretch in early October.
Given his performance vs. Indianapolis, it appears he is on the roster to stay.
"For me to be able to make the team says a lot, but that was just step one," he said. "I definitely want to become a factor on this team."