Trent Williams could have been a Redskin a year ago.
He had established himself as a top-notch right tackle at the University of Oklahoma. He seriously considered leaving college as a junior and entering the NFL Draft.
In the end, Williams opted to stay another year.
As a senior, he had an opportunity to start at left tackle, replacing Phil Loadholt who was drafted by the Minnesota Vikings.
Left tackle, of course, is where the best linemen play.
It's the anchor of the offensive line.
And it's where the big money is in the NFL.
"I talked to my family about [coming out as a junior] and I prayed about it, and it just felt like the right thing to do was to stay in school," he said. "I didn't feel quite ready and I knew I could improve my stock if I moved to the left side and played on the left side the whole season."
A year later, and now Williams is a Redskin.
"It turned out to be a great move for me, and I'm thankful for that," he said.
The Redskins selected Williams with the No. 4 pick in the first round of the draft on Thursday night. The team hosted an introductory press conference on Friday at Redskins Park.
Getting drafted by the Redskins was, in Williams' words, a "life-changing moment."
Williams is expected to start immediately at left tackle for the Redskins.
It was appropriate that Chris Samuels, his predecessor at left tackle, was at the NFL Draft in New York City and handed in the selection card with Williams' name on it.
Samuels, who is serving as a coaching intern with the Redskins this offseason, is expected to help tutor Williams.
"He told me he's going to do everything in his power to help me become a good pro tackle," Williams said. "I told him I was ready. It's some huge shoes to fill."
On most draft boards, Oklahoma State offensive tackle Russell Okung was rated higher than Williams because Okung played on the left side the last three years.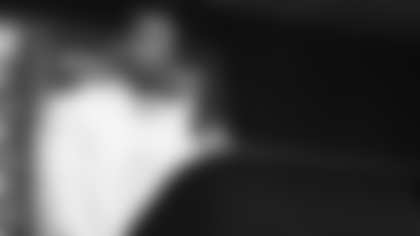 Some scouts suggested that Williams struggled at left tackle, and he acknowledged those concerns when talking with reporters.
"I felt comfortable at left tackle, but I was dealing with injuries the whole season," he said. "When I finally got a chance to be 100 percent healthy, I felt like things started to work out smoothly for me."
Said head coach Mike Shanahan: "I thought he played well at the left tackle position, but it's nice when you have a guy that's played numerous positions. I think he could play right tackle as well as left tackle.
"There are very few people that are able to do that, so hopefully he can come in here and compete at the left tackle position and do what we think he is capable of doing."
At Oklahoma, Williams flashed great mobility for an offensive tackle and an ability to physically dominate in the run game.
His biggest advocate has been Malcolm Kelly, the third-year Redskins wide receiver. The two grew up together in Longview, Tex., and were teammates at Oklahoma. (Redskins linebacker Robert Henson also grew up in Longview, Tex.)
"Malcolm and I have been close for a long time," Williams said. "He's kind of like a brother to me, a big brother when my big brother isn't around. He has always given me great advice when I was in college and high school.
"He advised me to come to Oklahoma. He told me that I would have a great career and that I would play [as a freshman]. I took his advice and I went to Oklahoma--and it happened.
"We joked around with the possibility of becoming Redskins together. It finally happened. He was happier for me than I think anybody. He has been a great driving force in my career and I am really blessed to have him around."
On Friday, his first day as a Redskin, he chatted with teammates Derrick Dockery and Mike Williams briefly.
He met with offensive line coach Chris Foerster, who was in attendance at the press conference.
And in two weeks, Williams can begin the process of settling in at left tackle at Redskins mini-camp.
His job is a critical one, of course.
Williams is tasked with protecting Donovan McNabb's blind side.
The Redskins acquired McNabb by trading their second-round pick in this year's draft, so Williams and McNabb already share a connection.
Williams admitted he might be a little star-struck when he first meets McNabb, the 11-year veteran.
"He's a great quarterback, and it's my job to keep him playing," he said.