Doug Williams does not reminisce very often, but every now and then his thoughts return to Super Bowl XXII, when the Redskins' quarterback reached for perfection -- and found it in one glorious quarter.
"We scored 35 points in 18 plays -- that's execution at its very best," Williams said, still marveling at the second quarter dominance in the Redskins' 42-10 Super Bowl triumph over the Denver Broncos.
"Offensively, we were in a zone," he said. "It didn't matter who we were playing, they weren't going to stop us."
Williams has since moved on to a coaching and scouting career in college and the NFL. He was head coach at his alma mater Grambling State University from 1998-2002 and then joined the Tampa Bay Buccaneers as a personnel executive. He is currently the Buccaneers' coordinator of pro scouting.
Time has allowed him to put his Super Bowl performance in perspective.
"Thirty-five points in 18 plays," he repeats, that tone of amazement still surfacing in his voice. "I mean, that just doesn't happen every game."
Williams is often reluctant to talk about his playing days. "It's history," he once told a reporter asking about his accomplishments as a quarterback.
Still, Williams acknowledges that, as the first African American quarterback to start regularly in the NFL, his success has meant plenty to a lot of fans.
After passing for 8,441 yards and 93 touchdowns at Grambling from 1974-77, Williams would go on to become the first African American quarterback to be selected in the first round of the NFL Draft.
At Tampa Bay, Williams met quarterbacks coach and eventual Washington head coach Joe Gibbs, who once called Williams one of the "most talented people I have ever seen" and a "natural leader."
True to form, Williams led a young Tampa Bay squad to the NFC Championship game in his second year.
Embroiled in a contract dispute with Tampa Bay management in 1983, Williams signed on with the Oklahoma Outlaws of the USFL. In 1986, after the USFL folded, Tampa traded his rights to the Redskins.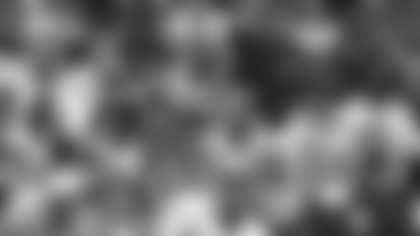 A year later, Williams shared the starting quarterback job with Jay Schroeder during the season.
It was Williams who guided the Redskins through the playoffs and a 17-10 victory over the Minnesota Vikings in the 1987 NFC Championship game.
Even though Williams' offensive statistics weren't spectacular, he says the victory over the Vikings was actually more satisfying than the Super Bowl win.
"As the clock ran down and I realized I was going to get the opportunity to actually play in the Super Bowl, that was a special feeling," Williams said. "After all the ups and downs in my career, I wanted to cherish that feeling forever."
Of course, everyone familiar with Redskins lore remembers the second quarter of Super Bowl XXII.
Trailing 10-0, Williams connected with Ricky Sanders for an 80-yard touchdown pass. It was only the beginning.
Four minutes later, Williams hit Gary Clark with a 27-yard touchdown pass. After a 58-yard touchdown run by Timmy Smith, Williams struck again, throwing a 50-yard touchdown pass to Sanders.
The final score of the quarter came on Williams' 8-yard pass to tight end Clint Didier.
Williams was 18-of-29 for a then-Super Bowl record 340 yards and four touchdown passes. He was named the game's Most Valuable Player.
His performance is all the more remarkable given that he had to leave the game briefly after a knee-twisting hit early in the first quarter.
Nagging injuries would force Williams to retire two years later. He went on to coach Northeast High School in his hometown of Zachary, La., then served as an assistant coach at the U.S. Naval Academy and with the Scottish Claymores of the World Football League.
He was also a scout for the Jacksonville Jaguars before becoming the head coach at Morehouse College in Atlanta.
Then Grambling called him home. He would replace legendary coach Eddie Robinson as the university's head coach.
Throughout his coaching career, and into his stint as a personnel executive with the Buccaneers, Williams established his philosophy and work ethic from the man who helped him achieve NFL success, Joe Gibbs.
Like Gibbs, Williams encouraged players to get to know their teammates off the field so that they knew their strengths and weaknesses on the field.
"When I came to the Redskins," he recalls, "I was a veteran player joining a veteran team, and they knew me and what I was capable of. And Coach Gibbs knew me when he coached at Tampa Bay. So I was able to fit right in.
"I admired how he handled the players as individuals, even though at the same time he was molding us into one cohesive unit."
Williams said he also derived part of his philosophy and work ethic from former Tampa Bay head coach Jim McKay, former Redskins assistant coach Emmitt Thomas and former Redskins personnel executive and Hall of Famer Bobby Mitchell.