A year ago, Chris Wilson was a relative unknown in NFL circles.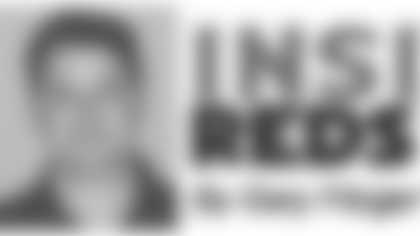 Now, after his first season in the league, Wilson hopes to make himself into a bigger name.
Wilson first came to Redskins' fans attention when he signed with the club in January 2007 out of the Canadian Football League.
He starred with the British Columbia Lions the previous two years, recording 29 tackles, five sacks and one interception in 2006.
With the Redskins, he was thought to be a roster long-shot coming into training camp.
But Wilson fit what coaches wanted at the time: more speed at defensive end.
At 6-4 and 246 pounds, Wilson excelled coming off the edge as a pass rusher. He surprised by earning a roster spot, essentially taking over for the popular Renaldo Wynn in the rotation at defensive end.
Wilson saw increased action midseason, replacing an injured Marcus Washington in the lineup on third downs. Washington, an outside linebacker, shifted to defensive end in pass-rush situations last year.
Wilson earned his first NFL sack by taking down Brett Favre, in Week 6 at Green Bay.
Wilson came on strong at season's end, collecting a pair of sacks in the Redskins' 27-6 season-ending win over the Dallas Cowboys at FedExField.
"Coaches were very progressive with their blitzing, in more ways than one," Wilson said. "I was able to take the things I learned and move forward."
Then, in the Wild Card playoff game at Seattle, Wilson sacked Matt Hasselbeck.
Wilson played in all 16 games, plus the playoff game, last year. With three sacks in his last two contests, he had emerged as a legitimate pass-rushing threat for the Redskins.
"I improved on every single aspect of my game," he said. "The more I experience I got, the more I got to know different schemes and different types of offenses. There are a lot of things that go into being a successful football player.
"I just feel like I improved even understanding what my weaknesses are. I can go into this offseason and already work on my weaknesses."
What weaknesses? For one, Wilson believes he can get stronger and faster, although he doesn't feel it's a prerequisite for success next season.
He wants to be able to out-think his opponents, too.
"I wasn't getting knocked off the ball [last season]," Wilson said. "But you always want to get stronger and faster. If size comes with that, so be it. If not, then I think I can still play well at the size I'm at.
"That's the goal, to figure out a way to be dominant. I'm learning that it's not all about going out there and whipping your opponent."
Coming into the NFL, Wilson had the size to play either defensive end or linebacker.
He is glad that defensive end is in his future, though. Hall of Fame defensive end Reggie White was his favorite player growing up.
Even though the Redskins' off-season conditioning program starts on March 17, Wilson has been a regular at Redskins Park early this offseason.
He is spending more time in the weight room and focusing on improving his technique under defensive boss Greg Blache and new defensive line coach John Palermo.
Wilson knows how much NFL fortunes can change in a year--and he is eager to show coaches that he has more upside.
"That's life," he said of his rise from NFL obscurity. "If there can be negative things that happen in life, you'd better believe there can be positive things, too."