For all the Redskins have been through this season, Clinton Portis offers a simple explanation why the team is coming together now.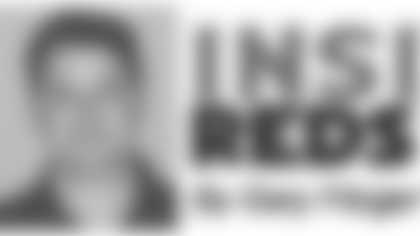 "I think having fun is the key," Portis said. "If you look on the field the past three weeks, that is what guys have been doing--having fun.
"When you step onto that field, if you're having fun, that gets the offensive line going, the receivers, the quarterback, yourself. And then everybody wants to contribute."
Portis suggested that a weight has been lifted and that players are enjoying the sport of football like never before.
Perhaps it took tragedy and adversity for the Redskins to realize it. The Redskins have overcome a series of close losses, several devastating injuries and Sean Taylor's tragic death this season.
Now they are on the doorstep of a Wild Card playoff berth.
If anyone epitomizes the Redskins' late-season approach, it is Portis.
"Hard times only make you tougher," he said.
Portis's toughness showed up in last Sunday's 32-21 win over the Minnesota Vikings. Going against the NFL's top run defense, Portis had to battle for every inch. He finished with 76 rushing yards and one touchdown on 20 carries and grabbed five passes for 48 yards.
Portis also threw a 15-yard touchdown pass to Antwaan Randle El on a halfback option. It was Portis's third career touchdown pass.
Portis became the first to rush for 100 yards against the Minnesota Vikings top-ranked run defense this season.
For the season, Portis ranks third in the NFC and eighth in the NFL with 1,158 yards on 300 carries. It's the fifth time that Portis has surpassed the 1,000-yard mark in his six-year career.
In his four seasons with the Redskins, Portis has amassed a total of 4,512 rushing yards. That puts him in fourth place on the Redskins' career rushing list, trailing John Riggins, Larry Brown and Stephen Davis. Portis surpassed Earnest Byner and Terry Allen this season.
Portis's three seasons with 1,000 or more rushing seasons ties Davis for the second-most in Redskins history. John Riggins has the team mark with four.
Portis has had plenty of ups and downs the last two years, from his injury-plagued 2006 season to putting the offense on his shoulders at times this season.
Through it all, he never questioned his ability.
"I feel good about what I do around here," he said. "I feel like my production for my teammates--they appreciate it. If I am keeping the defense off of Jason's back or I am springing a guy for a big play, I feel good about that.
"Maybe it goes unnoticed, but for myself I go home with a smile on my face knowing that I helped. My production on the field--if the running game is not there, it is just not there. I can't make it be there. The only thing I can do is take the ball and run into where the play is designed to go and try to make something happen."
Portis is only 26 years old, but he feels he has been through a lot as one of the Redskins' leaders.
Could it be that Portis, the man with all those quirky characters, is growing up?
"I feel wiser," he said. "I gained weight, then I lost all the weight and I feel better. I am much more appreciative. At 24, I felt like I had the whole world. Right now, at 26, it is just a different mentality, a different mindset. I want more out of life now."
Did Taylor's passing change how much he appreciates football?
"Of course it changed," Portis said. "Anytime you realize someone who loved the game of football and now he can't play it, why can I? But I have the opportunity to play. So why not take advantage of my opportunities?
"Why not come out here and have fun, instead of pouting because everybody wishes they were somewhere else when they are doing something. When you can't do it anymore, that is when you realize, 'I miss it.'"
Even though Portis wishes media would stop asking about Taylor--he recently told reporters, "Let the man rest in peace"--he has acknowledged that the departed safety plays a part in the team's resurgence.
After the Vikings game, Portis responded to a question about overcoming adversity: "I think once we got our angel situated up in heaven, he gave us all the strength in the world. Now guys go out, just play and have fun."
And the fun could include a playoff run.
"That is the excitement, when you are still alive at this point of the season instead of worrying about where you are going to be on New Year's Eve," Portis said. "There are going to be a lot of people that get to go to Vegas or Miami and do everything they want to do for New Year's.
"For myself, I would rather be here planning on who we are playing the following weekend.
"We still have that opportunity. We are still alive. That is the excitement. You don't need a pep talk. You don't need anybody to pump you up. It's either there or it's not."