The Redskins announced their roster cuts on Saturday, with wide receiver D.J. Hackett, offensive tackle Jeremy Bridges and linebacker Robert Thomas among the notable names.
The team resolved its competition for the No. 3 quarterback by placing Colt Brennan on injured reserve and waiving Chase Daniel. Brennan has hip and hamstring injuries.
That means the team enters the season with Jason Campbell and Todd Collins as the only quarterbacks on the roster.
The Redskins also decided to give the place kicking job to Shaun Suisham and part ways with Dave Rayner, his competition during preseason.
Here is the Redskins' complete list of roster cuts (excluding Brennan, who is on injured reserve):
REDSKINS ROSTER CUTS, SEPT. 5, 2009
Player
Position
Status
Robbie Agnone
TE
Undrafted Rookie
Anthony Alridge
RB
First-year Player
Jeremy Bridges
G/T
7-year Vet
Scott Burley
T
Undrafted Rookie
Alex Buzbee
DE
First-year Player
Chase Daniel
QB
Undrafted Rookie
Antonio Dixon
DT
Undrafted Rookie
Dominique Dorsey
RB
First-year Player
Doug Dutch
CB
Undrafted Rookie
Keith Eloi
WR
Undrafted Rookie
Cody Glenn
LB
2009 5th-Round Draft Pick
D.J. Hackett
WR
6-Year Vet
Lendy Holmes
S
Undrafted Rookie
Rob Jackson
DE
2008 7th-Round Draft Pick
Dave Rayner
K
4-year Vet
Rueben Riley
G
First-year Player
Trent Shelton
WR
First-year Player
J.D. Skolnitsky
DE
Undrafted Rookie
Robert Thomas
LB
8-year Vet
Eddie Williams
FB
2009 7th-Round Draft Pick
Darrel Young
LB
Undrafted Rookie
Two of the Redskins' six draft picks were among the players released: linebacker Cody Glenn and fullback Eddie Williams.
So who made the final roster?
Mike Williams, the offensive tackle who lost more than 100 pounds to get in shape before training camp, showed enough in preseason to warrant a roster spot.
Jim Zorn indicated as much in his Friday press conference before the cuts.
"I like the way he battled," Zorn said. "He was real powerful against the Jaguars' No. 2 defensive end."
Added Vinny Cerrato: "Any time he played, he showed power...You see a guy who is a big, talented guy that can get movement off the ball."
Marko Mitchell earned the No. 5 wide receiver job after a strong preseason. He led the offense with 11 catches for 113 yards and three touchdowns in preseason.
By keeping Marcus Mason on the roster, the Redskins opted to keep four running backs.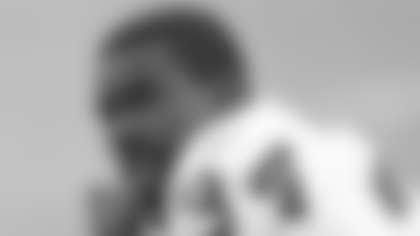 "He definitely earned his spot on the football team," Cerrato said.
Edwin Williams, the undrafted rookie out of Maryland, also earned a roster spot after showing he could play both guard and center. He played primarily center for the Terrapins.
Williams and third-year lineman D'Anthony Batiste, who can play both guard and tackle, beat out Bridges for the final roster spots on the offensive line.
At defensive end, the team kept veteran Renaldo Wynn over first-year player Alex Buzbee. Wynn is regarded as one of the leaders of the defense.
The Redskins opted to keep rookie Robert Henson, a sixth-round draft pick, over fellow rookie Glenn and veteran Thomas.
"The coaches were more comfortable in that situation with him, Cerrato said. "They said he showed more explosiveness and toughness and he was more ready to play."
Perhaps the biggest surprise of cut-down day was the Redskins' decision to keep six cornerbacks.
That allowed the Redskins to give a roster spot to Byron Westbrook, who has served on the team's practice squad each of the last two years.
Cerrato emphasized that the decision to keep Westbrook had nothing to do with Carlos Rogers' lingering calf injury.
The inexperience of third-round draft pick Kevin Barnes may have also played a part in the decision to keep Westbrook.
"Byron played well on special teams and he played well in the secondary," Cerrato said. "He improved a lot and he earned the right."