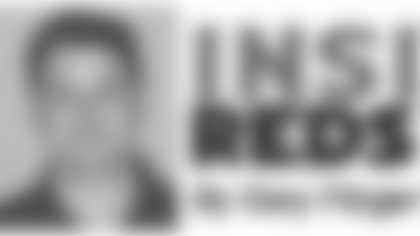 Stephon Heyer arrived at OTAs on Monday as the Redskins' starting right tackle.
It's up to him to hold on to the job through preseason.
With the release of veteran Jon Jansen last Friday, the Redskins turned over the reins at right tackle to Heyer with the start of OTAs on Monday.
"It's up to me to keep my spot and keep working," Heyer said. "The position is mine to lose. I always have to be mindful of that."
Heyer, the third-year offensive lineman out of Maryland, won the right tackle job coming out of training camp last year.
Then Heyer suffered a shoulder injury, allowing Jansen to come in and re-claim the starting job.
So Heyer knows that nothing is guaranteed.
"I'm not at ease at all," Heyer said. "Every day you have to fight for your job. This doesn't mean I'm a guaranteed starter. It just means that competition got narrowed a little bit.
"I'm going to keep on going, keep on working hard in run blocking and pass protection. Everything is just about building on what I did last year. Just be prepared and keep my game stable."
Head coach Jim Zorn acknowledged that Heyer is at the top of the depth chart at this point of the offseason.
He added that Mike Williams, Jeremy Bridges and Devin Clark are also in the mix.
"The position really is open," Zorn said. "If we had to line it up today, Stephon would be our starting right tackle. But I've told all of our guys, this position is legitimately open and we're looking for the right guy there.
Of Heyer's development, Zorn added: "Stephon has been working his lower body to really be able to set a better anchor. He is trying to bring a punch. He is a guy who just continues to come forward.
"With the decision to move Jon on, it should help Stephon to be more focused in at that position. I'm excited about where he is at. He'll have all this time through the start of training camp, and then even through training camp, to continue to get better and better."
Opposite Heyer on the offensive line is Pro Bowl left tackle Chris Samuels.
Samuels said it was "tough" to see Jansen leave the team, but he was supportive of Heyer.
"Stephon is light years away from when he first came to the Redskins," Samuels said. "He has worked hard in the weight room, on his footwork and his leg strength. He has worked hard to become a good football player."
Williams and Bridges, Heyer's competitors at right tackle, both said on Monday they were surprised that the Redskins released Jansen.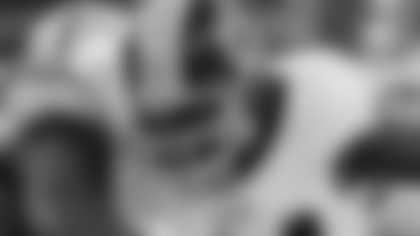 "When I found out, the first thing that went through my mind was, 'Well, it's a little clearer picture of where they want to go, and I just have to work hard,'" Williams said. "They are laying the path down of what they want to do and where they want to go [at right tackle]."
Williams is 380 pounds but has been working steadily dropping weight this offseason in order to get in playing shape.
Williams has not played an NFL game since the 2005 regular season, so Zorn wants him to find a "comfort level" at this point of the offseason.
"Mike has really put a lot of time in the weight room and a lot of time on the field," Zorn said. "Right now there is some rust that he is going to have break off, just with the speed with which he moves and the way he sets. Now that we have a little competition going, I fully expect him to progress as we go along."
Bridges, a 6-year veteran with prior stints at Carolina, Arizona and Philadelphia, has versatility working to his advantage.
He has played mostly offensive tackle in the pros, but he also has experience playing guard.
Said Zorn: "I think he has tremendous feet and he has a sense of toughness. Those are two areas on the offensive line you have to have. We'll see where his comfort zone is. It may not be at right tackle, it may be inside. I don't know. I want him to know that he's in the mix and I'm looking at him intently."