Redskins left guard Pete Kendall is in his 13th season in the NFL and with his fourth team. He has seen a slew of game plans and X's and O's in his playing days, including the strategies first-year head coach Jim Zorn is trying to implement on offense with his West Coast system.
Despite his level of expertise, however, the steady and effective Kendall has considered the first half of the season a learning experience.
"We're all on a learning curve, absolutely," Kendall said. "But nobody more than the quarterback--that's the nature of the position. But hopefully we're learning in the offense, we're growing in the offense. It would be disappointing to think we've gone as far as we can go in the offense. I assure you that we haven't."
In terms of the difference in Zorn's offense compared with previous one he has played in, Kendall said.
"The terminology is different, and just understanding that X means Y and Y means Z compared with how you know it can be enough to cause you some hesitation," he said. "And all the opponent needs at times is just that millisecond of hesitation."
It's good that he is a fast learner because the Redskins have run the ball to the left side, where the 6-5, 292-pound Kendall is paired with five-time Pro Bowl left tackle Chris Samuels, more than 50 percent of the time early this season--and with much success.
In the 29-14 win over the New Orleans Saints on Sept. 14, for example, the Redskins rushed for 149 yards and ran the ball repeatedly to the left on two long scoring drives.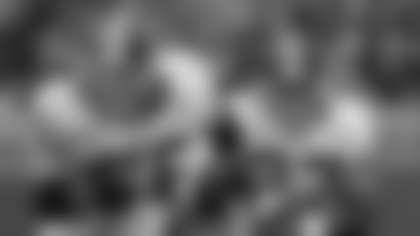 Once, running back Clinton Portis found a gap off left tackle created in part by Kendall and followed fullback Mike Sellers into the end zone for a touchdown.
Kendall was asked if he expected the offense to continue to run to the left.
"I think Coach Zorn likes to have balance, likes to mix it up," Kendall said. "One of the hallmarks of the West Coast offense is that teams are going to pass the ball. What we've seen is we worked fairly well in concert and got some favorable runs.
"I'll just say this: It's really difficult to run the ball for 150 yards. In the NFL, a defense says, 'If you have six blockers, we're going to have seven tacklers."
Two weeks later, in the Redskins' 26-24 win over Dallas, Portis reeled off his two biggest runs on the left side in a 121-yard rushing performance.
Portis used blocks by Kendall on defensive end Chris Canty and Samuels on safety Courtney Brown to run through a sizable opening en route to a 31-yard scamper. Portis also posted a 13-yard gain around the left side.
Kendall, acquired by the Redskins in a trade with the New York Jets just before the 2007 season for a fourth-round draft pick, is one of the team's quiet leaders and is well respected by his peers.
At the same time, he sees a lot of character on a squad that rebounded from a 5-7 record and four-game losing streak last year to make the playoffs, and from a humiliating loss to the New York Giants in the season opener this season to become a team to watch in the NFC.
"There's nothing I didn't see before," Kendall said. "Obviously, I'm one of the newcomers to this organization besides this year's rookie class. But it has been well documented that we had some ups and downs last year, and I was pretty impressed with the way the guys in this locker room handled it."
When asked whether he plans to retire in Washington, Kendall replied: "That's up to the Redskins at this point. My contract is up at the end of this year, and I feel like I've still got some good football left, so we'll see."
As the 2007 starter on the left side between Casey Rabach and Samuels, Kendall was able to adjust quickly. He picked up Rabach's offensive line calls and Joe Bugel's blocking schemes.
He entered the league as a first-round pick with Seattle in 1996 before moving on to Arizona in 2001 and then to the Jets in 2004.